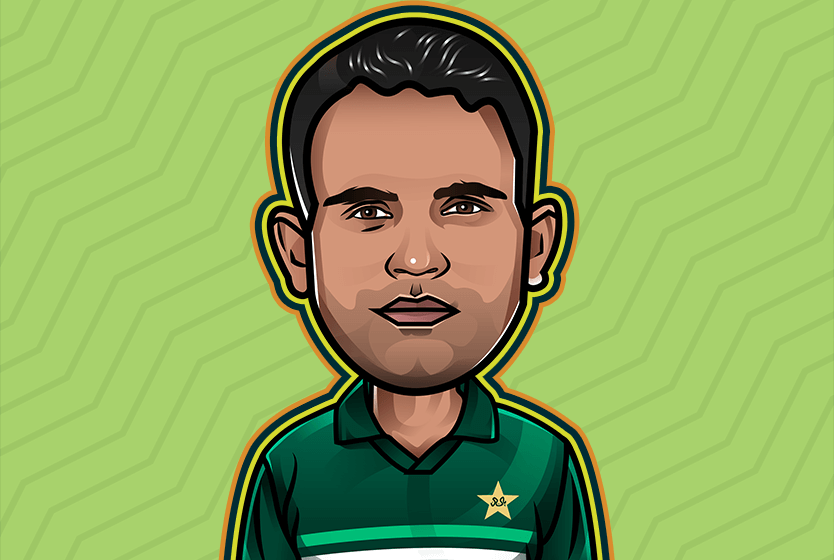 Fakhar Zaman
If a cricketer were to script a fairytale start to his career, it's likely it would be similar to how Fakhar Zaman took Pakistan to a historic ICC trophy a week and a half after making his debut. Since then, Fakhar has gone on to become one of the most vital components in Pakistan's ODI XI, breaking the record of the fastest batsman to 1000 runs while playing some special knocks that see him held in high regard worldwide.
As a 27-year-old, Fakhar Zaman finally made his ODI debut in classic Pakistani fashion – with the weight of the country on his shoulders with his side in a must-win situation in each game, after losing the opening match of the 2017 Champions Trophy. He replaced Ahmed Shehzad in the XI and instantly made an impact. In a successful chase shortened by rain, he smeared South African quicks Rabada and Parnell for 3 fours apiece in a valuable 23-ball 31.
Quickfire fifties followed in the next 2 games as Pakistan just about downed Sri Lanka before eliminating England with ease. Before the final of the tournament, Fakhar was unwell and vomiting and initially indicated that he wouldn't be able to make it. But he did and the rest is history. He later said that in the initial overs of the final against India, he was barely aware of his surroundings as Azhar Ali provided the early momentum, before the navy man himself settled down and smashed a historic maiden ODI hundred.
Amid much fanfare and having achieved super-stardom practically overnight, Fakhar continued his journey. On a tour of Zimbabwe in 2018, he became the first Pakistani to hit an ODI double-hundred and followed that up by becoming the fastest man in history to 1000 ODI runs. However, he would come crashing down to Earth in the Asia Cup that followed, struggling on the sluggish tracks of the UAE. His 2019 World Cup performances were also below-par with just one fifty against India.
After a lengthy gap between series, Fakhar finally got back to work in South Africa in 2021. In the 2nd ODI, Pakistan were chasing a massive 342 against an attack including Rabada, Nortje, Ngidi, Shamsi, etc. Pakistan's batsmen had a nightmare. Besides Babar Azam's 31, Fakhar found no support, so he had it all to do – and he almost did, hitting a magnificent 193 including 10 belligerent maximums. However, the unfortunate record this became was the highest score in a losing cause as Pakistan fell 17 runs short.
In 2023, Fakhar again came to the fore, this time against New Zealand. He became just the 12th man in ODI history to hit 3 consecutive ODI hundreds, including a thumping 180* in a massive chase. This special knock meant that he became part of exclusive list, containing Rohit Sharma and Martin Guptill – most scores of 180+ (3) in ODIs.
Fakhar's ODI debut showed precisely what he is capable of – and immediately showcased him as a point of difference for Pakistan's top order. His belligerent style of play injected much-needed impetus into Pakistan's batting in the 2017 Champions Trophy, helping them move past years of sluggish starts and top-order struggles – both in terms of scoring at a quick pace and playing big innings.
However, Fakhar's role has evolved over time. As he has settled into the team, it's become more evident that he is a more traditional opener, in that he doesn't always opt to go hard early on and likes to take his time. However, once set, he can be a monstrous presence at the crease, capable of tearing apart bowling attacks like few others. For a while, Imam's conservative starts meant that he'd need to compensate for that, but with Imam now being more proactive early on, that frees up Fakhar to focus on his own game. Particularly on batting tracks or quicker pitches, Fakhar is one of the few batsmen in the Pakistan lineup who can single-handedly take the game away from the opposition.
Fakhar has the ability to play big knocks rivalled by few in the format. Some may take that to mean the ability to perform on the big occasion – and while that is true, the point here is more to do with making big runs. This is because of his unique skillset and ability, combined with his temperament. A left-hander with a strong power game, the ability to take down spin, and the fitness to bat for a long period – these are the essentials that allow him to do this.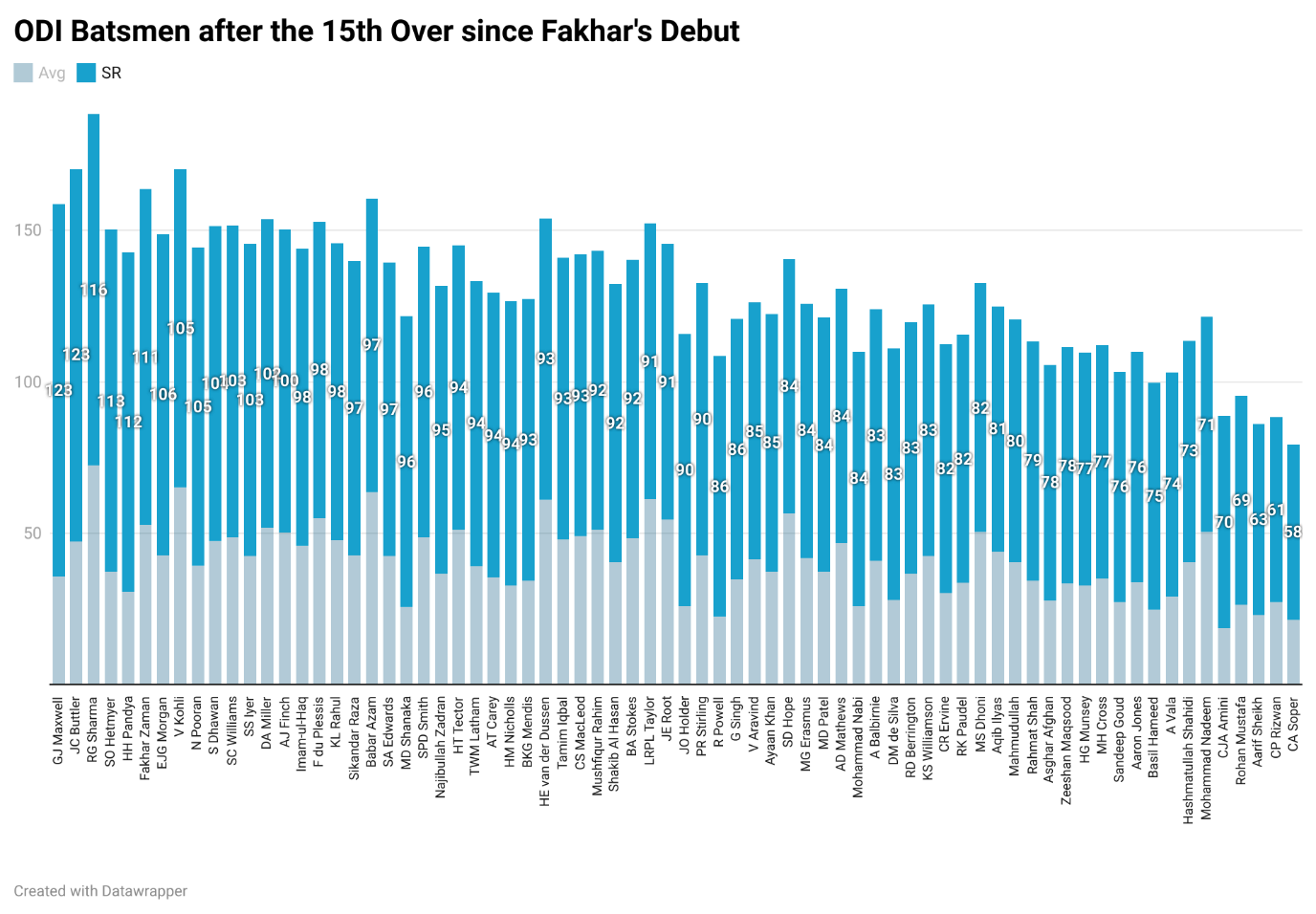 The 210* is a sparkling example of this, albeit against Zimbabwe. Then, we have the 193 against South Africa, where he took a particular liking to Shamsi and smashed him for 6 sixes. Then, the 180* against New Zealand, a stunning knock in a tall chase. Then, a 130-strike rate 138 in England to give his side a chance in a chase of 374 (Pakistan fell short by 12). In fact, 3 of these hundreds came in Pakistan's 6 biggest 2nd innings scores, and in Pakistan's most successful ODI chase of 349, he also contributed a quickfire 67. This trait could be particularly crucial in the World Cup at venues like Bengaluru – a ground renowned for big scores – where Pakistan face Australia and New Zealand.
Related to the previous point is Fakhar's ability to tee off – his power game. When he was piling on the runs in domestic cricket, everyone knew there is a Pakistani left-hander who can smash the ball to all parts, but a large section of the cricketing fraternity thought his technique may not work out at the highest level. The southpaw proved them wrong and successfully carried over those performances to the top level.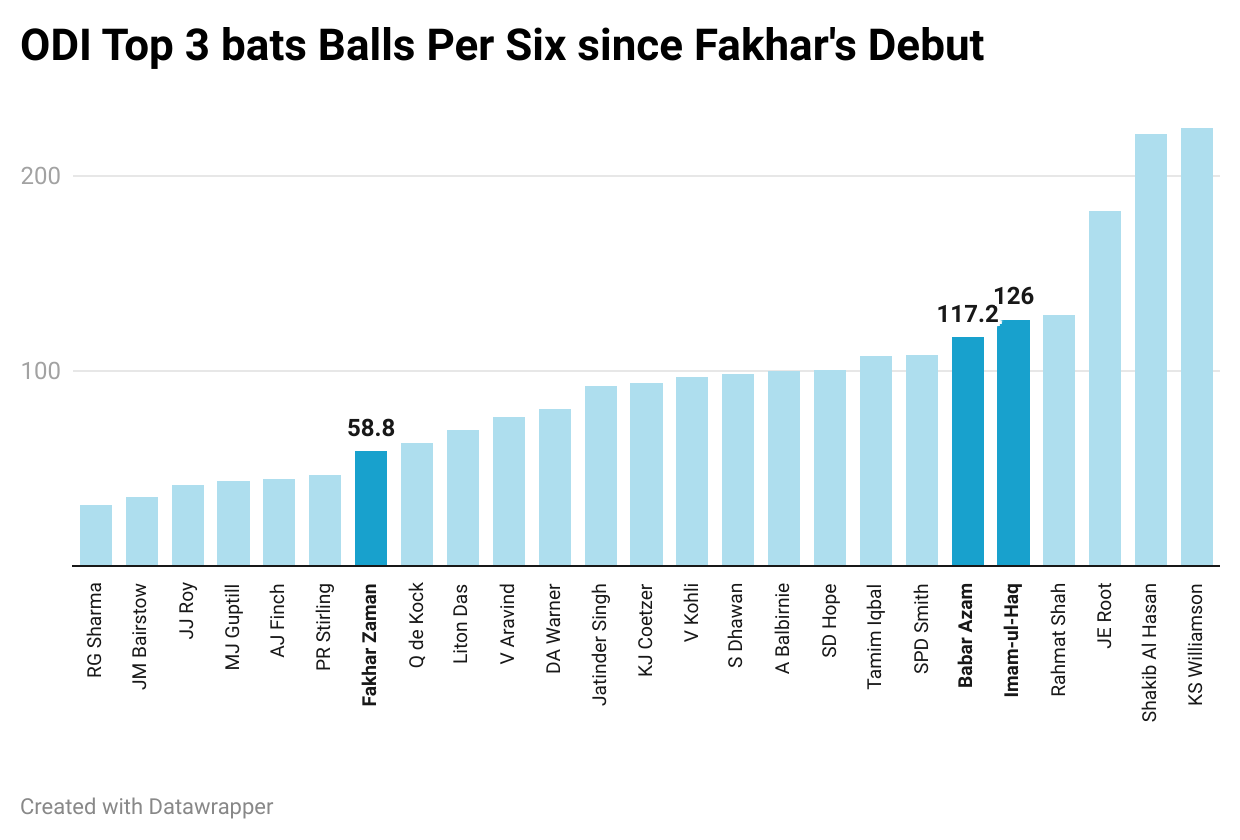 A good eye, fast hands, and most importantly, a strong base are the key ingredients of Fakhar's power game. He provides a point of difference to Pakistan's top order, with Imam-ul-Haq and Babar Azam different types of batsmen. Fakhar can be a lot more brutal, against both pace and spin, and he is particularly adept at hitting sixes to all parts of the leg side. Crucially, he isn't fazed by short bowling and looks to take it on, and his success on faster pitches such as in South Africa demonstrate how good he is at executing his skills.
The new white ball doesn't move a lot, but when it does, most ODI openers are liable to falling early, and Fakhar is no different. He has a technique that works for him, and he usually gets into good positions, but he can be susceptible to late movement. On the world stage in a big tournament like the World Cup, this can be an even bigger challenge with the best bowlers in the world operating, particularly if the conditions are conducive to new-ball movement. Some venues in India do tend to provide assistance for seamers early on.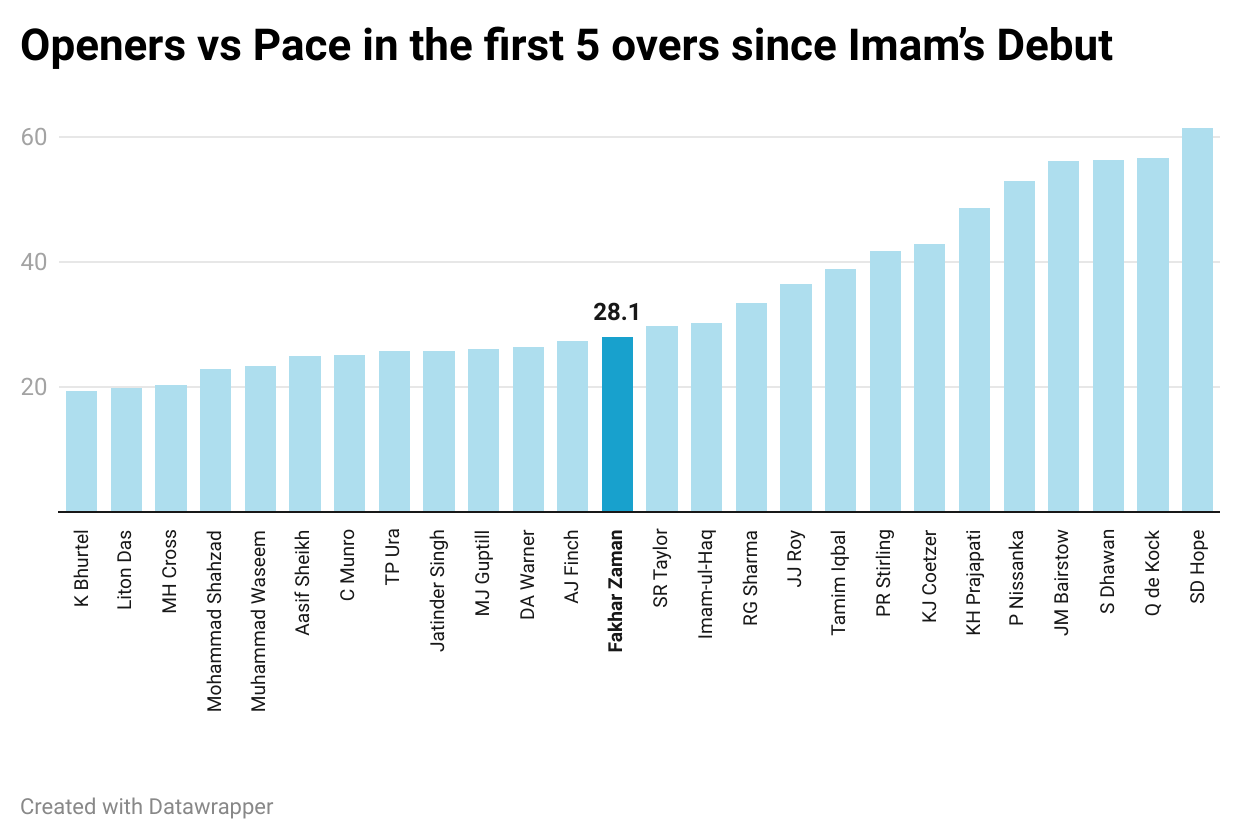 Fakhar has himself stated that he prefers batting in places like South Africa and England, where the bounce is true. However, he has found it challenging to adapt to Asian conditions at times, particularly slow and low tracks such as in UAE, where he endured a torrid time in the 2018 Asia Cup. 2 of his 3 hundreds in Asia came in Rawalpindi, a track known for being good to bat on, and in 27 ODIs in Asia outside Pindi, he averages just 32 at a strike rate of 80. The good news is that ODI pitches in India tend to be fairly good for batting. However, facing Afghanistan and South Africa on the often-sluggish pitches of Chennai could be a struggle.
The trio at the top of Pakistan's batting order will have to contend with high expectations come what may. They have been the best-performing top 3 over the last few years in ODIs, but World Cups are really the biggest test in this format. World Cup 2019 didn't go to plan for Fakhar – at all – and as a 33-year-old, he will know there's no guarantee he'll make the next one, even though he would surely love to make the trip to South Africa in 2027.
His recent run in the past couple of years, both in ODIs and in the Pakistan Super League, hint that something big may be around the corner. However, it's equally important to remember just how competitive and tough World Cups are. Fakhar has "only" played 70 ODIs so far, thanks to the recent changed priorities in the international cricket calendar. Starring in a World Cup will ensure his name is etched in Pakistan cricket folklore for a long time to come, whether he plays 100 or 300 ODIs. If not… well, his name is already there after June 18th, 2017. But when the players enter the ground on October 6th, 2023, the nation will once again hope for a magical tournament from the man who made their dreams come true 6 years earlier.