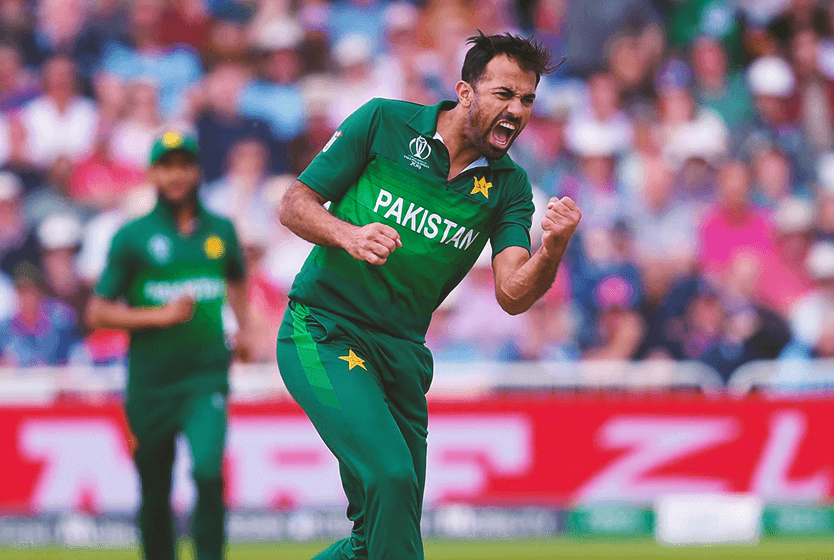 Wahab Riaz Announces International Retirement
Wahab Riaz has called it a day in international cricket. The 38-year-old left-arm pacer represented Pakistan in 154 matches, picking up 237 wickets, currently the 18th-highest tally for a Pakistani bowler in international cricket.
In a statement, he announced, "I have been speaking about my retirement plans past two years, that 2023 is my target to retire from International cricket, and I feel comfortable now more than ever that I have served my country and National team to the best I could have."
He made his international debut as a budding 22-year-old in an ODI against Zimbabwe, where he picked up 2/19 in 8 overs. At the age of 25, Wahab would make his Test debut against England at the Oval in 2010, where he became the 7th Pakistani fast-bowler to pick up a five-wicket haul on his Test debut as Pakistan won by four wickets.
In the 2011 World Cup, Wahab played just one of Pakistan's first four games. However, after Shoaib Akhtar's poor outing against New Zealand, the left-arm speedster came into the playing XI for Pakistan's last four matches. His tournament would finish on a personal high as he put up one of the best performances of his career in the ill-fated Mohali semi-final against India, with his five-wicket haul including the scalps of Virender Sehwag, Virat Kohli, Yuvraj Singh, and MS Dhoni.
However, Wahab struggled to string together consistent performances for the next couple of years. The rest of 2011, 12 & 13 mainly saw struggles come his way as he averaged 50 with the ball in ODI cricket while only playing a couple of Tests as he fell out of favor.
Nevertheless, that wouldn't last long, as the left-armer returned to the Pakistan setup in 2014 in the leadup to the 2015 World Cup. Once again, Wahab would be one of the few to finish the tournament with his head held high. He was the Man of the Match against Zimbabwe, becoming the only Pakistani cricketer to make a 50 and take four wickets in a World Cup game. Another fine bowling performance against South Africa followed, but the real standout performance was his bowling in the quarter-final against Australia. Frequently hitting 150kph, Wahab had Shane Watson hopping in a memorable, furious spell, but when the chance came, it was grassed in the field as Australia romped home by six wickets on their way to winning another World Cup. In October later that year, the fast bowler would pick up his only Man of the Match award in Tests after some incredible bowling on a flat Dubai pitch against England, registering match figures of 5/144.
However, disappointment was in store in the next world event, with Wahab struggling as Pakistan crashed out before the semi-finals in the 2016 T20 World Cup. He would bounce back during the 2016 England tour, taking five wickets (all of top 6 batsmen) as Pakistan downed England in the Oval Test to draw the series. Later that year, he picked up his best Test match figures of 7/134 in Sharjah against West Indies, albeit in a match that Pakistan lost. At the end of 2016, Pakistan toured Australia without much success. Still, the speedster came out of the 3-Test series as Pakistan's standout bowler with 11 wickets without receiving much support from the other end.
After this, Wahab's career took somewhat of a downturn as he faced problems with consistency and no balls in particular. He played the first match of the 2017 Champions Trophy, struggling against India, and wouldn't play again in the tournament as Pakistan completed a historic comeback to win the trophy without him. In the next two years, he played just two Test matches – one year apart – and was out of favor… until the next World Cup came along.
Chief Selector Inzamam-ul-Haq summoned Wahab Riaz for national duty again straight into the 2019 World Cup. The pacer, meanwhile, stated that he had a dream about his comeback, which came true. After not being a part of Pakistan's last 42 ODIs, Wahab was thrust into Pakistan's World Cup campaign from the get-go. Not everything went to plan, but the left-armer played a crucial role as Pakistan downed eventual winners England, dismissing Jonny Bairstow, Moeen Ali, and Chris Woakes in a thrilling win. Then, facing Afghanistan with a fractured finger, he hit Rashid Khan for a spectacular six with 16 needed off 11 to all but win the match for his side. Pakistan eventually fell short of qualifying for the semis as Wahab finished the tournament with 11 wickets @ 36, taking his World Cup tally to 35, currently the 2nd-most for a Pakistani bowler after Wasim Akram's 55.
Despite being in contention for Pakistan's Test tour of Australia at the end of 2019, the now-34-year-old announced he was taking an indefinite break from red-ball cricket to prolong his white-ball career. However, he would only play 13 more matches for Pakistan after the World Cup, falling out of favor with Pakistan's youngsters taking over the fast-bowling mantle. His final Pakistan match was in December 2020, a T20I against New Zealand. His much-publicized desire to play the 2023 World Cup wasn't to come to fruition, as he finally called it a day.
Reflecting on his decision to retire, the 38-year-old stated, "It has been an honor and a privilege to represent Pakistan on the international stage. As I bid farewell to this chapter, I am thrilled to embark on a new adventure in franchise cricket, where I hope to entertain and inspire audiences while competing against some of the best talents in the world."