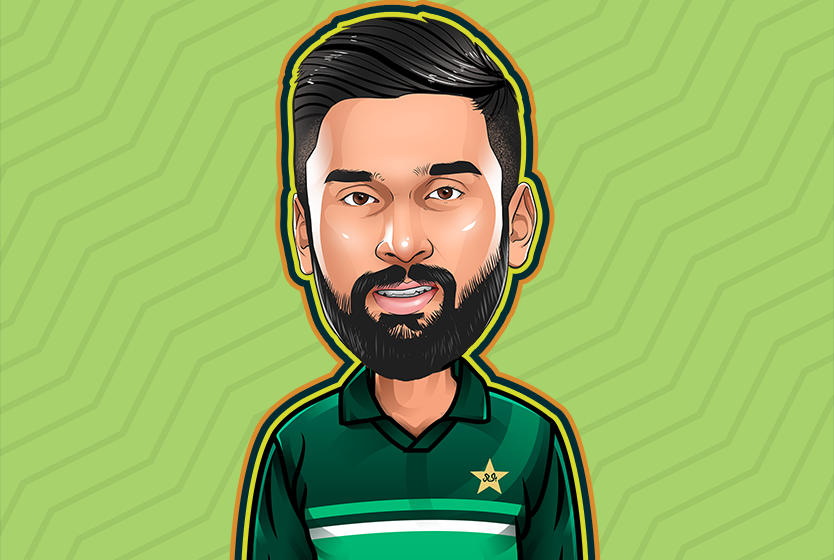 Abdullah Shafique
An orthodox right-handed batsman, hailed as a 'textbook player' by captain Babar Azam, Abdullah burst onto the international cricket scene just two years ago. In the 2023 Cricket World Cup, he etched his name into the history books with a remarkable century on his World Cup debut, playing a pivotal role in Pakistan's record-breaking chase against Sri Lanka. Not many believed Abdullah could do it because, prior to this, he had played just 8 List A matches without significant success. But in the realm of Pakistani cricket, data often takes a backseat to extraordinary talent.
Born in the local town of Sialkot in November 1999, Abdullah's passion for cricket was kindled by his father and uncle, both of whom had significant cricketing backgrounds. His father served as a cricket coach in the UAE, and his uncle even represented the UAE in international cricket. In 2017, he secured a spot with the Multan Sultans in the PSL, although he didn't make his debut until Lahore Qalandars selected him in 2021.
In December 2019, he marked his first-class debut for Central Punjab during the 2019–20 Quaid-e-Azam Trophy, impressively scoring 133 runs. His Twenty20 debut followed in September 2020 for Central Punjab in the 2020–21 National T20 Cup, where he made a remarkable 102 not out. This achievement made him the first Pakistani batsman to record a century on both his first-class and T20 debuts.
In October 2020, his strong performances in the National T20 Cup earned him a spot in a 22-man squad of "probables" for Pakistan's home series against Zimbabwe. He was named in multiple squads following that, but it was only in Pakistan's series against Bangladesh in 2021 that he made his Test debut.
In February 2022, Shafique's name was featured in Pakistan's Test squad for the series against Australia. During the first match, he achieved a milestone by scoring his maiden century in the fourth innings, accumulating a total of 397 runs across the three Test matches. Fast forward to July 2022, he was selected for Pakistan's squad for the tour of Sri Lanka. In the first Test, during the fourth innings, Shafique played a historic innings, securing an unbeaten 160* to clinch victory in Galle during a mammoth fourth-innings chase. August 21, 2022, marked his ODI debut for Pakistan, as he represented his country against the Netherlands.
Abdullah Shafique's batting approach positions him as a classic run accumulator, known for his steadiness and the ability to construct innings akin to traditional batsmen. Originally selected as a backup opener, he was intended to provide cover for Pakistan's established ODI opening duo, Imam and Fakhar. However, with Fakhar struggling for form, the need to offer Abdullah an opportunity became apparent.
Abdullah is a conventional right-hand batsman known for anchoring innings. However, his evolution over time has seen him enhance his power-hitting abilities, which prove invaluable in limited-overs cricket. This transformation was evident in his performance against Sri Lanka, where he demonstrated a measured approach in his first 50 runs, taking 58 balls, and then swiftly accelerated to complete his maiden century, scoring the next 50 runs in just 39 balls.
Abdullah's debut World Cup appearance served as ample evidence of his significance to the team. Whether paired with Fakhar or Imam as an opener, his role is clear. Early on, he'll be tasked with the essential job of rotating the strike and building the innings steadily. However, if the run rate falters, he's expected to shift gears and capitalize on the powerplay to maximize scoring opportunities.
Prior to the commencement of the World Cup, he had participated in just 8 List A games. However, with the onset of the World Cup, a new cricket sensation emerged. In October 2023, Abdullah Shafique made his World Cup debut at the 2023 World Cup against Sri Lanka, held in Hyderabad, India. Notably, he celebrated the occasion by notching his first ODI century in his very first World Cup match. This performance not only led Pakistan to victory but also set a new record for the highest successful run-chase in a World Cup match. He followed that up with half-centuries against Australia, Afghanistan, and Bangladesh.
So far, Abdullah has had the best World Cup for a Pakistani batsman aged 23 or younger. No Pakistani batsman at this age has made more than his 332 runs (average 55) in the 2023 World Cup, and he will play at least two more games. Among all batsmen of this age, he is 6th on the list, trailing names such as Sachin Tendulkar, AB de Villiers, and Brian Lara. His 4 scores of 50+ so far in this tournament are as many as Babar Azam in 2019 – only 1 behind the Pakistani record of 5 such scores by Javed Miandad in 1992.
Despite Pakistan's top-order – featuring the likes of Babar, Fakhar, and Imam – appearing to be in good form leading up to the Asia Cup and World Cup, they have faced significant challenges in Indian conditions. With top-order wickets falling early, Abdullah has shown he can provide stability to the batting line-up. As an opener, he has done exceptionally well with safeguarding his wicket and building the innings while also capitalizing with big hits once set.