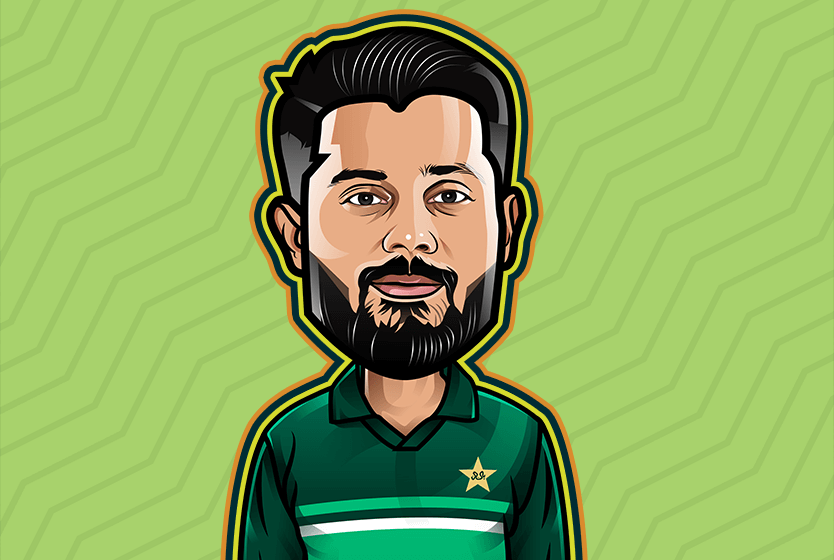 Saud Shakeel
The emergence of a new name in Pakistan's middle order has ignited a fresh ray of hope for the nation, possibly providing a solution to our middle-order challenges. On his World Cup debut, when the world anticipated a display of renowned Pakistani pace mastery or top-order brilliance, Saud Shakeel emerged as the standout performer, earning him the well-deserved Man of the Match accolade.
Saud Shakeel marked his entry into first-class cricket on October 26, 2015, during the 2015–16 Quaid-e-Azam Trophy season.
He topped the run charts for Pakistan Television during the 2017–18 Quaid-e-Azam Trophy, amassing 488 runs across seven matches. Come April 2018, he earned a spot in Khyber Pakhtunkhwa's squad for the 2018 Pakistan Cup. His batting prowess continued to shine as he once again emerged as the leading run-scorer for Pakistan Television in the 2018–19 Quaid-e-Azam Trophy, accumulating an impressive 414 runs in just five matches.
In December 2018, he earned a spot in Pakistan's roster for the 2018 ACC Emerging Teams Asia Cup. His cricketing journey continued as he joined the Federal Areas' squad for the 2019 Pakistan Cup in March 2019. By September 2019, he found himself named in Sindh's squad for the 2019–20 Quaid-e-Azam Trophy tournament. Adding to his achievements, in November 2019, he was entrusted with the captaincy of Pakistan's team for the 2019 ACC Emerging Teams Asia Cup held in Bangladesh.
In November 2017, he was selected to play for the Quetta Gladiators in the 2018 Pakistan Super League draft.
Saud Shakeel's journey to his Pakistan Test debut had a protracted path. Initially selected for Pakistan's Test squad during their 2020 tour of England amidst the COVID-19 pandemic, he had to wait patiently for over two and a half years. Finally, in 2022, Shakeel's moment arrived as he made his Test debut against England in Rawalpindi.
His journey continued in December 2022 when he earned a spot in Pakistan's Test squad for the series against New Zealand. It was in the second Test that he achieved a significant milestone by notching his first-ever century in Test cricket.
Shakeel's ascent commenced with his inclusion in Pakistan's squad for the series against Afghanistan prior to the Asia Cup 2023. His promising performance led to his inclusion in the World Cup squad as well. During Pakistan's opening match of the tournament, he made his World Cup debut against the Netherlands, contributing significantly with a match-winning score of 68.
At first, Saud Shakeel was perceived as a composed batter known for his ability to anchor innings patiently. However, over time, he honed his hitting skills, particularly against spin, a development acknowledged by captain Babar Azam himself.
With Fakhar and Imam as Pakistan's established ODI opening pair, Abdullah as a backup opener, and Babar taking the number 3 slot, while Rizwan solidifying the number 4 position, the top order of the Pakistani lineup is firmly set, leaving little room for another anchoring player. This is precisely why Saud recognized the need to develop a skill set that would establish him as Pakistan's preferred choice for the number 5 batting position, prompting him to refine his game accordingly.
In his post-match press conference after the Netherlands game, Saud highlighted how his stint in Test cricket had significantly bolstered his confidence. He had dedicated himself to honing his white-ball skills, aligning himself with the team's needs. He acknowledged that he wasn't initially accustomed to playing unconventional and lofted shots but adapted this aspect of his game. He credited his experiences in the Sri Lanka Test matches for instilling the belief that he was prepared for the challenges of limited-overs cricket.
Saud Shakeel has notably enhanced his proficiency in handling spin, a crucial requirement for Pakistan's middle order at present. His left-handed batting style adds a valuable dimension to combat spin effectively. In Test cricket, he boasts an impressive average of 122 against spin with a strike rate of 55.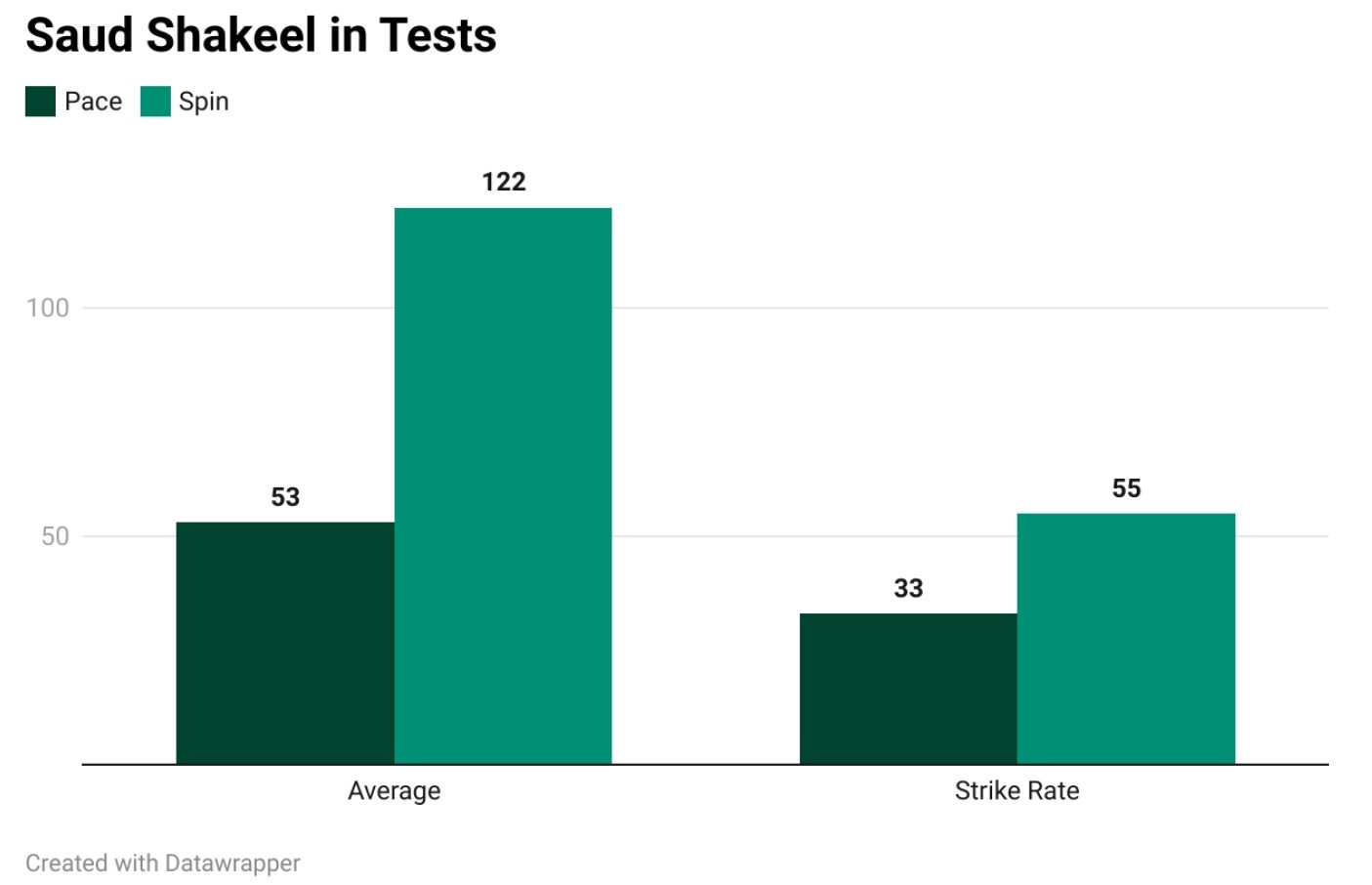 His prowess in power hitting has notably improved since his initial days of accumulating runs. Saud's presence in the middle order provides the much-needed stability against spin, addressing a deficiency Pakistan faces and offering respite to the other end.
While Saud's inclusion may not have initially garnered much attention, his standout performance in the first match has ignited hope among Pakistanis that a batting collapse might be evitable after all.
With Pakistan's matches scheduled at a few venues known for their spin-friendly conditions, Pakistani batsmen may encounter difficulties dealing with spinners. It's anticipated that Saud will need to showcase his top-notch performance against spin on these pitches, thereby filling that pivotal role with utmost importance.