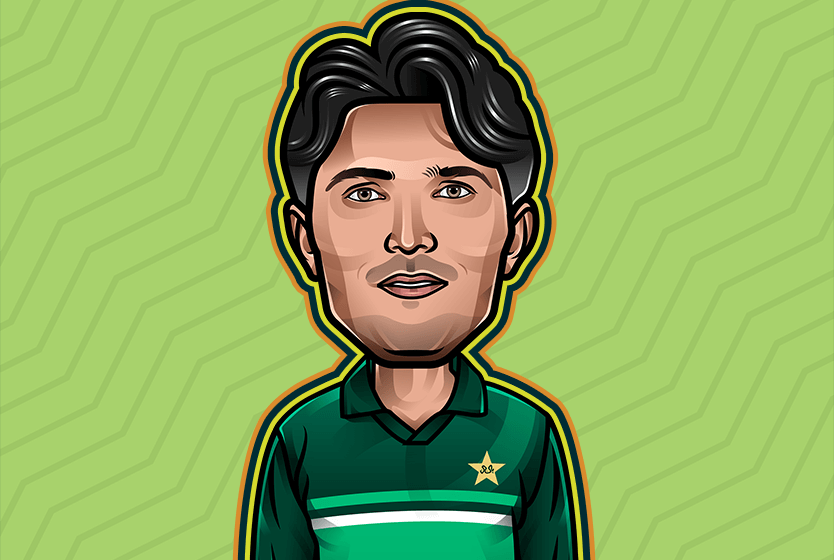 Mohammad Wasim Jr
Among the group of fast bowlers from the northern areas, Mohammad Wasim jr is one of the latest off the production line after the likes of Shaheen Afridi and Naseem Shah. Famous for his slingy bowling action, Wasim jr is naturally able to bowl reverse-swinging yorkers. Having represented Pakistan in all three formats, he has fared better in both white-ball formats, particularly ODI cricket, and finds himself as one of the integral pace options in the World Cup squad.
Mohammad Wasim jr started to feature in the domestic U19 tournaments in 2018/19 for Fata U19 and North Waziristan U19. After a couple of tournaments, he was selected for Pakistan U19s and toured Sri Lanka and South Africa. In the series against Sri Lanka, Wasim jr was the 2nd highest wicket-taker after Dilshan Madushanka, taking 7 wickets in 4 games. During these tours, he played against some of the finest young talents right now, such as Dunith Wellalage and Gerald Coetzee. He was also part of the U19 Asia Cup in 2019 and the U19 World Cup in 2020.
After performing in age-group cricket, Wasim jr announced his arrival into the top tier of domestic cricket with a match-saving knock of 18* (74). After some performances in the red-ball format, he was selected in PSL in 2021 for Islamabad United. He finished his maiden PSL season with 2nd most wickets among his teammates, one less than Hassan Ali. Around a month later, he was called up for the 2021 tour of the West Indies, where Wasim jr started his international career with the wicket of the Universe Boss, Chris Gayle. However, it was a rain-hit tour, and he only got the opportunity to pick up one further wicket.
Just after the heartbreaking semi-final exit in the T20 World Cup 2021, Pakistan toured Bangladesh. Due to the matches being held just after the mega event, Pakistan rested some of the front-liners; Wasim jr got some game-time in T20Is, and he went on to become the highest wicket-taker of that series with 5 wickets in 3 games. Surprisingly, he bowled with the new ball in that series – 3 of his 5 wickets came in powerplays.
The next assignment for Wasim jr was the home series against West Indies. He was selected in the ODI squad for the first time; however, due to the pandemic, the ODIs were postponed. In the T20I series, Wasim jr once again topped the wicket-taking charts, with twice as many wickets (8) as the second-highest wicket-taker (Shaheen Shah Afridi), although he was a touch expensive.
After this T20I run, Wasim jr finally got the ODI cap and demonstrated his caliber against Australia. Although he averaged 31 in this series, his performance in the middle overs was quite good for a debutant. In the first game, he went wicketless with an economy of over 7, but he bounced back effectively after that. 4 of his 5 wickets came during the 11-40 over phase, with an average of under 20. He also dismissed Ben McDermott, Australia's best batter in that series. With clever changes in pace and the ability to extract reverse swing, he proved too difficult for the Aussies to hit in high-scoring encounters. Wasim jr also picked up two wickets in the solitary T20I on that tour.
West Indies returned to Pakistan for 3 ODIs, this time to be played in Multan. Wasim jr took 4 wickets in the two games he played in this series, although his economy rate was on the higher side. Later on, when Pakistan toured the Netherlands, Wasim jr paired with Naseem Shah to bowl some great spells with the old ball where the ball showed signs of reverse swing and won Pakistan the ODIs – he picked up 6 wickets in 3 ODIs @ 22.2.
Two more ODI series against New Zealand followed in 2023, and Wasim jr impressed in the second one, picking up 6 crucial wickets in 3 games @ 19. However, he didn't get much game time in the Afghanistan series and Asia Cup, with Pakistan opting for their 3 frontline pacers. This means that he enters the 2023 World Cup with little practice and has shown plenty of signs of rustiness – a surprising way for Pakistan to handle a bowler who was always likely to be a part of the World Cup squad.
Wasim jr's usual role is that of a change bowler in ODIs. He isn't particularly good with the new ball or semi-new ball. Thus, he is usually required to bowl more with the older ball, particularly in the latter parts of the middle overs and at the death. This suits his skill set well, although it means that he may not be a frontline choice for a 3-man pace attack. But with Pakistan likely to field four pacers in some games, he will likely come into the picture at some point during the World Cup. In the field, he is perhaps one of the best outfielders in the world, safe as a catcher, while his athleticism in the field and rocket arm are known commodities at this point. Although he came onto the scene with the reputation of potentially being an all-rounder, his batting hasn't developed a lot thus far.
Most of Wasim jr's success so far in ODIs has come in the middle overs, where he is able to consistently bowl a straighter line and threaten the stumps – setting the right field is an important part of his bowling, and then he executes the plans effectively when he's bowling well, particularly if he is able to extract any reverse swing on an abrasive surface.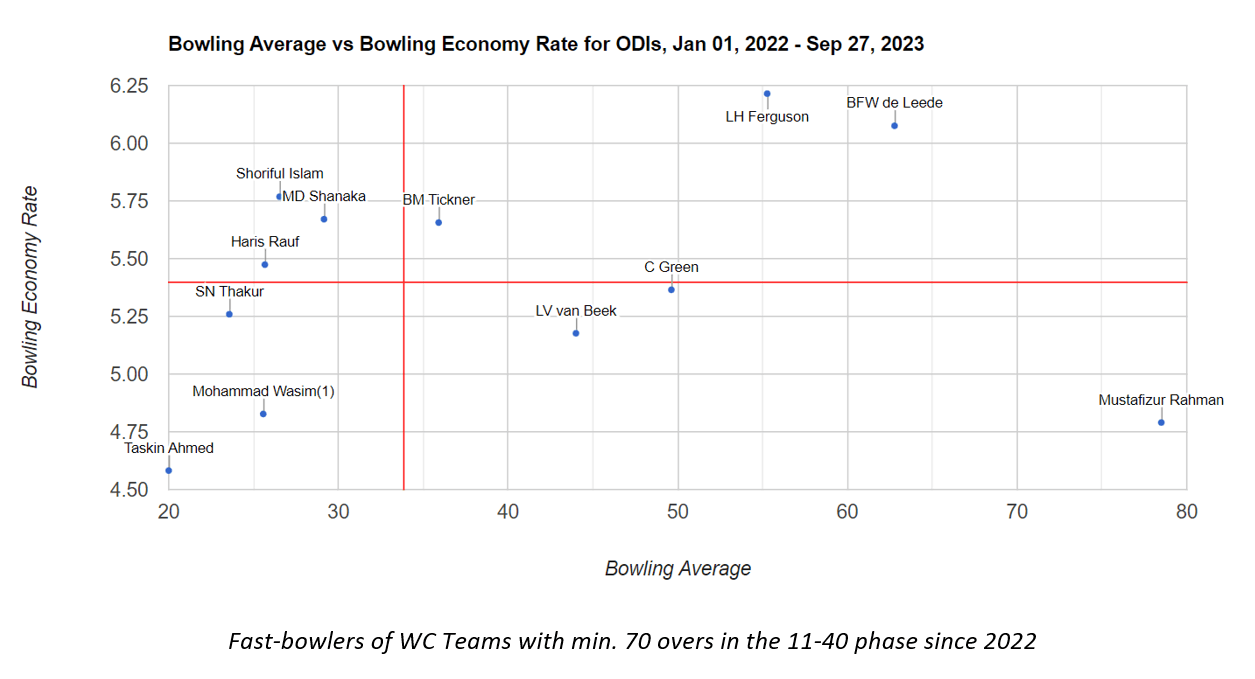 Among fast bowlers of teams participating in the World Cup, only Taskin Ahmed has a better bowling average and economy rate in the 11-40 overs phase than Wasim Jr. Middle overs is a phase that normally goes unnoticed as the game might not be that exciting as compared to the first or last 10 overs of an innings. He has also played a key part in victories against West Indies and Netherlands last year, as well as the Australia series in this role.
Along with middle overs, Wasim jr is great in the last ten overs as well. His slingy action and the ability to reverse the ball make him difficult to play. A fast bowler generally needs more than yorkers in this modern era to be a good death bowler, and Wasim jr has a decent arsenal. He bowls cutters at the death, and on pitches where he gets them to grip, this can be a very good option. This ability to bowl at the death also provides variety to the Pakistan attack and gives Babar Azam the option to use Haris Rauf more upfront and in the middle overs in an attacking role.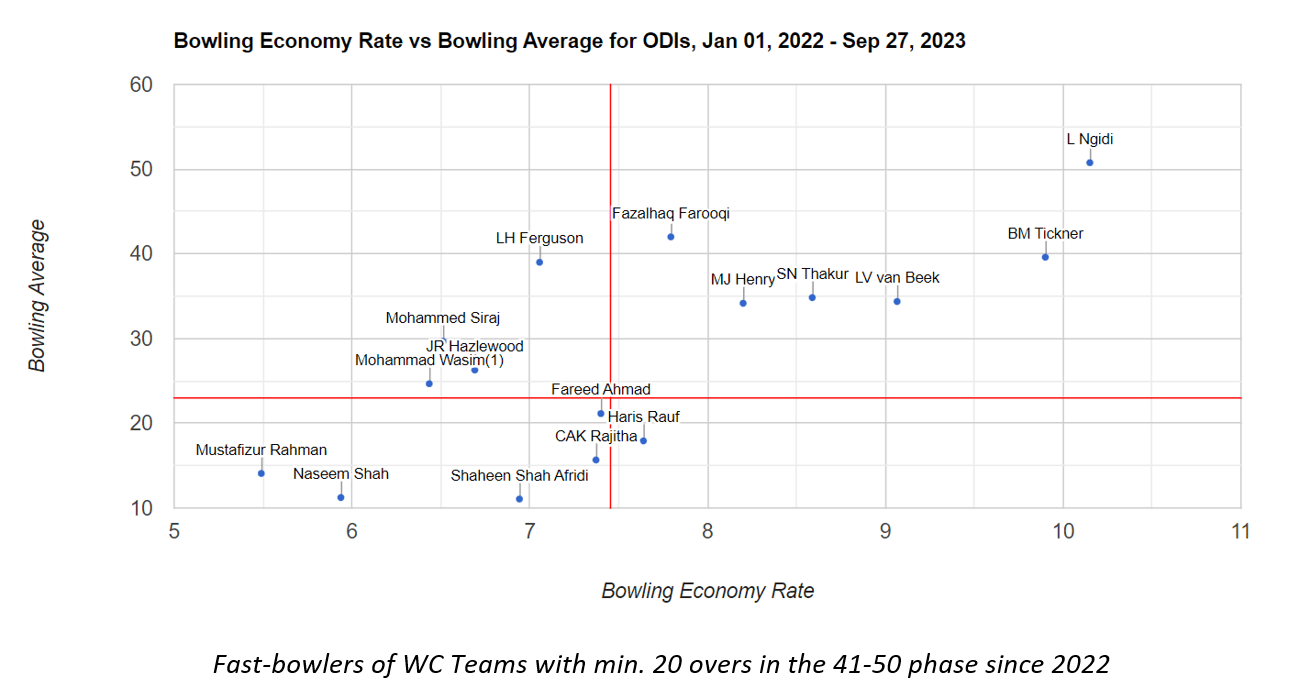 Wasim jr has the 3rd-lowest death economy rate among pacers from teams playing in the upcoming World Cup. Only Mustafizur Rahman and Naseem Shah have a better economy rate in this phase. He and Naseem Shah were great in the Netherlands series, where their spells with the older ball helped Pakistan defend totals that were not very big and won Pakistan games from difficult stages.
The primary weakness for Wasim jr is that his skillset isn't varied. While his defensive skillset is good, his attacking skills of beating batsmen on the defense aren't quite as natural. He can't bowl with the new ball as his control isn't good, although he has recently shown signs of developing some shape with the newer ball. A similar problem has been visible with the semi-new ball, as bowling at a good line and length is still the best option early on, especially if there is any assistance for pacers.
In the middle overs, he isn't particularly proficient at bowling hard lengths, and his first plan is usually to target the stumps or bowl full. While this can be effective if he gets the ball to tail into the right-handers (as he usually does with his slingy action), it can be a problem if dew comes into the equation or on very flat pitches where the ball doesn't deteriorate. The ability to effectively bowl hard lengths is generally one of the first requirements for a bowler who primarily bowls in the middle overs.
With Naseem Shah ruled out of the World Cup, the burden invariably increases on the rest of the bowling attack, and Wasim jr may be an important component of that. It's unclear whether he will be a frontline choice in a 3-man pace attack, but he will definitely play where Pakistan opts for four pacers.