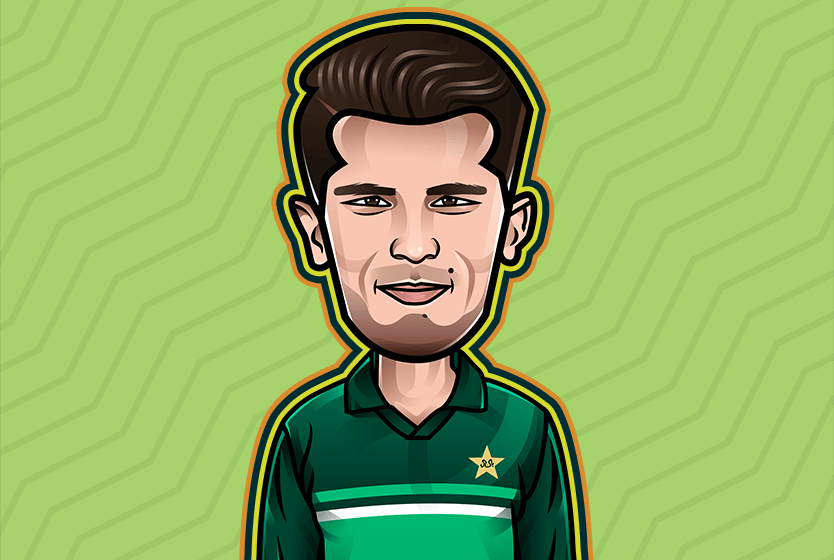 Shaheen Shah Afridi
A 6-foot-6-inch left-arm pacer who swings and seams the ball at high pace and instantly makes an impact in international cricket as a teenager? Shaheen Shah Afridi was born to don the green shirt. He has done so with distinction so far. With stellar performances in all ICC tournaments that he's played so far, Shaheen goes into the 2023 World Cup with the hopes of a nation on his shoulders.
Shaheen Shah Afridi made his ODI debut in Pakistan's disastrous 2018 Asia Cup campaign. On debut against Afghanistan, he underwent the experience many a Pakistani bowler of yesteryear will be familiar with. Three fairly simple catches were dropped off his bowling before he got his first wicket, but he still managed to finish with good figures of 2/38. Pakistan crashed out of the tournament after below-par performances.
The left-armer came to the fore in the next series against New Zealand. He was the Player of the Match with 4/38 in the 2nd ODI and was the Player of the Series with back-to-back four-wicket hauls. Hence, he became only the 2nd men's cricketer in ODI history to win a Player of the Series award as an 18-year-old (after Waqar Younis).
In the next series in South Africa in 2019, Shaheen's early strikes were again crucial for Pakistan. He removed Hashim Amla and Reeza Hendricks twice apiece while also dismissing Quinton de Kock and Faf du Plessis in his new-ball spells. However, the smooth sailing would end in the lead-up to the 2019 World Cup, as Pakistan were smashed by England 4-0 in an ODI series. Shaheen conceded 80+ in all 3 appearances and suddenly found himself on the bench at the start of the World Cup.
Pakistan won just 1 of their first 5 games in the World Cup, and Shaheen played only one of them (against Australia). With all hope lost, Pakistan turned back to their talisman. In the game against South Africa, he wasn't quite at his best but got the crucial wicket of David Miller. He then came into his own in the big win against New Zealand, dismissing Munro, Taylor, and Latham in his first spell to pick up 3/28. Two early and two late wickets against Afghanistan fetched him 4/47, while he ended the tournament on a high with 6/35 against Bangladesh – the best-ever figures for a Pakistani bowler at a World Cup as a 19-year-old. His haul of 16 wickets was a record for a teenager at a World Cup.
Pakistan played few ODIs after the 2019 World Cup. Yet, in October 2020, playing his first ODI since the tournament, Shaheen picked up another 5-fer against Zimbabwe to go back-to-back. The Eagle would play just 3 ODIs in 2020, 6 in 2021, and 4 in 2022. After returning from his knee injury, he demonstrated some signs of rustiness initially but looks to be getting back into the groove – he has 16 wickets in the Afghanistan series and Asia Cup at an average of under 21, including a splendid spell against India.
Shaheen Shah Afridi will be Pakistan's strike bowler and attack leader at the 2023 World Cup. Initially, he was expected to form a potent new-ball duo with Naseem Shah, but with the latter now ruled out of the World Cup, Shaheen will be under even more pressure to strike with the new ball. Naseem complimented his style well by keeping things tight, allowing Shaheen to attack without worrying about the scoring rate. With Haris Rauf now likely to partner with him, he may have to be more judicious with his attack methods, as his fellow Lahore Qalandars speedster tends to bowl attacking lines as well.
After the initial overs, Shaheen will also have the responsibility of closing out the innings at the death. This is something he is good at, particularly if there's any reverse swing on offer. However, with Naseem ruled out, Pakistan may also need Shaheen to bowl crucial middle-over spells occasionally – something he hasn't regularly excelled at so far in ODIs. Meanwhile, he will likely bat at number 9, where his ability to effectively use the long handle could be handy, while he is a very good fielder and boundary rider.
Shaheen Shah Afridi's first over is an event of its own, and for good reason, too. He has garnered a reputation for striking right away in over number one, although that is more down to his exploits in the T20 format. But the skill and ability remain, and he is undoubtedly a big threat for opposition sides with the new ball. Early on, Shaheen tends to go full and straight to exploit any available swing to trouble batsmen. When he is at his best and bowling at high pace, this becomes nearly unplayable, even if the batsman is expecting it – simply because a 145+ kph in-swinging yorker is not easy to handle.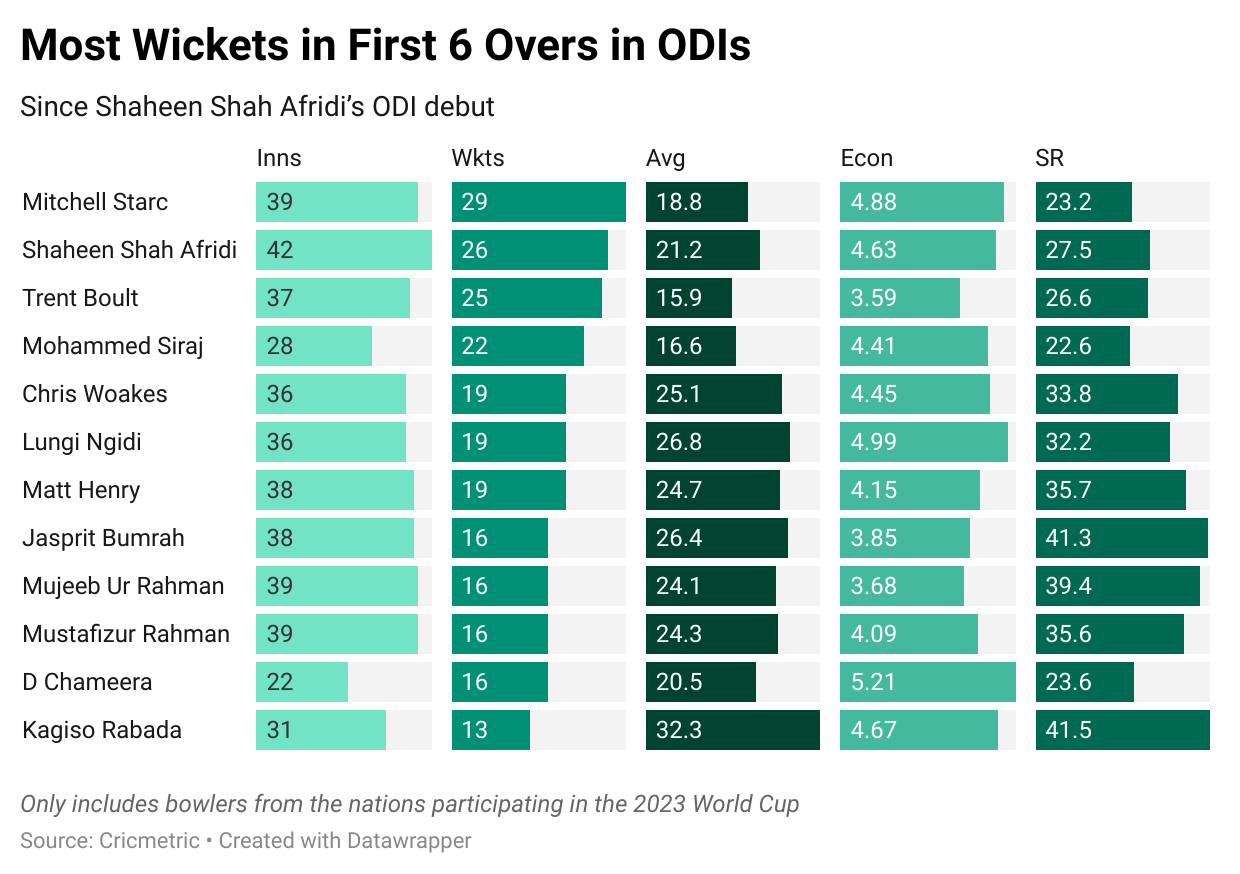 After that, he usually pulls back his length a touch to focus on more traditional attacking skills with the new ball, such as getting batsmen to nick off – something he was very adept at doing when he wasn't often bowling his booming inswingers – an aspect of his game that he mastered after the 2019 World Cup. The balance of these two facets is key and is something that he generally does very well. However, bowling alongside Naseem Shah meant he could sometimes afford to keep experimenting early on with fuller lengths without worrying about going for a few runs; he may be more inclined to pull the length back now as soon as the new ball swing dissipates.
2019 World Cup, 2021 T20 World Cup, 2022 T20 World Cup – Shaheen Shah Afridi has played in three big tournaments and turned up and put in impressive performances every time. He isn't one to be overawed by the big stage. Rather, he sees it as an opportunity and focuses on executing his skills as best as he can – the key to his success, be it the spells against New Zealand and Bangladesh in 2019, the early bursts against India and Australia in 2021, or the exceptional displays in 2022, particularly against South Africa and Bangladesh and then New Zealand in the semi-final – despite being rushed back from injury and not being at an optimum fitness level.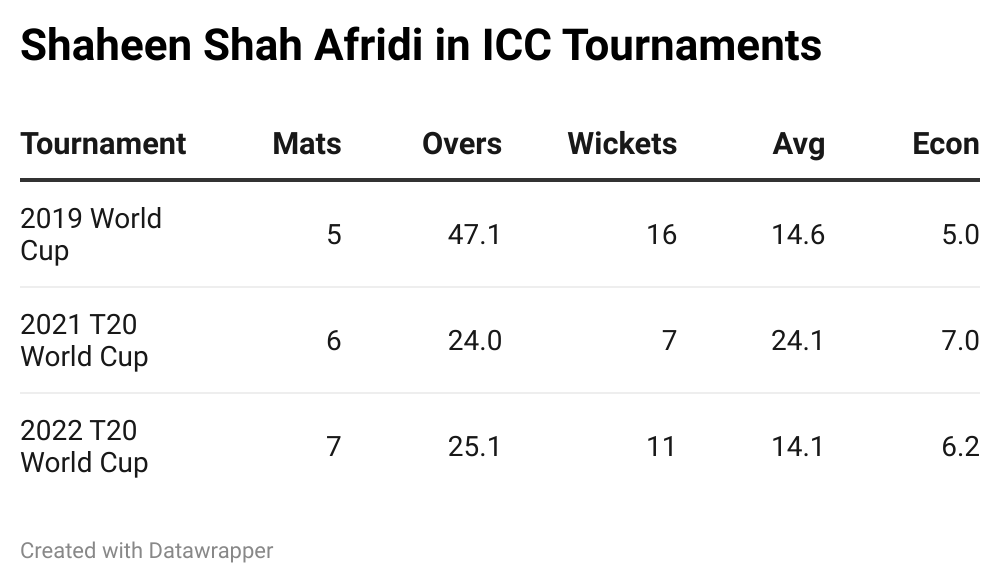 Shaheen's ODI numbers indicate that he is at his best with the new ball and at the death. In the middle, he has bowled relatively less, while his skill set and bowling style also explain why he hasn't had the same success in the middle overs. Most notably, he isn't a natural at bowling hard lengths and has done so infrequently. But for a tall fast-bowler with pace, this is something that he will eventually get more accustomed to. The World Cup would be a great place to start. However, he can bowl good attacking spells with the old ball if any reverse swing is on offer.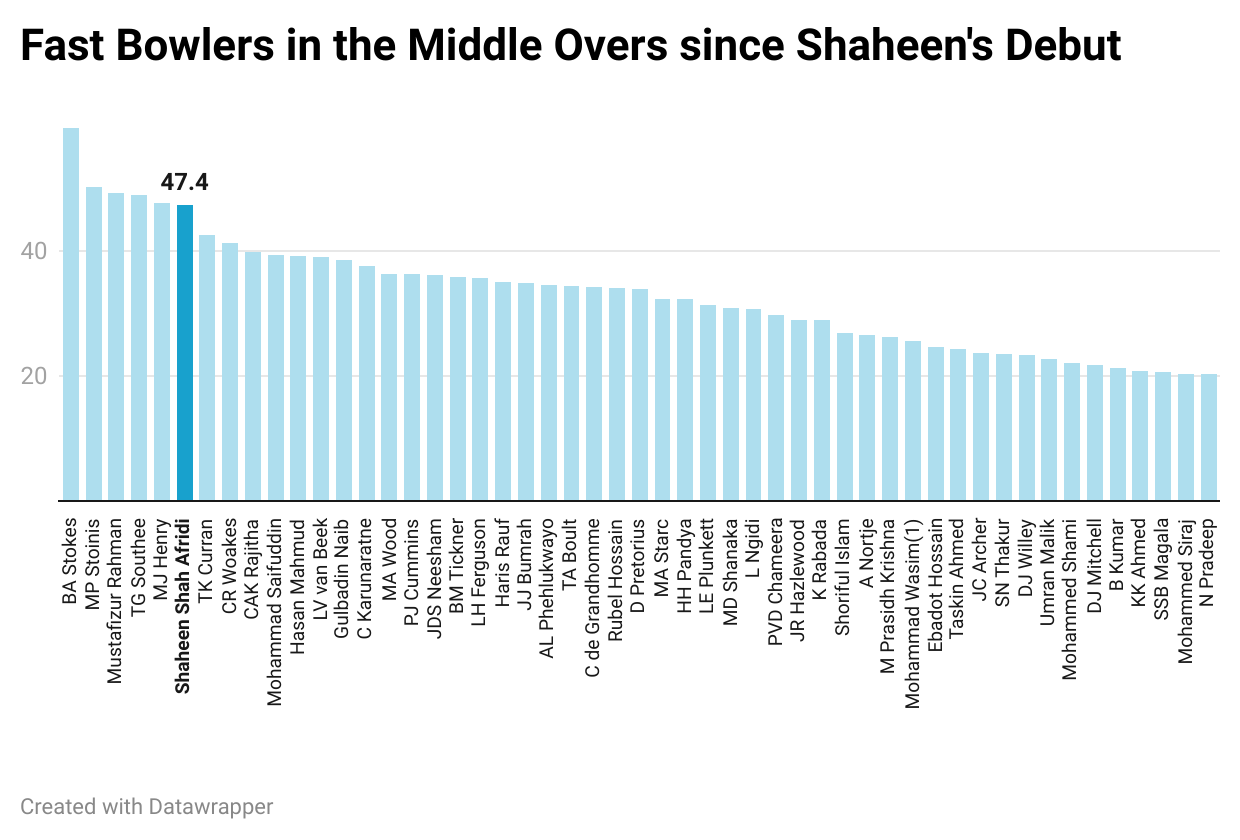 Besides the middle overs, the most important factor for Shaheen is form and rhythm. He generally requires a good preceding workload to get into his best rhythm, and he has gotten that over the past few months by playing ODIs and Tests for Pakistan alongside participating in the T20 Blast and The Hundred. However, he hasn't quite hit the heights he did in 2021 so far since his comeback, particularly in terms of pace – he generally was a yard quicker in 2020-21 and could touch the high 140s frequently. That extra pace makes his early swing so much tougher to counter.
In an interview with Sky Sports during The Hundred, he mentioned that the knee injury and consequent layoff had affected some technical aspects of his bowling, including the tendency to bowl from a bit wider of the crease – something he said he was working on rectifying. Having played a good amount of cricket since then, it is hoped that he will be at his peak again during the World Cup.
Such is his stature in Pakistan cricket that, just like Babar Azam, Shaheen Shah Afridi is always expected to perform. More often than not, he lives up to those expectations. With Naseem Shah's injury, those expectations will only keep rising. It's almost unfair on Shaheen, but it is what it is – new-ball wickets are cash money for Pakistan. Pakistan's method of playing ODI cricket means wicket-taking is absolutely essential, and the best time to make meaningful breakthroughs is with the new ball.
Shaheen will be well aware of those expectations and will be raring to go. He played in the 2019 World Cup as an excitable teenager keen to show the world his skills, with Mohammad Amir and Wahab Riaz as the senior pros. He now enters the 2023 World Cup as a bowler acknowledged and respected around the world, leading Pakistan's attack. Playing in India in front of massive crowds will motivate him even more – not that he's lacking any motivation. The World Cup trophy remains the most prestigious piece of silverware in cricket, and if Pakistan are to return home with it, Shaheen Shah Afridi will have to be one of the most important contributors.