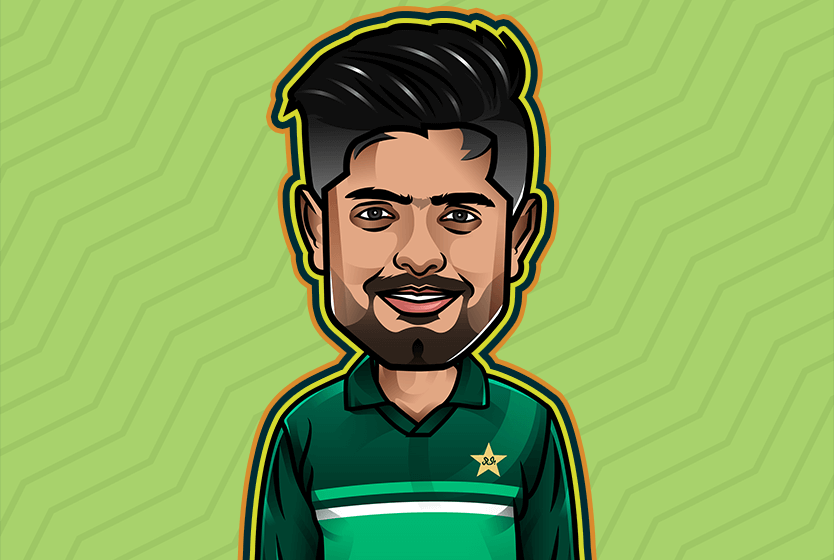 Babar Azam: Pakistan's Ray of Hope, the Maestro of Modern Cricket, Inspiring Generations With His Unparalleled Batting Prowess
Cricket holds a special place in the hearts of Pakistanis, transcending its status as a mere game. It's a passion that unites the nation, igniting a fervor and enthusiasm that knows no bounds. The sport embodies the spirit of unity, pride, and unwavering support, making it an integral part of our cultural fabric. Cricket, in times of national despair, emerges as a unifying beacon, seamlessly connecting every corner of our beloved nation. It is a powerful force that weaves together the hearts and souls of our people, bridging divides and fostering a collective spirit of hope and resilience.
Cricket and Pakistan share a profound and enduring bond that has stood the test of time. Their relationship is a tapestry woven with a multitude of emotions, encompassing both joyous triumphs and heart-wrenching sorrows. It is a connection that has witnessed moments of sheer bliss as well as poignant challenges, but still, it knits us all together.
Pakistan has earned a well-deserved reputation as the "land of pacers," consistently churning out a remarkable assembly line of exceptional fast bowlers. From the likes of Sarfraz Nawaz, Imran Khan, Wasim Akram, Waqar Younis, Shoaib Akhtar, and Mohammad Asif to the rising stars Shaheen Afridi and Naseem Shah, the nation has been blessed with an abundance of bowling talent.
Today, the individual I've sat down to write about is undoubtedly a figure of immense renown, in my honest opinion. He possesses an innate ability to captivate attention and make his presence known. He is an individual who enjoys widespread recognition and is often the foremost topic of discussion whenever cricket enthusiasts engage in spirited debates throughout the nation. He is an individual who effortlessly commands attention, sparking conversations and leaving an indelible impression. It would not be an overstatement to proclaim him as Pakistan's preeminent luminary, revered not only within the nation but across the globe. Absolutely! We're talking about the one and only Babar Azam, a name that resonates without the need for any formal introduction.
We all are well aware of Babar Azam's remarkable achievements and record-breaking career. However, my focus today is to delve into the extraordinary qualities that make Babar Azam stand out as a cricketer. What sets him apart? What captivates the hearts of the public? Why is he adored by fans?
For years, even decades, Pakistan yearned for a batting prodigy, eagerly awaiting a talent that would bring glory and triumph. They endured the agony of waking up at dawn, only to witness disappointing scorecards resembling a football match against the Windies, 1-4. But then, like a blessing, Babar Azam emerged, ushering in an era of hope and brilliance.
Babar Azam is an artist, his cricket bat a brush in his skilled hands. With each stroke, he crafts masterpieces, painting his artistry on the canvas of the pitch. His presence on the field is akin to a gravitational pull, compelling the eyes of his audience just as a magnet irresistibly attracts iron filings. He possesses an extraordinary charm that engenders adoration and elicits cheers from the masses. His batting prowess is enchanting as he weaves spells with his magical wand-like bat, leaving spectators spellbound.
Have you ever pondered what endears him to Pakistanis? His life journey and hardships are an open tale. Pakistanis connect, empathize, and rally behind him, their king's roar. He is adored and treasured by the people because they have yearned for someone like him for years. He instills hope and creates a sense of unity that inspires their belief in him. He evokes cheers and unwavering support, even in the face of despair or disappointment. He has built this formidable team, a team that never surrenders, always ready to emerge from adversity and ignite a beacon of optimism. A unit that is gelled despite circumstances and outcomes.
Pakistanis celebrate Babar with an almost festive fervor. He's adored, supported, and deeply cherished by his countrymen. He's their ray of hope, someone who makes them believe, someone who makes them hold on even when things aren't going their way. People call him 'Lahore's son,' but honestly speaking, he's not just that. He's Lahore's lion, he's Karachi's king, he's Multan's sultan, he's Sialkot's stallion, and he's Peshawar's panther too. He defies city boundaries and is embraced and exalted by a wide array of admirers.
He will be leading Pakistan for the first time ever to a Cricket World Cup (ODI). The nation's aspirations rest heavily on his shoulders. Despite the recent tumultuous events surrounding Pakistan Cricket, he remains prepared alongside his dedicated team. It is through their collective efforts that Pakistan's belief is rejuvenated. With and because of him and his men is why Pakistan can believe. Despite all the odds, the entire nation will be glued to their screens, hoping for him to lead them to glory because for Pakistan, Babar is everything, and for Babar, Pakistan is everything!
The opinions expressed solely belong to the writer and do not necessarily reflect the views of Grassroots Cricket.