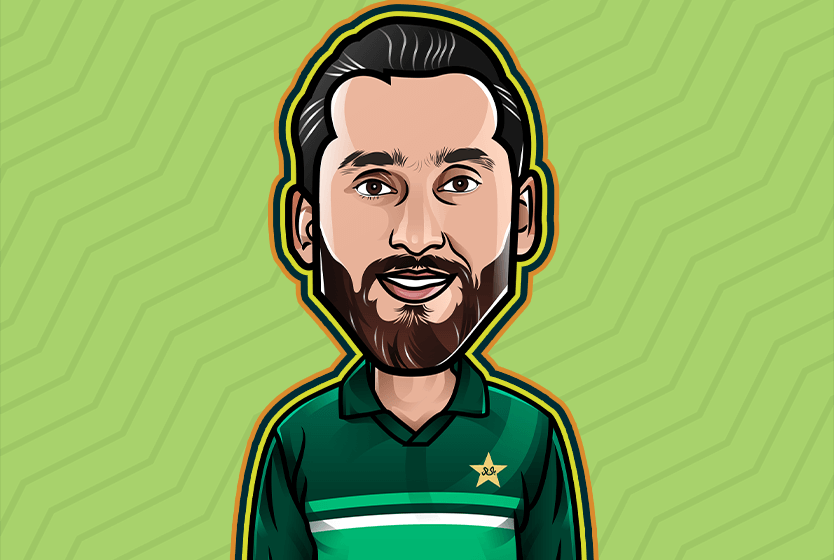 Salman Ali Agha
At the end of a World Cup campaign, most teams look ahead to the next one and start planning. Not so Pakistan. 15 months before the 2023 World Cup, Salman Ali Agha was yet to play a match for Pakistan as they stumbled around looking for a solution to their middle-order woes. Since his debut, though, Salman has been a crucial part of Pakistan's XI, fitting like a glove for a lineup that required someone with his skill set.
Salman's journey in 50-over cricket began in 2013, but it wasn't until 2015/16 that he began to gain a foothold in domestic cricket, batting mostly at number 4/5. However, a couple of average seasons followed as he was forced down the order and struggled. In that era's domestic cricket, he was a peripheral figure as he sought to find his way at the top level of cricket.
The now-defunct domestic cricket system with cricket associations proved to be the turning point of Salman Ali Agha's career. Playing for Southern Punjab 2nd XI in the first season, he struck a hundred in a 3-day game, was promoted to the 1st XI, struck a hundred there too, and never looked back, piling on the runs in both First Class and List A cricket whenever he got the chance.
COVID delayed his List A career for a while. But when he played his first List A game in more than 2 years in 2021, he hit a 75-ball 106* to take his team home in a successful chase of 310. In 2022, he hit a stunning 171 in the Pakistan Cup out of a team total of 284 in a match where only one other batsman reached 50.
The signs were all there that he had something to his game, but it took till July 2022 for him to make his Pakistan debut and August until his ODI debut, and he took to it like a duck to water, albeit against modest opposition in the Netherlands with scores of 27* off 21, 50* off 35, and 24 off 42 on a tricky pitch.
Salman continued gaining confidence as he hit his maiden Test hundred later in the season and slowly but surely became a mainstay in Pakistan squads. Further impressive performances against New Zealand followed during Pakistan's ODIs in 2023, while he was also the Player of the Series in the Test matches against Sri Lanka. Despite modest performances against Afghanistan, he is now an important part of Pakistan's squad heading into the World Cup.
Pakistan have flirted with different roles for Salman despite his relatively short career, but he and the management now appear to be comfortable with him batting at number 5. That goes perfectly in line with his credentials at the domestic level, where almost all of his success has come at number 4/5. That is primarily because of his skill set and style of play. Additionally, he plays an important role as the 6th bowling option.
Batting at number 5, he has so far come out to bat in ODIs like a man on a mission. Regardless of the situation, he looks to be proactive and transfer the pressure back onto the bowlers through his wide variety of strokes, particularly against spin. Regular strike rotation and manipulating the fields are his strengths. However, a number 5 batsman is usually expected to be able to hit pace at the death as well, but that isn't one of Salman's strengths, although he finds ways to score runs regardless.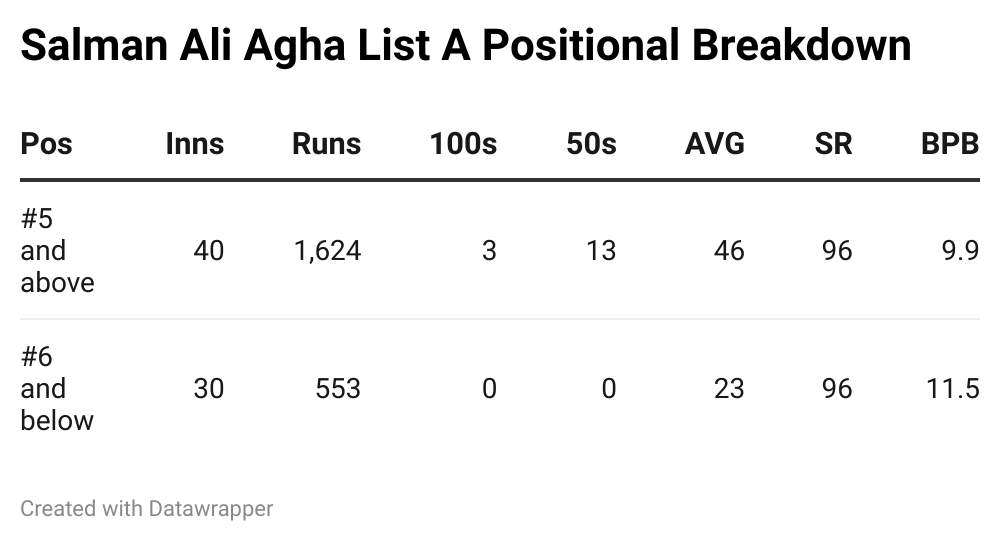 Salman Ali Agha is a proactive batsman who especially enjoys taking on the spinners with his variety of strokes. While he has also improved against pace in recent years, countering spinners comes naturally to him. He can play various types of sweeps and reverse sweeps to access scoring areas that other batsmen find tricky to open up. It's this ability to be unorthodox that makes him stand out in the Pakistan lineup, and his superb skill set, particularly in terms of attacking spin, makes him a very valuable addition to the middle order.
While Salman's batting against spin is highly valuable, his off-spin bowling makes him a game-changer for Pakistan's ODI lineup. A 6th bowler who provides extra variety (none of the frontline 5 are off-spin options) makes Pakistan's bowling attack just that much more well-rounded.
While Iftikhar Ahmed also bowls offies, Salman is a more accomplished bowler with 200+ wickets across all formats of professional cricket. He bowls 15 overs per First Class match on average, and if the pitch has some assistance for spin, he offers a genuine wicket-taking threat, in comparison to Iftikhar, who has superb defensive skills with the ball but isn't necessarily a wicket-taking option. Against an LHB-heavy unit, he can effectively cover for Mohammad Nawaz's left-arm spin, while on an assistive track, he offers an extra spin option to complement the others.
Batting Against Pace/Death Hitting
Salman has gone on record, stating that his batting against pace bowlers has improved over the years. That is a likely consequence of playing regular all-format cricket, particularly the Quaid-e-Azam Trophy. However, the number of genuine 140+ pacers operating during Pakistan's domestic season isn't very high, and Salman has demonstrated a slight vulnerability to pace whenever he's played the PSL and ODIs, although the sample sizes are still small. In particular, his style of play is perhaps not ideal for hard lengths aimed at the body.
The lack of options in terms of hitting pace is the most likely reason for Salman's T20 career not having taken off, despite his proactive style of play and excellent strike rates in the longer formats. In the few ODIs he has played so far, Salman has had to bat in the death overs occasionally, and it's noticeable that he primarily tries to utilize the pace on offer and hit square or behind square. However, hitting proper pace in front of square or down the ground is a challenge, which is why some people have advocated for him to bat one spot higher in the order at number 4. At number 5, his temperament and overall skill will be tested to the extreme.
Before the 2023 World Cup starts, Salman Ali Agha will have played a maximum of 20 ODIs. Expectations must be tempered. He will be batting in one of the most crucial middle-order spots, where batsmen generally need much more experience and time to understand how to navigate different scenarios and oppositions. Salman has no such luxury. He doesn't have extensive experience of playing high pace or high-quality wrist spin as these skillsets are magnified at the highest level. Made to debut approximately one year before the World Cup, he must now fast-track the learning process.
The other perspective is that in the last 4 years, Salman has played 37 First Class matches, scoring 3000+ runs with 11 hundreds at an average of 55. He has also made a brilliant start to his international career. His temperament is sound, and at 29 (turning 30 four days after the World Cup ends), he can be expected to be at his 'peak' in a World Cup in Asia, where his skill set is most suitable. Invariably, a crunch game at the World Cup will come down to him, and Pakistan will hope for the best from this young man, who may not have had the ideal preparation to deliver on the biggest stage of them all, but who gives us a glimmer of hope regardless.