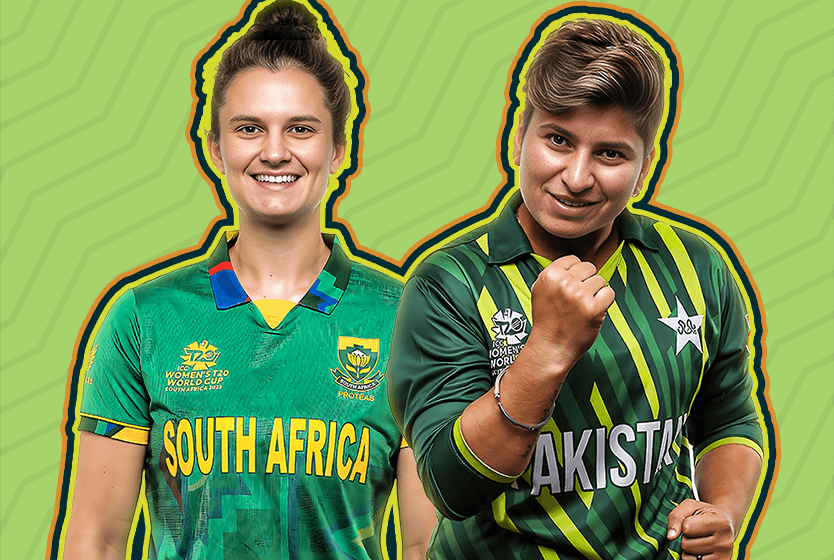 Pakistan Women vs. South Africa Women – T20Is Preview
The Pakistan women's team is gearing up to face South Africa in T20I and ODI series. This marks the first time the South African team is touring Pakistan, making it a historic series. Both teams have announced their squads in anticipation. The three-match T20I series commences on September 1 in Karachi.
Nida Dar has taken over the mantle of leadership for the Pakistani side in this significant series following Bismah Maroof's resignation from the captaincy earlier this year.
Discussing the Pakistan squad, they have introduced the uncapped Shawal Zulfiqar. Additionally, players like Umm-e-Hani, Najiha Alvi, and Waheeda Akhtar are also yet to make their debut. Syeda Aroob Shah and Natalia Pervez are set to rejoin the T20I side after a hiatus of over three years. However, notable absences from the T20I series against the Proteas include Tuba Hassan and Eyman Fatima.
Since her debut, Tuba has been superb, taking 19 wickets in T20Is with an economy of 5.74. On the other hand, Eyman, known for her aggressive opening stance, was the top scorer for Pakistan in the U-19 World Cup this year, amassing 157 runs in 7 innings. Representing PCB Strikers in the Pakistan Cup, she scored 92 runs in just two innings, boasting a strike rate of 158. She also stood out as the top six-hitter amongst her peers.
Let's delve into the Pakistan Women's squad selected for the upcoming T20I against South Africa.
Analyzing the statistics for Pakistan batters since 2019, Bismah Maroof stands out. Undoubtedly, Bismah has been a pivotal player and a trailblazer for Pakistan. Recently, she has begun to strike more consistently at an impressive rate, demonstrating her ability to adapt and shift gears as needed. Since 2019, Bismah has been the leading run-scorer for her side in T20Is, amassing 669 runs in 32 innings with a strike rate of 90.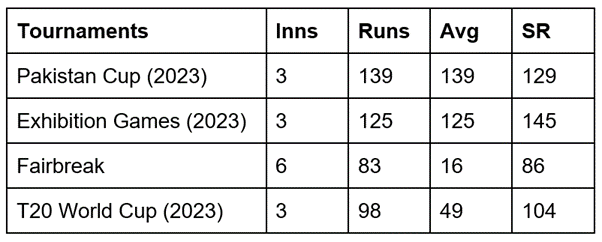 Nida, the new skipper, has undoubtedly been in stellar form recently. Her heroics in the last Asia Cup against India are particularly memorable. She has effectively taken on the role of a finisher. Since 2019, Nida has amassed 601 runs at a strike rate of 110 and an average of 27. Against South Africa since 2019, she stands out as the top run-scorer for her side, with 235 runs in 9 innings at a strike rate of 146. She offers reliability in the middle order and excels in the finisher role.

Moreover, Nida is a genuine all-rounder, having won games for Pakistan not only with her batting but also with her exceptional bowling. For instance, in the ODI World Cup last year, during the match against West Indies that was reduced to 20 overs, Nida stood out with her outstanding bowling performance, claiming 4 wickets in 4 overs while conceding just 10 runs.

While Aliya hasn't been in top form lately, she remains a pivotal player for the team. Alongside Nida, Aliya is known for her ability to hit sixes. Since 2019, Aliya has hit the second-highest number of sixes in T20Is for Pakistan Women, only behind skipper Nida.
The right-handed batter has recently participated in various T20 events, and Pakistan will undoubtedly hope her experience proves beneficial. Despite struggling in her last 10 innings, Aliya has a commendable record against South Africa.
Since 2019, she has scored 183 runs against South Africa at a strike rate of 114, hitting the second-highest number of sixes against them. This track record should certainly boost Aliya's confidence as she looks to continue her dominance against the Proteas.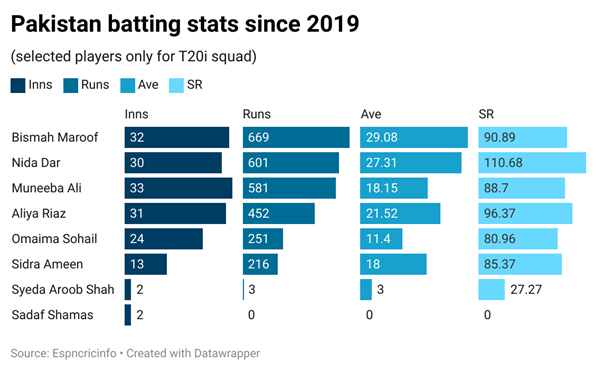 Overall, the Pakistan team has fine anchors in the middle who can pace the innings in the right direction, but it's always the finishing role with which the side has struggled. Thus, the team will be highly reliant on Nida Dar for this, while Fatima Sana and Diana Baig also have the ability to offer useful runs down the order.
Batters Who Might Struggle
Sidra Ameen made her debut in 2011 in T20 internationals. As of now, she has played in 34 innings and scored 493 runs at an SR of 78 while she averages 15.
In 2020, in the Triangular Cup, she scored 92 runs in 3 innings at an SR of 119. Nevertheless, since 2019, in international cricket, her performances have not been up to the mark.
One of the reasons can be her constantly changing batting position. She can anchor the innings aptly, but the Pakistan team is looking for aggressive batters in the middle order.

Given that Pakistan has additional options in the T20 format, with players like Eyman Fatima and Iram Javed, it might be time to focus more on utilizing Sidra in ODIs.
Why Is Omaima Sohail In The Reserves?
Omaima Sohail, the all-rounder, has been named as a reserve for the T20I squad against South Africa. Interestingly, she is also part of the Asian Games, set to commence next month. The decision seems unusual, given that Omaima won't get any game practice and her recent performances haven't been impressive.
While Omaima, an off-spin bowler, provides Pakistan with middle-order batting options, she hasn't made a significant impact in recent tournaments. Pakistan has identified Umm-e-Hani as a player who can offer similar contributions to Omaima's.
Her recent batting: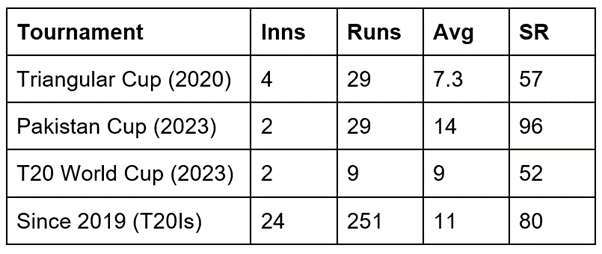 Given Omaima's poor form, it might have been a sensible decision to rest her and proceed with Umm-e-Hani. However, let's hope Omaima can regain her form for the ODI series against South Africa in the practice sessions and be in top shape for the Asian Games.
Shawaal is just 18 years old and has been selected for the T20I series. She first made her mark in the T20 format in 2019. Since then, she has participated in various T20 tournaments, topping the charts in the U-19 Women's tournament and other T20 cricket competitions.
She received well-deserved praise during the U-19 T20 World Cup, where she batted aggressively alongside her opening partner, Eyman Fatima. The right-handed batter is a promising talent, known for her aggressive batting during the powerplay.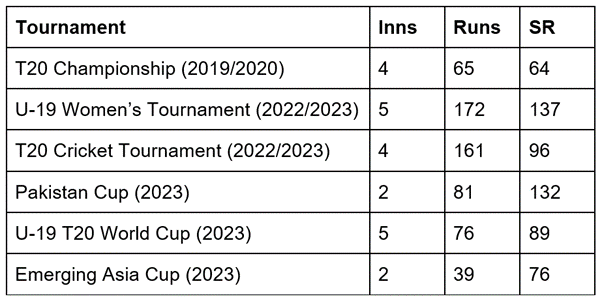 Aroob Shah and Muneeba Ali
Aroob Shah and Muneeba Ali are other batters who should be on your watch list.
Aroob is making a comeback to the T20I side after making her debut in 2019. She has played 5 T20Is to date, scoring 5 runs in 2 innings and taking 5 wickets in 5 innings. The 19-year-old is poised for a return on the strength of her previous performances. With Pakistan playing without Tuba Hassan, the team will have high expectations from Aroob Shah.
Aroob's last T20I appearance was in March 2020. Since then, she has participated in various domestic events. The 19-year-old is adept at contributing both with the bat and ball. While she is renowned for her leg-spin bowling, her batting prowess often goes under the radar. In the U-19 Women's Cricket tournament in 2022, she amassed 160 runs in 5 innings at a strike rate of 179. Although she led the bowling charts in the tournament, her batting also made a significant impact.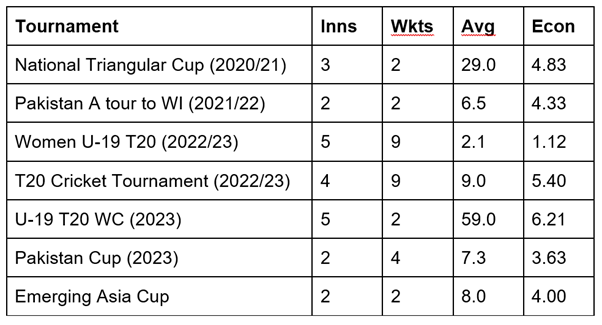 So, it's high time the Pakistan management begins to place more trust in Aroob's batting abilities, given her potential to contribute significantly with the bat.
Now, onto Muneeba. After scoring a century in the T20 World Cup earlier this year, the upcoming series is crucial for her. As the top individual run-scorer in the T20 World Cup this year, she should have high confidence and good morale. Having been a part of the T20I setup since 2016, fans now have heightened expectations of her. Given her evident skill set, there's anticipation for her to shine at the international level consistently.
In the recent Pakistan Cup, she accumulated 96 runs in 3 innings with a strike rate of 101. Her century in the T20 World Cup showcased her prowess; hence, it's time for Muneeba to consistently live up to those standards. Pakistan often banks on her for a strong T20I start, making it imperative for her to deliver in the upcoming T20I series against South Africa.

Thus, all eyes will be on Muneeba to see how she performs with the bat in the upcoming series.
Pakistan have always relied on their spin department to put pressure on the opposition. Since 2019, the spinners have been leading the wicket-taking charts.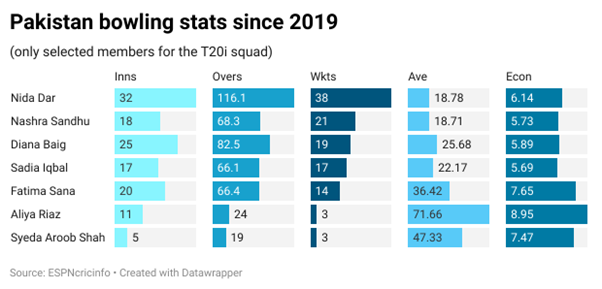 When thinking of reliability in terms of bowling in the cricketing world, one name immediately springs to mind: Nashra Sandhu. Her consistent bowling performances have been a pillar of strength for her side. Since 2019, she's claimed the second-most wickets for her team with an impressive economy rate of just 5.73.
In the T20 World Cup, Nashra was the lead wicket-taker for her team. Her knack for clinching crucial wickets during the middle overs and maintaining a tight rein on the run rate significantly contributed to Pakistan's T20I successes. With her infectious smile and sparkling eyes, she has a unique way of putting her opponents on the back foot.

In 2023, Fatima participated in a wide array of tournaments, including the T20 World Cup, Pakistan Cup, Women's Emerging Asia Cup, exhibition games, and the Fairbreak tournament.
Her active involvement in T20 matches means her experience and exposure will be invaluable when Pakistan faces South Africa in the upcoming T20I series. While her skills with the new ball have been noteworthy, it's time for her to also step up during the death overs.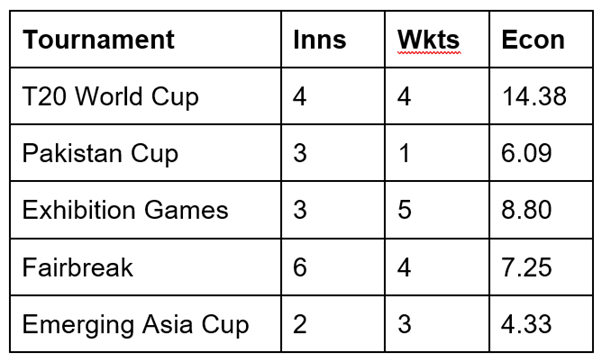 In addition to her bowling prowess, Fatima possesses the ability to contribute with the bat lower down the order. For instance, during the Fairbreak tournament in the match against the Falcons, she scored an unbeaten 45 runs while batting at number 8 for Barmy Army. Thus, she's a valuable player who can deliver under pressure when the team requires crucial runs.
Last but not least, spinner Sadia Iqbal has been in top form lately. The 28-year-old slow left-arm spinner has played a pivotal role in Pakistan's triumphs in the T20 format. For instance, in last year's Asia Cup, Sadia clinched 2 wickets, conceding only 24 runs in her 4 overs, contributing to the historic win against India.
Recently, Sadia has participated in several T20 tournaments, including the T20 World Cup, Pakistan Cup, and exhibition games. Although she didn't manage to take any wickets in the Women's League Exhibition, her performances in the other tournaments were commendable. Since 2019, she has secured 17 wickets in 17 innings, with an economy rate of 5.69.

Nevertheless, the choice between Umm-e-Hani and Sadia will be tough for Pakistan's management.
Umm-e-Hani has yet to make her T20I debut, but she has been exceptional recently. She can also provide batting stability, hence providing batting depth. She has been part of the domestic circuit since 2013.
In the recent past, she has been a part of the T20 Women's Cricket Tournament, exhibition games, the Pakistan Cup, and the Emerging Asia Cup.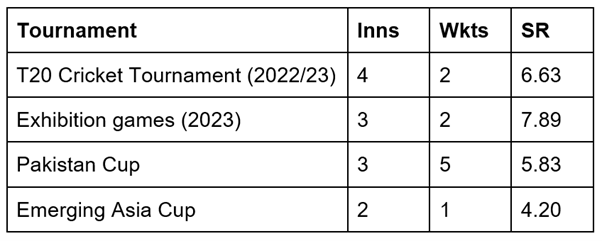 Given her stellar recent performances, she is definitely a player to watch out for.
When you talk about Diana, you're reminded of her roller-coaster journey recently. Despite being a seasoned player, she's gearing up for a comeback after a significant time on the sidelines. The thumb injury that sidelined her during the T20 World Cup and exhibition games was a huge blow.
She returned to the cricket arena with a stellar performance in the Fairbreak tournament, taking 4 wickets in just 5 games and boasting an impressive economy rate of 7.69 while representing Tornadoes Women. Her comeback was truly a statement of intent. Yet, in the Pakistan Cup, while representing the PCB Blasters, fortune didn't seem to favor her. She managed just one wicket in three innings.
As cricket lovers, it'll be captivating to watch how Diana, with all her heart and soul, strives for a robust comeback. And let's not forget that her new-ball swing can be game-changing for her side.
T20I Head to Head (Since 2019)
In 2019, Pakistan toured South Africa for a 5-match T20I series, which South Africa clinched with a 3-2 victory.
Later in the 2019 T20 World Cup, the two teams met again, with South Africa emerging victorious by a margin of 17 runs.
Fast forward to 2021: the Pakistani women's team toured South Africa for a 3-match T20I series, and once again, the hosts triumphed with a 2-1 series win.
After nearly two years, Pakistan is set to face South Africa in a T20I. The last time Pakistan defeated South Africa in a T20I bilateral series was in 2015, held in the UAE
Muneeba Ali (wk)
Shawal Zulfiqar
Sadaf Shams
Bismah Maroof
Nida Dar (capt)
Aliya Riaz
Umm-e-Hani
Nashra Sandhu
Syeda Aroob Shah
Diana Baig
Fatima Sana
As I wrap up this piece, I'm reaching out to each and every individual in Karachi. It's time for us to fill the stands and uplift our Women in Green. This is our chance to show the world our passion and pride for women's cricket. So, let's come together, be supportive, and cheer on our girls like never before!
Note: All stats have been taken from ESPNCricinfo and PCB.
The opinions expressed solely belong to the writer and do not necessarily reflect the views of Grassroots Cricket.