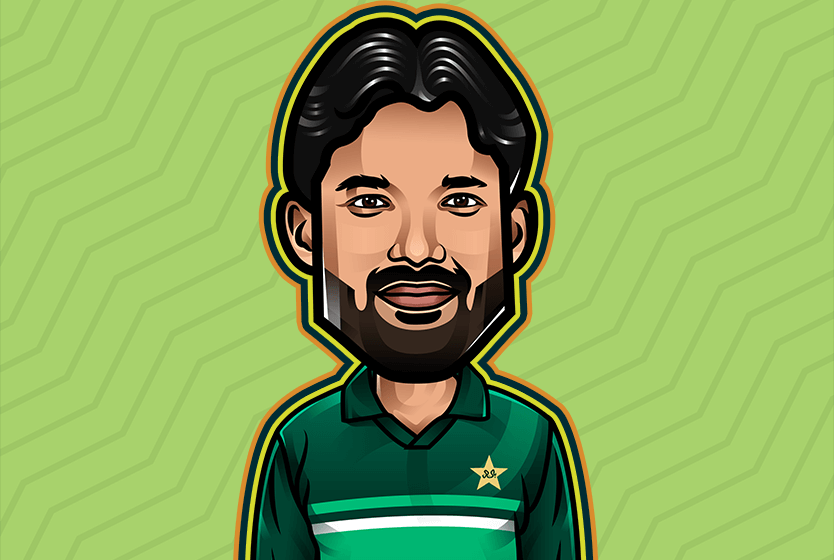 Muhammad Rizwan
It hasn't all been smooth sailing for Mohammad Rizwan, and certainly not in the ODI format, where he had to wait a while to cement his spot in the team. However, after the 2019 World Cup, middle-order and wicket-keeping slots opened up, and he slowly but surely cemented his spot in the team. He is now one of the all-important components of the Pakistan XI – for his keeping, batting, and leadership.
Mohammad Rizwan made his ODI debut in the doomed "Banglawash" series – Pakistan's first ODI series after the 2015 World Cup, where they suffered a 3-0 whitewash in Bangladesh. Despite the poor result, he immediately made an impression, hitting a 58-ball 67. He hit another impressive knock in the next series, 52 off 38 balls. Pakistan fans were convinced. They had found an ODI finisher.
Rizwan remained around the Pakistan ODI side for much of 2016-17, but unlike his debut at #5, he primarily batted at #6-7, trying to live up to that finisher tag, and he struggled. 25 matches into his career with an average of less than 30, he was discarded in early 2017. Notably, he had primarily played as a batsman early on, with Sarfaraz Ahmed also playing and naturally keeping wickets.
Not to be deterred, Rizwan went back to the drawing board. Now a Pakistan international, he had more authority in domestic teams, often leading his side while also often being made captain of the Pakistan A and Emerging teams. Here, he figured out his best position at number 4. In the two years away from the national side, Rizwan didn't knock on the door. He tore it down. In 40 List A innings in this period, he hit almost 2000 runs at an average of 75 with a strike rate of 95, including 6 hundreds and 10 fifties.
Rizwan would make his comeback in early 2019. Simultaneously, Sarfaraz was rested ahead of the World Cup, and Rizwan grabbed the opportunity with both hands, hitting 2 hundreds in a 5-ODI series against Australia – this time batting at his favored number 4 spot. However, he wouldn't make the World Cup squad. But at this point, it was really just a matter of time before he was to get an extended run.
In late 2020, Mohammad Rizwan was once again integrated into the ODI team, this time as a number 4-5 batsman and wicket-keeper. After a slow start, with Pakistan's limited number of ODIs probably playing a part, he found his mojo in 2022 and began to live up to expectations as Pakistan started looking forward to the World Cup. At the time of writing, Rizwan is averaging 45+ at a strike rate of 90+ in his last 20 ODIs.
A number 4 batsman really has multiple roles in an ODI batting lineup, particularly in one with varied strengths and weaknesses like Pakistan. Rizwan will also keep wickets while providing a leadership figure in the team that Babar Azam will rely upon.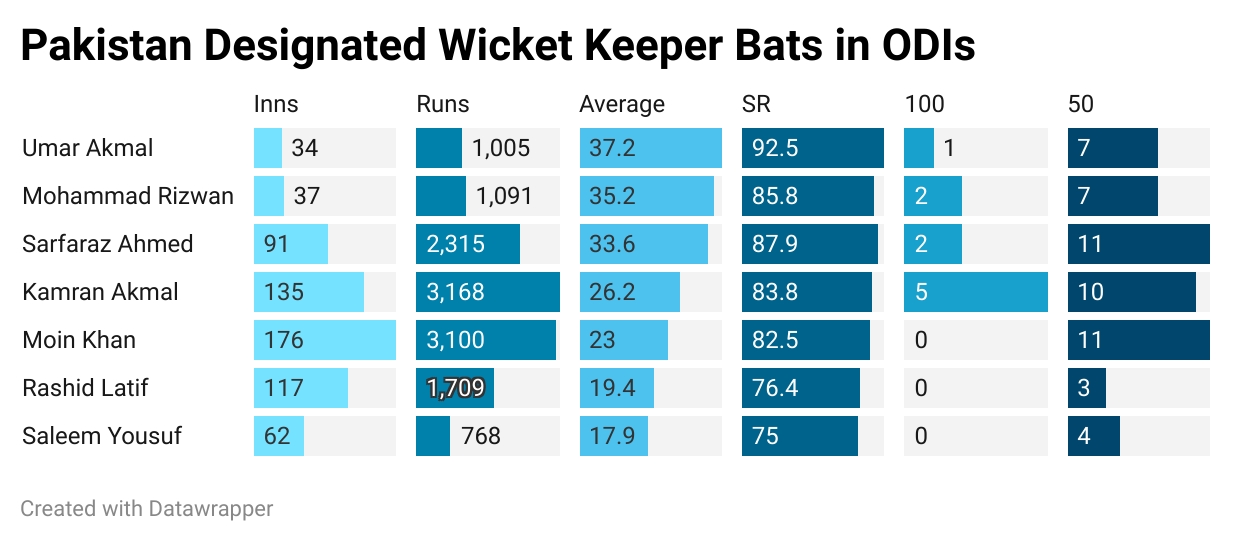 Pakistan's top three are arguably the most consistent and best-performing top 3 in ODI cricket over the last couple of years. For situations where a couple of them fire and he was to come out to bat at 140/2 in 25 overs, Rizwan must keep things busy without losing the innings' momentum – a moderate scenario.
On the other hand, where things don't go according to plan, and he has to come in to bat at, perhaps, 30/2 in 10 overs, innings recovery is essential, particularly in a tournament like the World Cup, where your ceiling may not be as important as your floor in pressure games. On the other hand, there's also the prospect of everything going to plan at the top, with the number 4 coming out at 250/2 in 40 overs, where he would be required to step on the gas – an extreme scenario where he may struggle.
One of the things that Rizwan mastered during his ascent to the ODI team was the ability to recover the innings. He has a number of traits that make him skilled at this. The first is his sound game against all types of bowling, particularly pace & bounce and finger spin. In his initial stint in ODIs, he had demonstrated a vulnerability to wrist spin but also improved his batting against it to a workable level. The second is his sound temperament – the result of a long career of hard work & toil, including 18,000+ runs in professional cricket, an average of 40+ in First Class, List A, & T20 cricket, and important performances for Pakistan in crunch situations in all formats.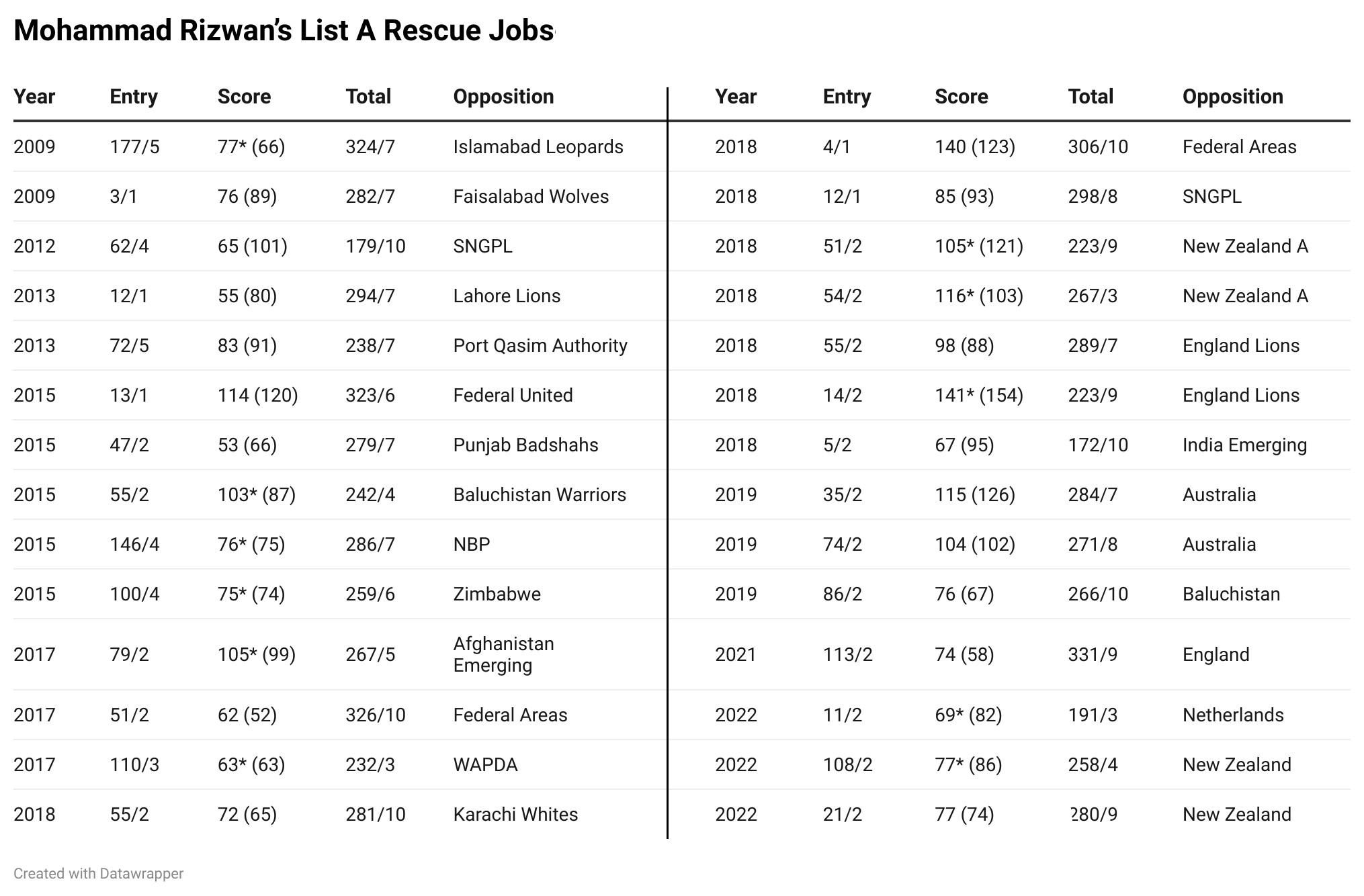 It was perhaps his performances in A games that truly led to his comeback. The 105* against New Zealand A (with an attack including the likes of Lockie Ferguson) came after Pakistan A were 182/9; the 10th-wicket partnership helped them chase down 223, with Rahat Ali contributing 3 in the 41-run stand. The 141* against England Lions was another remarkable knock – only one other batsman reached double figures for Pakistan A against an attack containing the likes of Mark Wood.
Once an aspect of his game that he was mocked for, the power game is now one of Rizwan's strengths. The key disclaimer here is that it's a strength when he's settled at the crease and ready to launch, as seen from his T20 exploits. However, if he is required to up the ante and play a traditional number 6-style role from the get-go, he will likely struggle.
When he is settled and in the zone, Rizwan's hitting arc ranges from extra cover to fine leg, where he can take on fuller deliveries outside off and look to hit them straight or inside out, while anything straighter, regardless of the length, can disappear. His work on his T20 game helped enhance this, and while his style of play can sometimes be detrimental for the shorter format, it perfectly suits the one-day game.
Rizwan also possesses the other traits required to finish ODI innings besides the traditional big-hitting skills. T20 cricket has somewhat distorted perceptions about what ODI finishing is, and teams rarely regularly hit 10 RPO at the death. The ODI finish is more measured and often requires percentage cricket, and a key component of it is placing the ball in gaps and running hard between the wickets – two strong aspects of Rizwan's game.
We have already established that Rizwan's game is perhaps not ideal for the situations where he comes in to bat in the last 10 overs, having to hit right away. Additionally, there will be situations where he will have sluggish starts, particularly against spin and on slower pitches. In these scenarios, his partner would have to take responsibility, and they are well suited for this. In most situations, Rizwan would come in to bat with one of the top 3 being set. Alternatively, he may partner with someone like Salman Ali Agha, who is naturally a proactive player. Were he to come in to bat in crises such as the 30/2 possibility, wicket preservation takes precedence anyway.
Rizwan has worked hard on his game recently to minimize the sluggish starts and start better against spin. In particular, he has improved his spin vulnerability and is less prone to early dismissals against spin, while sluggish starts are a work in progress. One of the key components of his game plan is his increased reliance on shots like the sweep to ensure he remains proactive and doesn't get stuck. While he is perhaps not a natural like Salman Ali Agha with these methods, developing them and refining their execution will go a long way to ensuring that he minimizes the sluggish starts and can sustain the momentum of Pakistan's batting innings.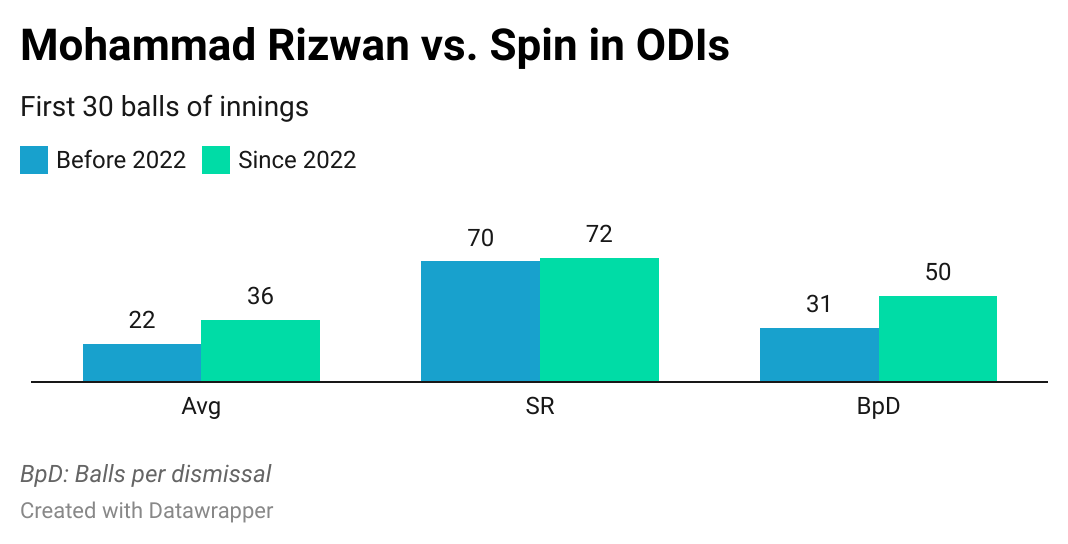 There has been some debate, primarily on social media, about the possibility of Mohammad Rizwan stepping down to number 5, traditionally considered a tougher role to master and one that will undoubtedly be important during the World Cup. The idea behind that is to have a more proactive player against spin up the order while retaining Rizwan's finishing abilities for the back end of the innings, where a large skill set is needed against all bowling types. Yet, this is not something that the team management has shown an inclination to try, and Rizwan has also conveyed that his preferred batting spot is number 4. His List A record also supports this: almost 2500 runs at #4 at 57/94, versus 550 @ 34/90 at #5. With that seemingly confirming he will bat at 4, Pakistan will have high hopes from him in the World Cup in a crucial middle-order spot.
Much of Pakistan's World Cup hopes will likely depend on him, as batsmen between numbers 4-6 invariably must step up in crunch situations under huge pressure. No matter how good a team's top three might be, quality bowling and testing conditions can always account for a couple of early wickets, and that's where the middle order's mettle will be tested. At 31 years of age, a leadership figure in the team, and with performances backing him up in all formats, notwithstanding a few minor struggles in Tests, Rizwan is at a stage of his career where the team will rely on him. Expectations and hopes will be equally high from one of Pakistan's finest.