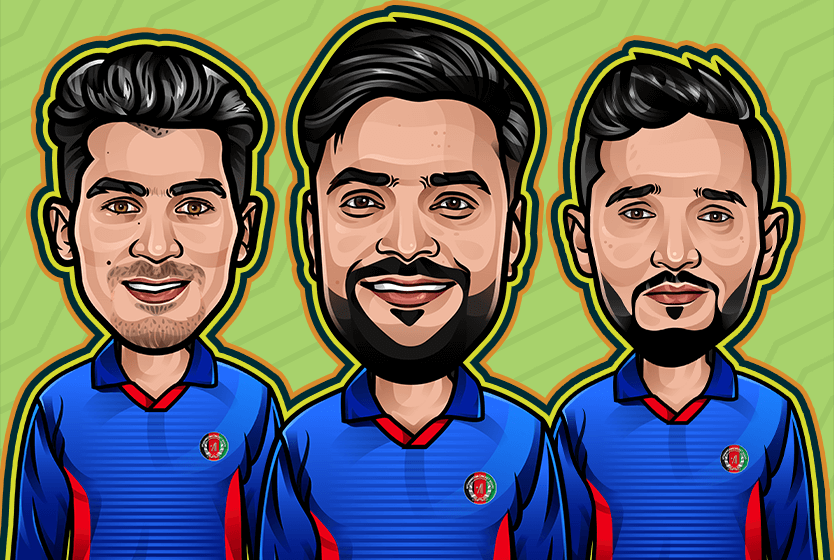 The Amazing Journey of Afghanistan Cricket
Cricket's Start in Afghanistan
Like most top cricketing nations, cricket came to Afghanistan through the British. However, unlike most countries, it didn't immediately gain popularity with the local population.
Cricket started becoming popular in Afghanistan in the 90s, mainly due to the large inflow of Afghan refugees in Pakistan. It was primarily in Pakistan that they learned their trade early on.
In 2000, at the turn of the century, cricket became the only sport allowed to be held in Afghanistan by the Taliban. It paved the way for Afghanistan's cricket to progress; just a year later, in 2001, they were bestowed affiliate membership of the ICC.
Journey to One-Day "International" Cricket
Afghanistan toured Pakistan in May 2001 and played and lost to Peshawar U19 in Peshawar. That Peshawar side featured a certain Umar Gul. The result, though, was irrelevant at this point; the cliched quote fits here quite well: "Focus on the journey, not the destination." They would also participate in the Grade II edition of the Quaid-e-Azam Trophy that year.
The Afghan side would return a couple of years later to feature in the 2002/03 Cornelius Trophy, playing four 3-day matches against Pakistani domestic teams, i.e., Okara, Rajanpur, Gujrat, and Rahim Yar Khan. They had some decent individual performances, including Nawroz Mangal and Mohammad Nabi, who scored 200+ runs, while Nabi also picked up six wickets.
After similar follow-up tours to Pakistan to participate in domestic tournaments, Afghanistan participated in the 2004 ACC Trophy – a regional qualifying tournament – and played against Oman, Hong Kong, Bahrain, Kuwait, Malaysia, and Nepal. They defeated Bahrain and Malaysia en route to a 6th-place finish in the 15-team tournament.
They participated in similar tournaments and tours like the ACC Middle East Cup in 2006, where Afghanistan finished as runners-up after topping the group stage, losing to Bahrain in the final. There was also the 2006 tour of England, where they faced teams including counties' 2nd XIs, one of them an Essex side featuring the likes of Grant Flower and Ryan ten Doeschate. Afghanistan also defeated an MCC side in Mumbai by 171 runs, with Mohammad Nabi hitting a century. Here, Hafti Gulabid, a 22-year-old fast-bowler, dismissed Mike Gatting for a duck.
Next up was the 2006 ACC Trophy, where Afghanistan went from strength to strength. They topped their group, winning all three matches against Qatar, Thailand, and Iran. They then beat Malaysia in the quarter-final before narrowly falling short against Hong Kong in the semi-final. Not to be deterred, they downed Nepal to seal a 3rd-place finish. Their wins were by 66 & 64 runs and 9, 10 & 9 wickets, respectively. Fast-bowler Hamid Hassan was their most successful bowler, with nine scalps at 15.5.
In 2007, Afghanistan returned to Pakistan to play Inter-District cricket, with the likes of Asghar Stanikzai, Samiullah Shinwari & Shapoor Zadran featuring. Later that year, they would get their hands on silverware as joint-winners of the inaugural ACC Twenty20 Cup in 2007 after a tie in the final against Oman. Nawroz Mangal was their top run-scorer, scoring more than twice as many runs as anyone else (263) while also being their top wicket-taker with 11 wickets.
Next up was Division Five of the ICC World Cricket League, which they won, narrowly beating Jersey in the final. Hamid Hassan was unstoppable, with 15 wickets at an average of 8, including 4/27 in the final. In the 2008 ACC Trophy Elite, they sealed a 3rd-place finish, again defeating Nepal after falling to Hong Kong in the semi-final. Division Four of the World Cricket League was conquered quickly, too, as their stunning run continued. They won all six games, including the final against Hong Kong. Mohammad Nabi was the Man of the Tournament, with 154 runs and 14 wickets (at an average of 5). The brilliant run ensued in Division Three as they won yet another title with four wins in five games, with the likes of Mohammad Nabi and Hamid Hassan impressing yet again. This duo also played domestic cricket in Pakistan in 2008, making their List A debuts for Pakistan Customs in the ABN-AMRO Cup.
First Taste of the Big Stage
Afghanistan's spectacular rise from Division 5 of the World Cricket Super League to Division 3 and then winning it allowed them to take up a place in the World Cup Qualifiers, keeping their dream alive for the 2011 World Cup. A top 4 spot in the qualifiers in South Africa would allow them to qualify while finishing in the top 6 would ensure they gain ODI status.
At the World Cup Qualifiers, Afghanistan won 2 out of 5 games (against Bermuda and Denmark) in the group stage and finished 4th to go to the Super Eight stage. These matches were effectively Afghanistan's first few in official List A cricket. Afghanistan won 3 out of 4 games in the Super Eight stage, defeating Ireland, Scotland, and Namibia, while losing to Canada. Hamid Hassan was the star against eventual qualifiers Ireland, taking 5/23.
However, this wasn't enough for them to make it to the World Cup as they finished 6th, but it was enough to gain ODI status. Afghanistan played the 5th place playoff against Scotland in their first-ever ODI. They defeated them courtesy of half-centuries by Samiullah Shinwari and Mohammad Nabi, while star pacer Hamid Hassan took three wickets, including that of top-scorer Kyle Coetzer.
Thus, they had narrowly missed out on participation in the 2011 World Cup in India but had gained ODI status for the next four years – a historic result after playing in Division 5 of the ICC World Cricket League just a year earlier.
Due to the influence of Pakistan, Afghanistan's playing style, which had matured over the years, relied mainly on wrist spin, fast bowlers, and hard-hitting batters. At that turn of the decade, Afghanistan's rise in T20Is also suited this style. Their first taste of a major world tournament was when they qualified for the T20 World Cup in 2010. Even though they lost all their matches here, their performances were promising, including Noor Ali Zadran's fifty against India and Hamid Hassan's four wickets in two games against India and South Africa.
Noor Ali Zadran in his half-century against MS Dhoni-led India (Getty Images)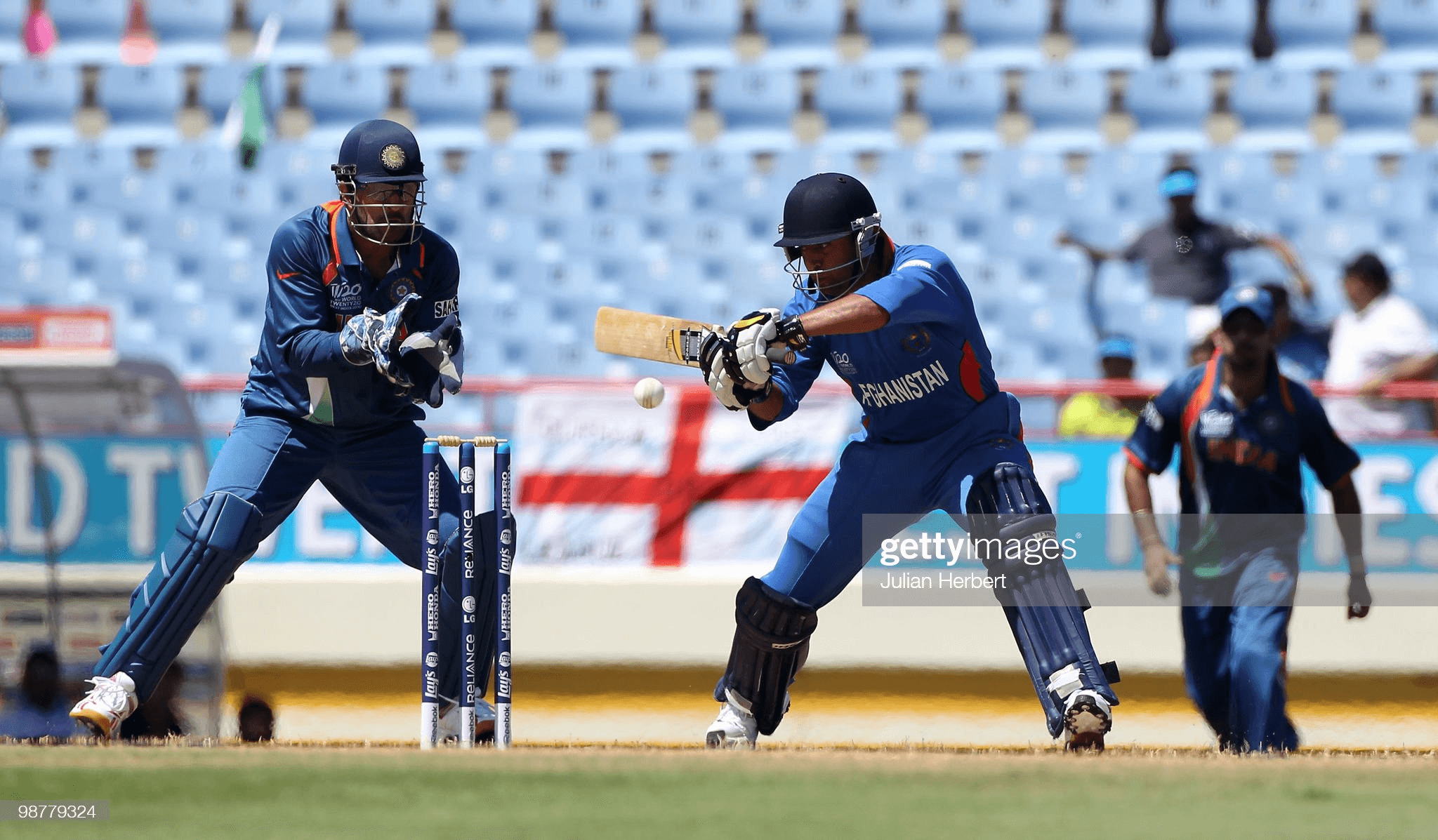 Hamid Hassan celebrating the wicket of Mark Boucher (Getty Images)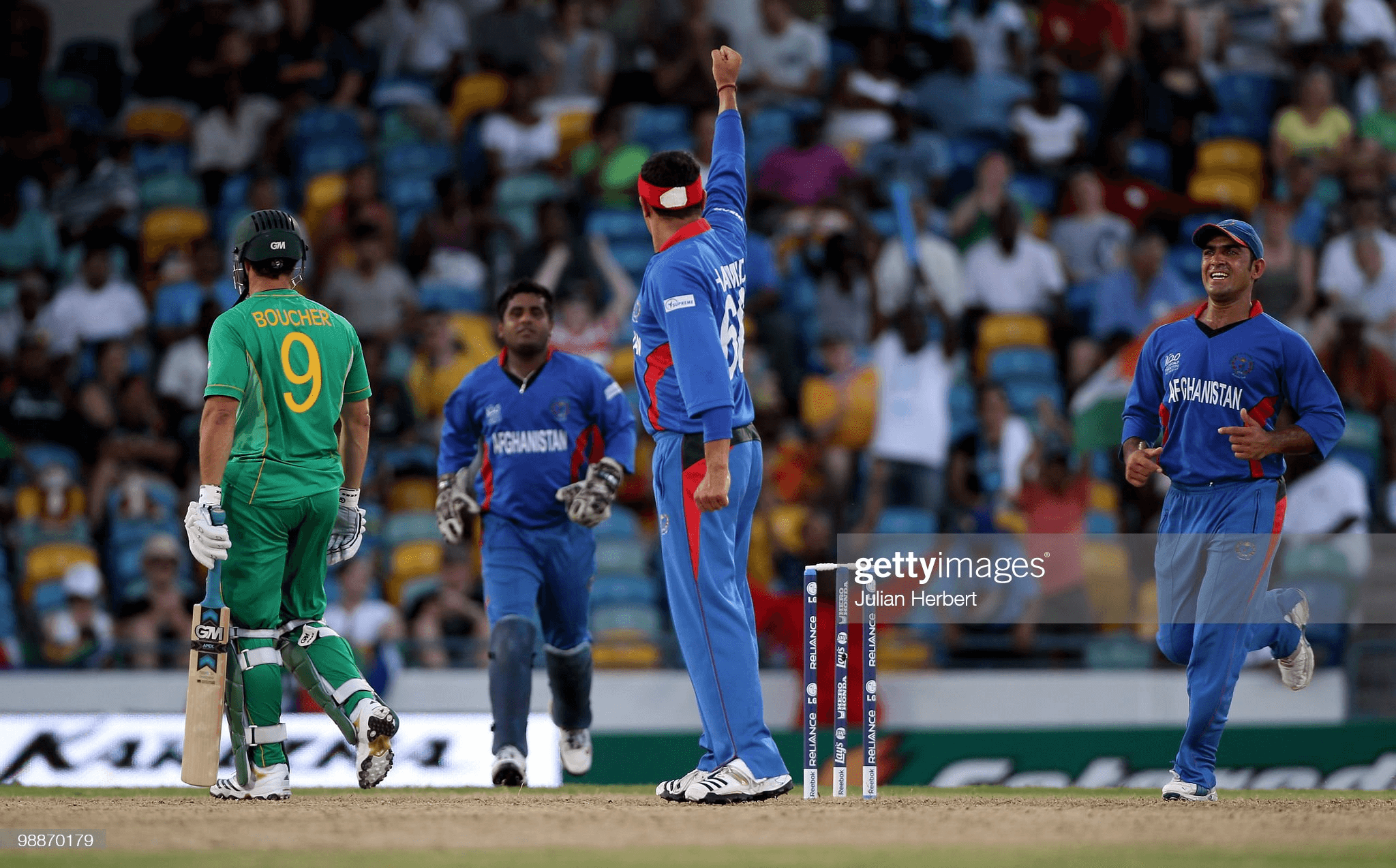 The Heroes of Afghanistan Cricket
Well before the times of Rashid Khan, Rahmanullah Gurbaz, Mujeeb ur Rahman, and co., Afghanistan established itself as the fastest-growing associate nation before getting Test status in 2017. A key reason for their rise was players like Hamid Hassan, Mohammad Nabi, Asghar Afghan, Shapoor Zadran, Dawlat Zadran, Mohammad Shahzad, Noor Ali Zadran, and others.
In Afghanistan's 1st First Class match in the ICC Intercontinental Cup in 2009, Noor Ali Zadran hit twin hundreds to help secure a draw against Zimbabwe XI. In their 4th First Class match, 18-year-old Mohammad Shahzad hit a 258-ball 214* in the 4th innings to chase down 494 against Canada. In the next game, Hamid Hassan took a historic 10-wicket haul with 6/40 and 5/114 against Scotland, bowling 27 overs with an ankle injury. They would go on to win the ICC Intercontinental Cup in late 2010.
While Afghanistan didn't have a mystery spinner early on, the pace trio of Hamid, Shapoor, and Dawlat dominated associate cricket due to their ability to bowl around 140 kph. Hamid, in particular, stood out due to his mix of seam, swing, reverse swing, and yorkers while being able to touch the 150kph. He impressed one and all, including ex-Afghanistan coach and former Pakistani cricketer Rashid Latif. Hamid could have achieved plenty of laurels if not for a serious knee injury sustained against England in a 3-day practice match in 2012.
Mystery spin and express pace have always been two attributes that have helped teams dominate at the associate level, and Afghanistan had one big box ticked there. This ensured their fragile batting line-ups were often pulled out of precarious situations.
On other occasions, the duo of Shahzad and Nabi were vital with the bat as they played plenty of match-winning knocks. One such knock from Shahzad would be his double-hundred against Canada in the Intercontinental Cup, while his exploits in white-ball cricket are pretty well-known. Nabi was also a key player for Afghanistan, with his off-spin accounting for many a wicket while he often made crucial runs throughout those critical early years.
Performances in the World Cups
After just missing out on the 2011 ODI World Cup, Afghanistan walked away with ODI status for four years. They played in the 2011-13 ICC World Cricket League Championship during that time. Mohammad Nabi had a dream tournament there, scoring 423 runs (5th highest), including three fifties, with a 50+ average & 100+ strike rate. Nabi was also 4th-highest in the wicket-taking charts with 20 wickets.
Afghanistan finished 2nd in the Championship and directly qualified for the 2015 World Cup along with table-toppers Ireland. In the tournament, Afghanistan managed just one win against Scotland, a thrilling one-wicket win chasing 211 after being 132/8. They also competed well against a strong Sri Lankan side. Kumar Sangakkara scored four centuries and had the 2nd-most runs in that tournament; he was dismissed in single figures only once, and that was when Hamid Hassan bowled him. A Mahela Jayawardene hundred rescued Sri Lanka from 18/3 in that match. While the 2015 campaign was not very fruitful for Afghanistan, there was a glimmer of what they were progressing towards.
In the 2019 World Cup, Afghanistan had a forgetful tournament overall, although they came close to winning against India and Pakistan. However, there were polar opposite results to those – for example, against England, where Afghanistan conceded 397, including 0/110 for Rashid Khan – the worst-ever ODI figures for a spinner. With age catching up with players like Noor Ali Zadran, Mohammad Shahzad, and Hamid Hassan, there were not many individual performances of note either. Afghanistan needed some new youngsters who fit the requirement of modern-day cricket, and they do look to have some of them this time around for the 2023 World Cup.
Afghanistan's Rise Through the Leagues
The modern cricketing world seems to be centered around T20 and franchise cricket, and some of the biggest beneficiaries of that have been Afghanistan cricketers. It wouldn't be far-fetched to say that they are the next West Indies in terms of players being hot properties for franchises around the world.
In effect, Afghanistan can attribute some of its rise to franchise cricket, given how much exposure the players have had to high-level infrastructure, coaching, knowledge-sharing, and so on in various leagues. Ever since Mohammad Nabi and Rashid Khan got picked up in the IPL, Afghanistan's cricket has had a boom, with their players also featuring in leagues such as the BBL, PSL, BPL, T20 Blast, and The Hundred, amongst others. Even the T10 League has had a massive effect, with their lead pacer Fazalhaq Farooqi becoming a mainstay of the Afghanistan side after his exploits for Delhi Bulls.
It is not rare to see Afghan teenagers having a high dose of franchise cricket before debuting for the national team. The likes of Noor Ahmad and Izharulhaq Naveed (yet to debut) are prominent examples. Franchise cricket has not only helped players to meet their financial needs but also provided them with regular game time, with Afghanistan not having the luxury of regular domestic or international cricket. Safe to say, Afghanistan's growing depth wouldn't have been possible without franchise cricket.
Afghanistan have always been known for their bowling, particularly their spinners. However, there has been improvement in the batting department recently, with better players coming out from the U19 level. It all started with Englishman Andy Moles overseeing a major improvement in batting techniques.
Moles held a variety of roles during his association with the ACB, including the senior team's head coach, chief elector, and director of cricket, but his biggest impact was seen with the U19 sides. Under him, Afghanistan lifted the 2017 U19 Asia Cup before reaching the 2018 U19 World Cup semi-finals. A cornerstone of the batting line-up was the opening duo of Rahmanullah Gurbaz and Ibrahim Zadran, who learned to bat for long periods. Gurbaz, in particular, was made to curb his natural instincts and respect the opposition's bowling.
This system also filtered down to domestic cricket, with a separate group of anchors propping up, while Afghanistan has mainly been recognized for six hitters previously. This also naturally saw an upward turn for the Afghanistan ODI side as they managed to excel in the ODI Super League, which helped them qualify directly for the 2023 World Cup. While immense improvement is still required on tracks with movement and pace, Afghanistan has undoubtedly upgraded their batting ability on flat tracks in recent years.
The Dark Cloud Hanging Over Afghanistan Cricket
For Afghanistan as a country, August 15, 2021, was a dark day as the Taliban took control. While cricket was a minor subject at that point, there would be repercussions for the sport. Women's cricket, in general, was overlooked by the ACB well before the fall of Kabul, but it became a massive talking point after that fateful day, given the government's historic treatment of women.
Only a few months earlier, in November 2020, the ACB had taken a monumental step of awarding central contracts to 25 female cricketers. The governing body of the sport in Afghanistan also mentioned that the team would be touring one of the Islamic countries for a training camp. It is important to note that the ACB didn't show any progress after that, and naturally, the cricketing world's attention turned to Afghanistan.
There were numerous discussions amongst the cricketing community about how the ACB should be penalized, while the ICC believed that it would be prudent to play the waiting game. Yet, Cricket Australia wasn't willing to go on that route. In September 2021, CA threatened to cancel the one-off Test match against Afghanistan, which was supposed to be held in Hobart. Eventually, the Test was canceled in early November, with the Taliban opposing women's cricket. It didn't stop there as the livelihood of Afghan women was thrown in the deep end as the Taliban banned girls from pursuing their education. This also meant that CA withdrew from the ODI Super League series against Afghanistan in early 2023.
On both occasions, Afghan cricketers and fans protested CA's decision asking sports not to be mixed with politics. This remains a divisive subject, with one section of the cricketing community looking for stern action against ACB and their Test status since women's cricket is a non-negotiable subject. The other section argues that any suspension or ban on the ACB will lead to irrecoverable damage to Afghan cricket since the Taliban are unlikely to change their ideology for the sake of a sport. For now, constant dialogue and persuasion with the ACB and the Taliban, in extension, seems to be the only way out for women's cricket or their rights in general.
Afghanistan's Big Dreams for 2023
With ICC events being a regular feature in the cricketing calendar these days, every year seems to be important for Afghanistan. However, 2023 holds immense significance for the Asian nation in order to right the wrongs of their recent performances.
Even though Afghanistan have impressed one and all with their players shining in franchise cricket, success has eluded them in international cricket against top teams. This is especially true when it comes to ICC events, be it the T20 World Cups or the 50-over version. Hashmatullah Shahidi and co will be well aware of the team's dismal show at the 2019 ICC Cricket World Cup, where they were the only team to go winless. While Afghanistan have arguably improved since then, the upcoming Asia Cup and World Cup will definitely pose massive challenges.
As a fan, it is a realistic prediction for Afghanistan to make the Super Fours in the Asia Cup, although it is likely to be challenging with two good teams (Sri Lanka and Bangladesh) in the group too. They will face Bangladesh and Sri Lanka in the group stages of the Asia Cup in Lahore. Even with one win, Afghanistan can qualify for the Super Four stage, which they should. It shouldn't be surprising if Afghanistan also gets at least one win in the Super Four stage. They should not be taken lightly, especially when they have just won an away ODI series against Bangladesh.
For the World Cup, things can't get any worse than the 2019 edition. So, the prediction will be for Hashmatullah Shahidi and co. to win at least 2-3 matches, with some of the venues in India being pretty favorable for them, especially for the star spinners. For that to happen, Ibrahim Zadran and Fazalhaq Farooqi would need to step up as they stand out as two upgrades on the 2019 World Cup squad. If Afghanistan play to their potential, both targets could very well be fulfilled.
In the 2023 World Cup, they can also prove a hindrance in the semi-final race for some teams, especially New Zealand and Pakistan, who have to face Afghanistan in Chennai, where conditions heavily favor spinners. They should be able to get a couple of wins, particularly against non-Asian teams.
With inputs by Karthik Raj.