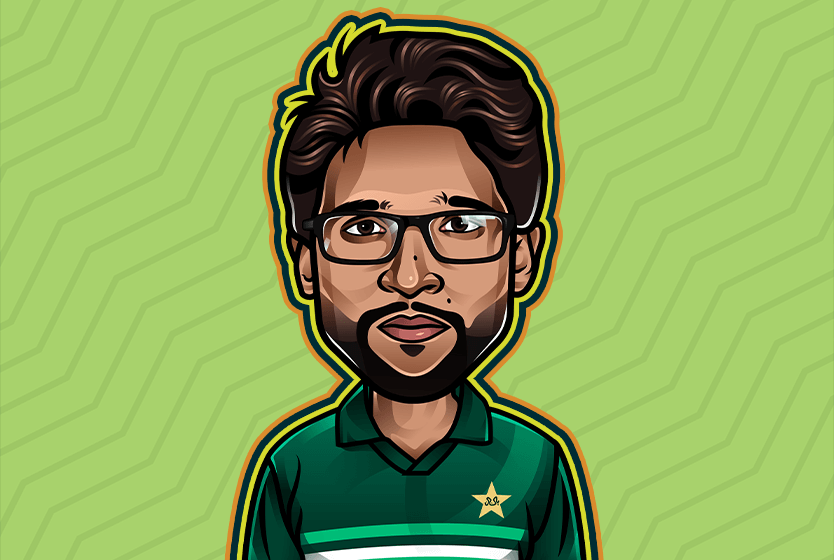 Imam-ul-Haq
Hundred on ODI debut, joint second-fastest to 1000 ODI runs, ranked in the top 5 ICC ODI Batting Rankings – Imam-ul-Haq has slowly but surely become an indispensable part of the Pakistan ODI batting unit. It hasn't been a smooth journey – far from it – but the left-hander has shone through adverse circumstances and worked on some aspects of his game to ensure he's an integral part of the first-choice XI.
Imam made his ODI debut in the aftermath of Pakistan's Champions Trophy 2017 victory. As was the case with his partner Fakhar Zaman, Imam also replaced Ahmed Shehzad in the Pakistan lineup. He was picked for the first time in Pakistan's 3rd ODI against Sri Lanka during the 5-0 rout in 2017 and promptly slammed a century on debut, helping his side chase down 209 with ease.
His selection hadn't been without controversy, for obvious reasons. Inzamam-ul-Haq, Imam's uncle, was the chairman of the selectors at the time, leading to immediate nepotism allegations. Imam had excelled in the Quaid-e-Azam Trophy in the season prior, with 848 runs @ 50 in the First Class tournament. He then hit back-to-back hundreds in the ACC Emerging Asia Cup, albeit against Nepal and Hong Kong, with his List A average a healthy 43.6 before ODI selection.
Starting from the Zimbabwe tour in 2018, Imam solidified his spot in Pakistan's ODI team. He hit 3 hundreds in the series and followed it up with 3 half-centuries in Pakistan's doomed 2018 Asia Cup campaign, where he finished as the team's top run-scorer. He repeated the feat in the ODIs in South Africa, but at this point, talk about his strike rate began to take center stage.
Imam struck a striking 151 against England before the 2019 World Cup, where he had a mixed tournament. He contributed twin 44s in the wins against England & South Africa, hit 36 against Afghanistan, and stroked an impressive century in the last match against Bangladesh. The dismissal against Australia for 53 remains somewhat of a what-if moment as Pakistan collapsed from a decent position in a tall chase to lose the game.
After a lack of ODIs in 2020-21, Imam came to the fore for Pakistan in 2022. He hit a stunning 7 scores of 50+ in a row, including 103, 106, and 89* against Australia to help Pakistan to a series win. Most notably, he demonstrated improvement in some key metrics, which we'll get to briefly.
Imam quickly became an important component of Pakistan's first-choice XI and has since forged a solid combination with Fakhar Zaman at the top of the order. The duo have become a hugely dependable force for Pakistan, and along with Babar, usually set the tone for Pakistan's batting innings. In somewhat of a paradox, this means that they will likely be under even more pressure in big games, with Pakistan's middle-order now seemingly settled but lacking experience of handling various situations.
As an opener, Imam has some key strengths that allow him to benefit from playing at the top of the order but also some key weaknesses that could hamper him. While he may not be the technically strongest opener, he possesses an excellent temperament combined with a sound understanding of the tactical side of the game. Due to this, Pakistan generally rely on a solid platform laid by the top 3.
Since coming onto the scene in ODIs, Imam has been one of the most consistent top-order batsmen, particularly considering the relatively early stage of his career he still is in. He has reached at least 50 in more than 40% of his ODI innings so far, a testament to his ability to play risk-free cricket. Most importantly, he has done this in a variety of conditions and types of pitches – he knows his limitations and adjusts accordingly.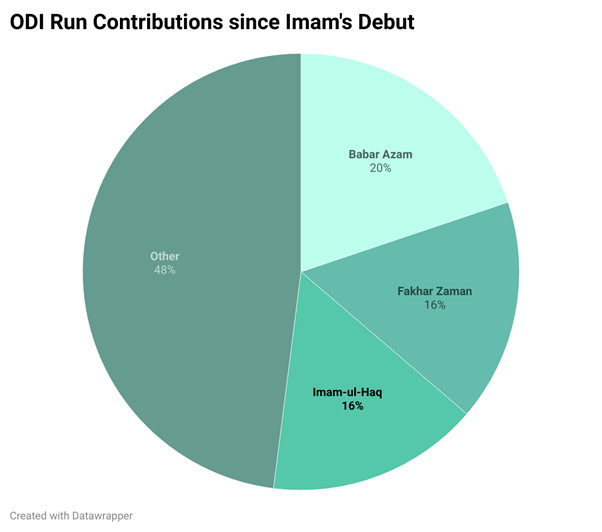 Imam understands the Pakistan team's composition and style of play – not quite the gung-ho style of England with the bat but a more traditional style, where the top order can take a bit of time, especially if the conditions require a conservative approach. The balancing act here is key, and at the start of his career, Imam was probably a bit too conservative – but he has progressed on that front. Before 2022, he would strike in the mid-60s in the powerplay, but that has since improved to the mid-70s to 80.
There are several types of ODI openers, but the one standout skill openers need to have in their arsenal is the ability to attack spin once set. This is dictated by various factors, most notably the ODI rules that allow only 4 fielders outside the ring for 30 overs after the first 10. This becomes even more important when an opener doesn't have power against pace, and that is something that Imam has struggled with constantly, leading to his over-reliance on charging medium pacers to generate power. However, Imam has a natural competitive advantage against spin, being a left-hand batsman.
Most teams rely on leg-spinners and left-arm spinners to take balls away from right-handers, who are the prevalent type of batsmen, while conventional off-spinners are become increasingly rare. This has opened the door for left-handers to have free reign against spin, particularly if they are good at picking variations early from the hand. Imam initially used to get a lot of criticism for his strike rate, particularly his batting style in the powerplay, but it was really his then-conservative game against spin holding him back. However, he has dramatically improved in that aspect.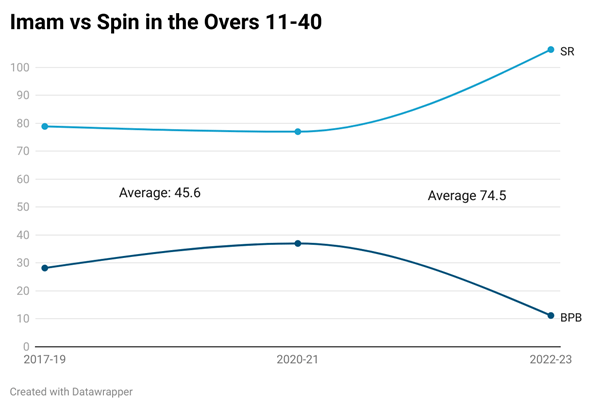 Despite his strengths, Imam does have some noticeable weaknesses as we discussed earlier. The first point of concern is his ability to handle new-ball movement. This is rarely a major factor beyond the initial few overs of the powerplay, but good bowling in the right areas early on is enough to cause many batsmen issues, and Imam is no different. He has shown a vulnerability to both inward and away movement with balls fuller than a good length, being caught in the slips chasing the ball or being trapped LBW after being beaten on the inside edge.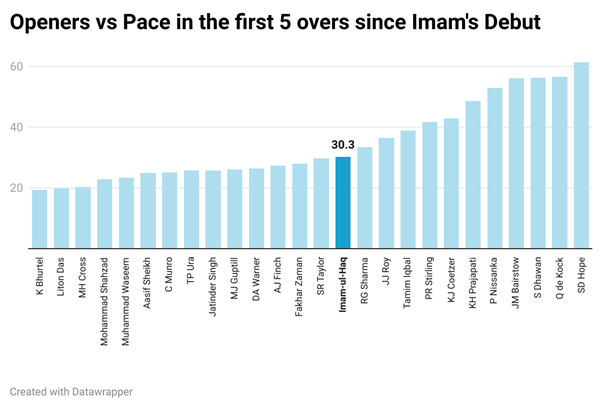 Another weakness that has dogged him since he arrived on the international scene is bouncers. While Imam is not shy of taking on the short balls and does score against them, he has some limitations regarding how he handles well-directed bouncers. He generally looks to get on top of the bounce and pull the ball, but extra bounce can be his undoing. Well-aimed bouncers above the shoulder are also tough to handle as it's then very difficult to get on top of the bounce since Imam doesn't perhaps pick up the length as quickly as a Babar Azam. Short and down the leg side has also caused his undoing on a few occasions, as seen in the 2019 World Cup against West Indies and Australia.
Despite not having the best of outings in the 2019 edition, Imam then became only the 5th Pakistani opener to hit 300+ runs in a World Cup. Considering his increased experience since then, the development of his game, the more mature batsmanship he's shown recently, and the fact that the World Cup is in Asia, it wouldn't be a stretch to say that expectations are fairly high.
With the way the makeup of Pakistan's ODI side has developed in the past couple of years, the top order bears increased responsibility. Regular failure from any one of them could prove to be a massive bane for Pakistan, so building good partnerships from the top will be the order of the day for Imam and the rest. With Pakistan scheduled to play a few games on spin-friendly venues, his role could become even more critical in the team, particularly since the openers are the only lefties in the batting order until Nawaz at 8. He has shown the temperament to be able to handle the big stage, but he now faces possibly the biggest stage of his life. Sink or swim.