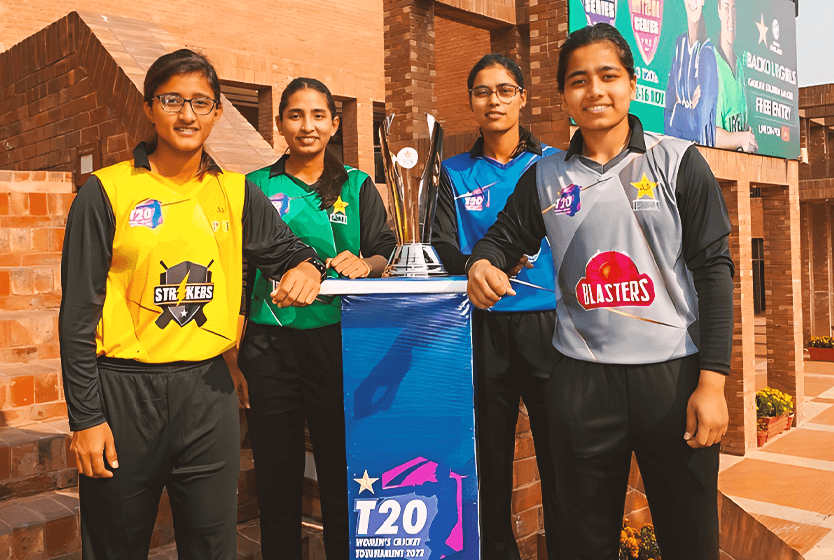 PCB announces first-ever domestic contracts for women cricketers
In a significant development for women's cricket in Pakistan, a total of 74 talented women cricketers have been awarded 11-month domestic contracts, the first of its kind in women's cricket. Among the 74 players, 59 players belong to emerging and U19 categories, while 14 players have already represented Pakistan women's team at the senior level.
This important advancement is set to provide a substantial boost to the confidence of women cricketers, as an action-packed women's cricket season is all set to resume from 1 September.
These domestic contracts have been conferred upon individuals who have displayed remarkable performances across various cricketing platforms, including domestic cricket tournaments, emerging tournaments, U19 domestic tournament, and the ICC U19 Women's World Cup. The players have been selected by the national women's selection committee led by former Test cricketer Saleem Jaffar, with recommendations from national and academy coaches. The initiative aims not only to acknowledge their hard work and dedication but also elevate the standard of women's cricket within the country.
The decision to offer these contracts underscores the commitment of the Pakistan Cricket Board led by the Management Committee Chairperson Mr Zaka Ashraf to foster the growth of women's cricket, provide a viable career path, and motivate more women to participate and excel in the sport. This step will have a ripple effect on women's cricket, encouraging more players to aspire to play at the highest level.
PCB Management Committee Head Zaka Ashraf: "I want to extend my heartfelt congratulations to the 74 women cricketers who have earned these contracts through their sheer talent and dedication. Today marks a significant and joyous occasion for the Pakistan Cricket Board as we take a historic step towards uplifting women's cricket in our nation.
"This initiative isn't just about signing contracts, it's about investing in the dreams and aspirations of these extraordinary athletes. Our women cricketers have consistently showcased exceptional skills and dedication on the field, and it is high time we provide them with the platform they deserve.
"It is our firm belief that empowering these athletes will not only elevate the standard of our women's cricket but also inspire a new generation of girls to take up the sport." Head of Women's Cricket Tania Mallick: "We are thrilled to announce the awarding of domestic contracts to 74 of our finest women cricketers. This historic moment not only recognizes their extraordinary skills but also aims to instill confidence and determination among our women athletes. As we approach a busy women's cricket season, we are committed to providing the necessary support and resources to ensure their success."
In addition to the domestic contracts, the PCB has also resumed facilities for women cricketers to train in eight cricket academies across the country, seven of which are operational. The operational academies include National Cricket Academy in Lahore, Hanif Mohammad High Performance Centre in Karachi, Inzamam-ul-Haq High Performance Centre in Multan, Qayyum Stadium in Peshawar, Abbottabad Cricket Stadium in Abbottabad, Bugti Stadium in Quetta and Women's Sports Stadium in Bahawalpur.
Players who been offered domestic contracts will not be a part of the women's central contracts 2023-24, which will be announced in due course. The players in the domestic contracts, in addition to receiving monthly retainers, will also receive match fee, daily allowance, and a share in prize money.
The 74 players along with their cities in alphabetical order are:
Aima Saleem (Rawalpindi), Aimen Anwar (Karachi), Aisha Javed (Lahore), Aleena Shah (Peshawar), Aliza Khan (Karachi), Amber Kainat (Lahore), Anam Amin (Lahore), Areesha Noor Bhatti (Lahore), Arijah Haseeb (Karachi), Asma Amin (Faisalabad), Asma Shareef (Arifwala), Ayesha Asim (Quetta), Ayesha Bilal (Lahore), Ayesha Zafar (Lahore), Dina Razvi (Karachi), Dua Majid (Lahore), Fajr Naveed (Rawalpindi), Fareeha Mehmood (Lahore), Fatima Khan (Lahore), Fatima Shahid (Lahore), Fatima Zehra (Rawalpindi), Gul-e-Uswa (Multan), Gull Feroza (Multan), Gull Rukh (Dera Ghazi Khan), Haleema Azeem Dar (Lahore), Haniah Ahmer (Karachi), Humna Bilal (Rawalpindi), Huraina Sajjad (Karachi), Iram Javed (Lahore), Jannat Rasheed (Quetta), Javeria Khan (Karachi), Jaweria Rauf (Karachi), Kainat Imtiaz (Karachi), Kaynat Hafeez (Lahore), Khadija Chishti (Lahore), Kinza Wahab (Karachi), Laiba Mansoor (Rawalpindi), Laiba Nasir (Lahore), Lubna Behram (Hunza), Maham Anees (Islamabad), Maham Manzoor (Hyderabad), Maham Tariq (Karachi), Mahnoor Aftab (Peshawar), Masooma Zehra (Karachi), Momina Riasat (Abbottabad), Natalia Parvaiz (Bhimber), Neha Sharmeen Sheikh (Karachi), Noor-Ul-Eman (Bahawalpur), Noreen Yaqoob (Lahore), Quratulain Ahsen (Lahore), Rameen Shamim (Karachi), Rida Aslam (Lahore), Saba Nazir (Muridke), Saima Malik (Quetta), Saiqa Riaz (Lahore), Saira Jabeen (Chitral), Sana Talib (Rahim Yar Khan), Sania Rasheed (Rawalpindi), Shabnam Hayat (Karachi), Soha Fatima (Lahore), Subhana Tariq (Karachi), Syeda Taskyn Fatima (Karachi), Tasmia Rubab (Lahore), Tayyaba Imdad (Abbottabad), Tahzeeb Shah (Swabi), Waheeda Akhter (Lahore), Wajeeha Muneer (Multan), Warda Yousaf (Okara), Wasifa Hussain (Karachi), Yusra Amir (Karachi), Zaib-un-Nisa (Charsadda), Zamina Tahir (Lahore), Zunaira Shah (Karachi) and Zunash Abdul Sattar (Lahore)