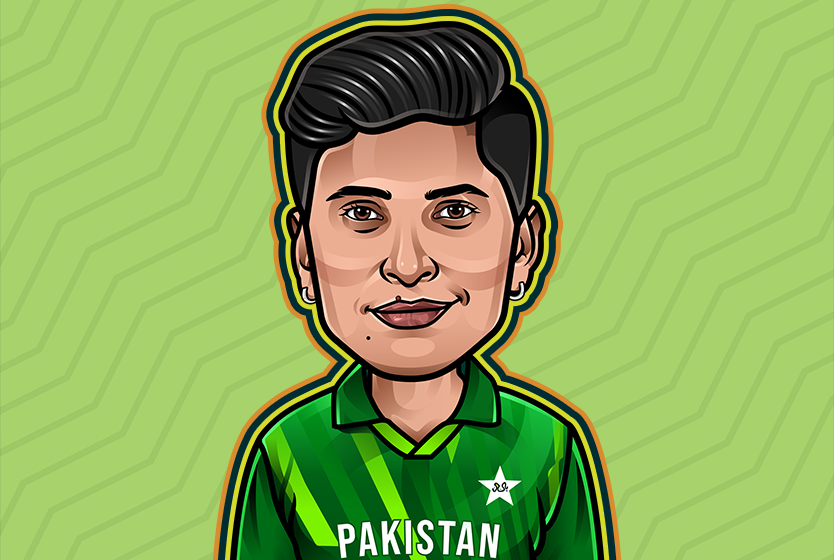 O Captain, My Captain?
No one really knows why Bismah Maroof stepped down from captaincy. All we know is from the statement sent out in the early hours of March 1st, 2023. It was not announced via press conference or in a PCB press release but from Chairman Najam Sethi's X account at 1:30 a.m. PKT.
"I have accepted resignation," he wrote, "of @maroof_bismah Captain of Pakistan Women's National Team. She wants to make way for a younger colleague. But happily she will continue to play for Pakistan and bring laurels for her country."
The team had just wrapped up a T20 World Cup campaign to forget. Those who know Pakistan cricket will know underwhelming World Cup campaigns often lead to captains being binned and their support staff being undone. And when Bismah confirmed the news the next morning (also through a post on X), she was met with a couple hundred responses expressing gratitude and support. Though the news was sudden, it did not feel like a massive loss. Now 31 years old, she had been captain for 7 years, and her promise to continue playing both formats also meant her batting and her support would stay with the team. She and Najam Sethi also mentioned a young captain succeeding her, an exciting prospect that considerably softened the blow.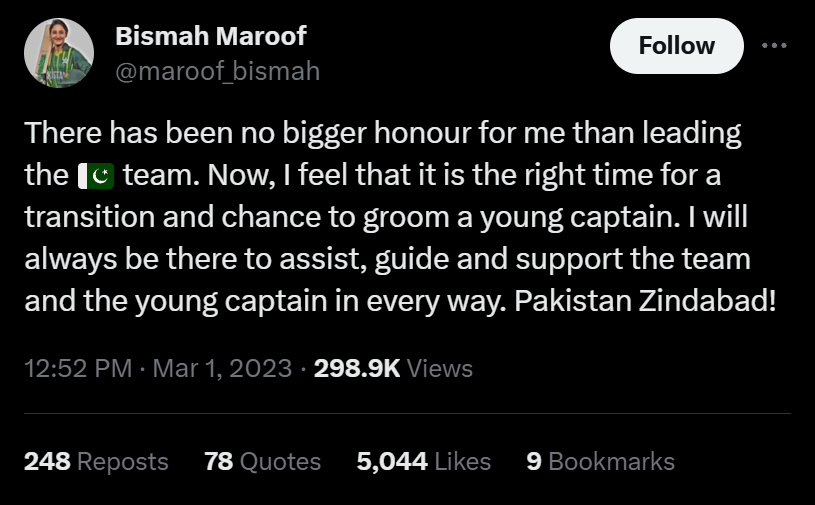 Maybe, we theorized, Bismah would stay on as vice-captain to support the young captain. Maybe she had been planning this all along – to see off the T20 World Cup in South Africa and then give the younger captain a year and a half to own their new role before the next ICC tournament. Maybe this was the start of a new era.
Alas, no younger captain followed Bismah. Instead, a month later, Nida Dar took up the role.
36 years old and 13 years into her cricketing career, Nida was Bismah's deputy and arguably the overall best player in the team. Before taking over as captain, she enjoyed many months of excellent performances. Indeed, from January 2021 to March 2023, Nida topped Pakistan's batting charts in T20Is: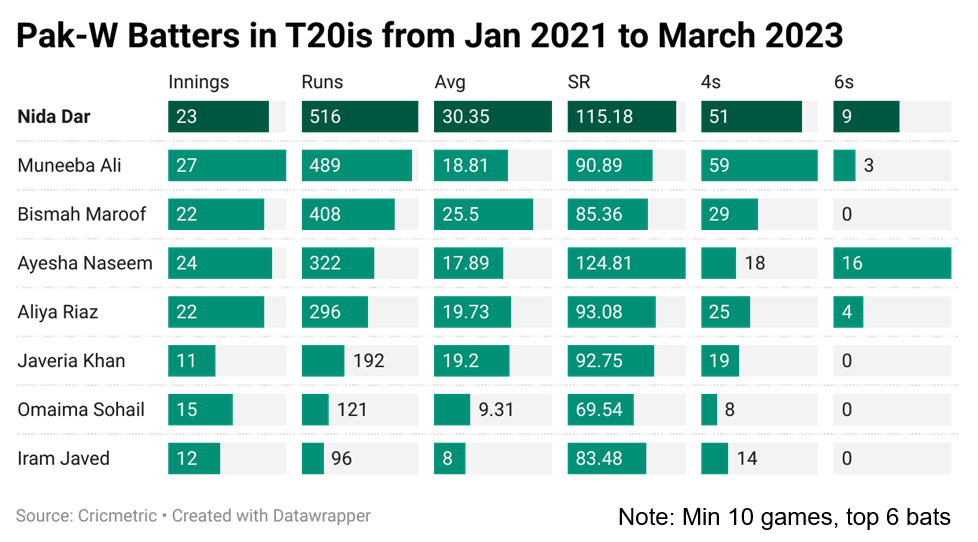 And she cleared the bowling charts, too: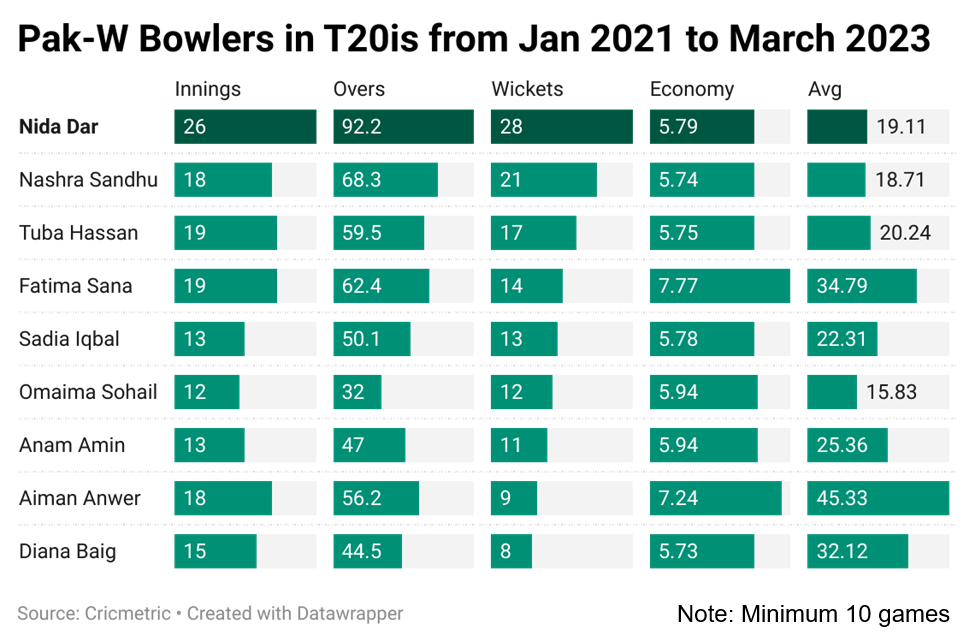 Then there are her ODI numbers. While she didn't entirely dominate the way she did in T20Is, she still impressed with the bat: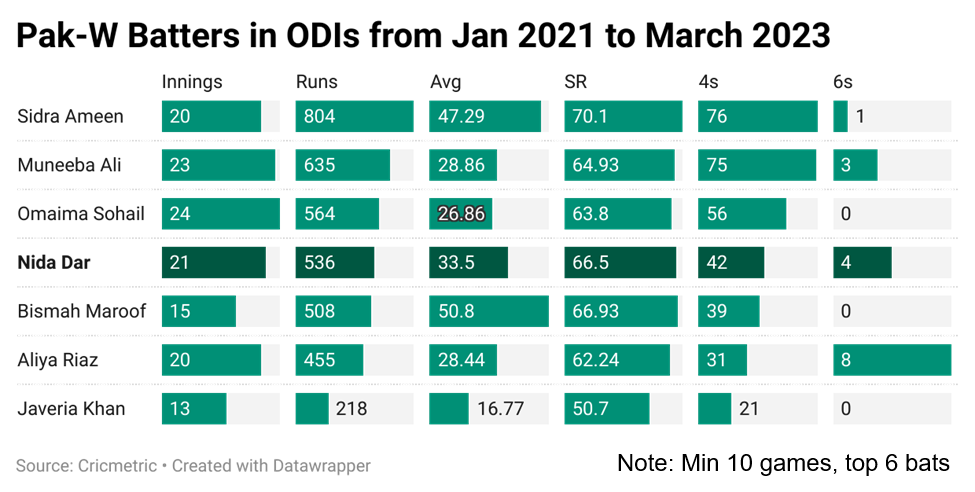 And, of course, with the ball: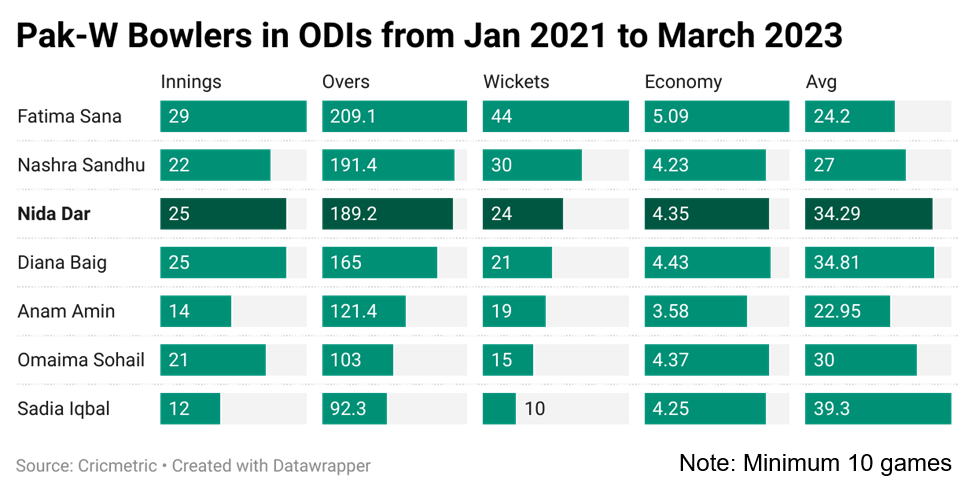 Since taking captaincy, however, she hasn't quite been her best self on the field:


Granted, it's only been 8 T20Is and 3 ODIs, and we have to compare these performances to the absurd standard she has set for herself over the years. But she's Nida Dar; she's the paragon of all-round excellence in Pakistan cricket. The team in both formats relies heavily on her delivering with both bat and ball. As captain now, her struggle for form is even more concerning.
Now, I'm not saying giving Nida captaincy was the worst thing the PCB could've done to her at this stage in her career, but it's definitely not the best. After a long, fairly successful, and memorable career, she should have been able to enjoy her last few years or months as an international player. She should've been able to sit back, so to speak, and be a senior in the dressing room who offers support and advice but doesn't have to run the whole show. She should have been able to phase out in grace, not have to take on the heaviest burden in Pakistan cricket.
Being captain of the Pakistan women's cricket team involves battling on the field and often off it, too. It means dealing with new coaches or no coaches at all and navigating selection and strategy with a think tank that is fragile and oft-changing at best or non-existent at worst. It means working with a board that cares more about appearances than actual development. It means being the face of a team that is forever in the shadows, forever an afterthought. It means leading a team that knows loss too well. It means fighting for recognition in PCB meeting rooms, in the media, on the field, and everywhere else.
Nida took all this on when she didn't have to. In the same way we don't really know why Bismah stepped down, we also don't know why Nida took over, especially why she would do so in place of the maybe fabled, still unknown "young captain." You can argue that because she was vice-captain, the call made sense, but even then, with a few months of vice-captaincy experience, Nida still had little experience as captain, even in domestic cricket. Sure, she is charismatic and a joy to listen to in press conferences and media appearances. She is a star on and off-field and probably the most recognizable and loved Pakistan women's player ever. But considering the important tournaments in the next few years, at 36, Nida was far from the ideal option, even if she was our best player and the obvious contender to be the face of the team.
In her captaincy stint so far, though we saw us complete an epic T20I whitewash over South Africa at home, we also saw us lose 2-1 to them in ODIs. And while that didn't feel all too bad, we went on to lose terribly to Bangladesh and Sri Lanka at the Asian Games and finish medal-less in a competition where we had won gold two out of two times in previous editions. And then, most recently, we lost 2-1 in the T20I series to Bangladesh in Bangladesh – a side versus whom we had only lost once before October 2023. So, you know, it's not the greatest start to what is a confusing era in Pakistan women's cricket.
Though Nida's career is not young, her captaincy tenure is. It's hard to make conclusive statements about how she is as a captain just yet, especially when, in the two months of cricket that she has led the team, she has had an "interim," hastily assembled support staff guiding her. Mark Coles' abrupt exit didn't help either.
Still, October 2023 has possibly been one of the most disappointing months for Pakistan women's cricket in recent times, and that's saying something for those of us who watched the T20 World Cup this year and last year's T20I series vs Ireland. What's even more worrying at this time is that in the process, we seem to be losing Nida Dar, the all-round player.
I cannot blame her for our rather erratic batting lineups and chopping and changing, our rather defensive bowling and fielding tactics, or even for our underutilization of leg spin and pace. But while our on-field plans and selection strategies seem concerning, I find myself even more worried about her form and our future as a team.
We know Nida Dar is a legend, and she will retire as one. This was true before she became captain, and it's still true now. Her decline is expected, though. Changes in form are not unusual, especially for an aging player. But as our captain, she is not droppable or replaceable at this time. There is no vice-captain in place. Even our 'A' team's current captain, 27-year-old Rameen Shamim, is not a regular in our senior T20I and ODI team. With tours to New Zealand and England, a home series vs. West Indies fast approaching, and the next ICC tournament in Fall 2024, we need a captain who can and will stick around, learn the ropes, gain experience, and see us through for the next 5 to 7 years, as Bismah did.
The PCB missed a trick by not following up on their "young captain" promise. As long as Nida and Bismah are in the team, they can easily coach and train a younger captain. They don't need to be at the helm anymore. It's time someone else took the lead on this team. It's time someone younger was trusted with the mantle of captain, someone who will then lead Pakistan to the T20 World Cup in Bangladesh and the ODI World Cup in India and then in the 2026 and 2027 tournaments, too.
The FTP is packed, and there's plenty of cricket to come. While Nida is well-spoken, charismatic, and a key player even now when she's struggling, the future beckons, and the promised younger leader is the need of the hour.
Let Nida Dar be just Nida Dar – God knows that's hard enough a job already. Let the "young captain" step up now. Bismah said as much when she stepped down 8 months ago – it's about time the PCB followed through.