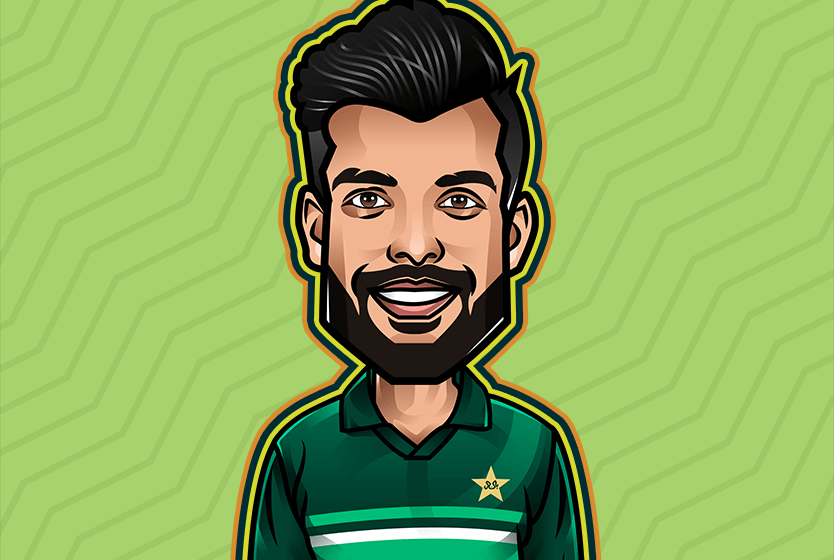 Shadab Khan
Shadab Khan debuted for Pakistan in March 2017 as a promising 18-year-old leg-spinner who could also contribute with the bat. Now 24, he is the vice-captain of the Pakistan limited-overs sides and one of the first names on the team sheet. Perhaps most crucially, he is integral to the balance of the Pakistan lineup, having developed into a batsman capable of batting in the top 7 while also being a good-quality bowler.
Shadab Khan was one of those cricketers who showed promise right at the start of his career and was fast-tracked to the top. After coming through the Under-16 and Under-19 systems in Pakistan, he starred in the Under-19 World Cup in early 2016, made it to the Pakistan A setup, where he shone, and was eventually signed up for the Pakistan Super League by the end of the year. The steady rise continued as he excelled for Islamabad United and was selected for Pakistan soon after PSL 2.
The young leggie made his Pakistan debut in the 2017 T20I series against West Indies – where he plundered 10 wickets @ 7.5 with an astounding economy rate of 4.7, still a record haul for a Pakistani spinner in a bilateral series. An ODI debut was to follow, where he also held his own, picking up 5 wickets in the series @ just under 30.
The chapters kept writing themselves thick and fast. Up next for Shadab was the Champions Trophy, where he also played a crucial role in Pakistan's historic win. He got the all-important wicket of Joe Root in the England semi-final and then removed Yuvraj Singh LBW in the final courtesy of a memorable review. Less than three months into his Pakistan career, he had won an ICC trophy.
Shadab continued to impress. In his next ODI series against Sri Lanka, he picked up 10 wickets @ 16. In the one innings he batted, he came in at 101/6 and hit an unbeaten 52 to take Pakistan to what proved to be a winning score of 219; 3/47 ensured he also took home the Player of the Match award. Pakistan won 5-0. The next series in New Zealand proved to be the exact opposite, with Pakistan losing 5-0. Shadab, however, picked up 5 wickets, going at just 4.8 RPO, while also hitting two valiant half-centuries. A successful tour of Zimbabwe followed, where he took 9 wickets @ 17.
Pakistan came crashing down to earth in the 2018 Asia Cup, where Shadab struggled and suffered a groin strain – an injury that would cause him problems for a while. Next up was New Zealand in 2018, where the youngster bowled well, including a haul of 4/38. The following series in South Africa was uneventful for Shadab, although his 5 wickets were the most for a spinner on either side.
The 2019 World Cup didn't give much joy to spinners. No regular spinner averaged under 30 in the tournament, so Shadab's haul of 9 wickets in 7 games @ 35 (economy 5.5) was reasonable. Importantly, he got crucial wickets. Against England, the tactical move of him opening the bowling paid off as he removed Jason Roy. He would also later dismiss Joe Root. The wickets of Quinton de Kock, Aiden Markram, and Rassie van der Dussen were pivotal. A special delivery in the next game accounted for Kane Williamson, with Pakistan winning all three of these games against England, South Africa, and New Zealand.
COVID, a lopsided schedule, and occasional injuries meant Shadab didn't play many ODIs over the next little while. In the first ODI in South Africa 2021 – his first in 18 months – Shadab played a crucial role, arresting Pakistan's collapse after coming in at 203/5, with his 33 (30) helping them to complete a last-ball chase of 274 against a full-strength side. Then, he shone with both bat and ball in the 2022 series against West Indies. A career-best score of 86 (78) from 117/5 and a haul of 4/62 earned him his second Player of the Match award in ODIs. His improved batting form saw him hit 48* off 28 and 21* off 10 in his next two innings against the Netherlands and New Zealand, respectively. He would then play back-to-back vital innings against Afghanistan (39 off 50 & 48 off 35), the latter of which earned him another POTM award after a stunning one-wicket victory chasing 300+.
Shadab's ODI role has evolved over the years. When he was introduced into the team, he was picked primarily for his bowling, with his batting understood to have potential but not necessarily relied upon as he usually batted at number 8, with Imad Wasim batting above. However, with Shadab gaining regular experience of batting higher up the order in T20s, his batting has evolved and gained consistency, and with Imad no longer featuring in ODIs, Shadab has taken over the number 7 mantle and can bat higher up.
Shadab has an equally important role with the ball as Pakistan searches for wickets in the middle overs. He was very adept at this in the stretch of ODIs he played until the 2019 World Cup. Since then, with Pakistan playing few matches and Shadab also missing some due to injury, his numbers are not as good, but the skill is there, and Pakistan will rely on him. As Pakistan's vice-captain, he also has a crucial role to play as Babar Azam's supporting cast, while he is also a top-quality fielder. His role is that of a true three-dimensional cricketer.
With the ball, Shadab started as a traditional leg-spinner who relied heavily on the googly, and his wrong'un was fairly difficult to pick early on. This meant that he was one of the most consistent wicket-takers in the middle overs of ODIs. From his debut to the 2019 World Cup, Shadab was in the top 5 ODI wicket-takers in the middle overs, alongside the Indian duo of Kuldeep Yadav and Yuzvendra Chahal, plus Adil Rashid and Rashid Khan. More importantly, his relative strike rate was exceptional.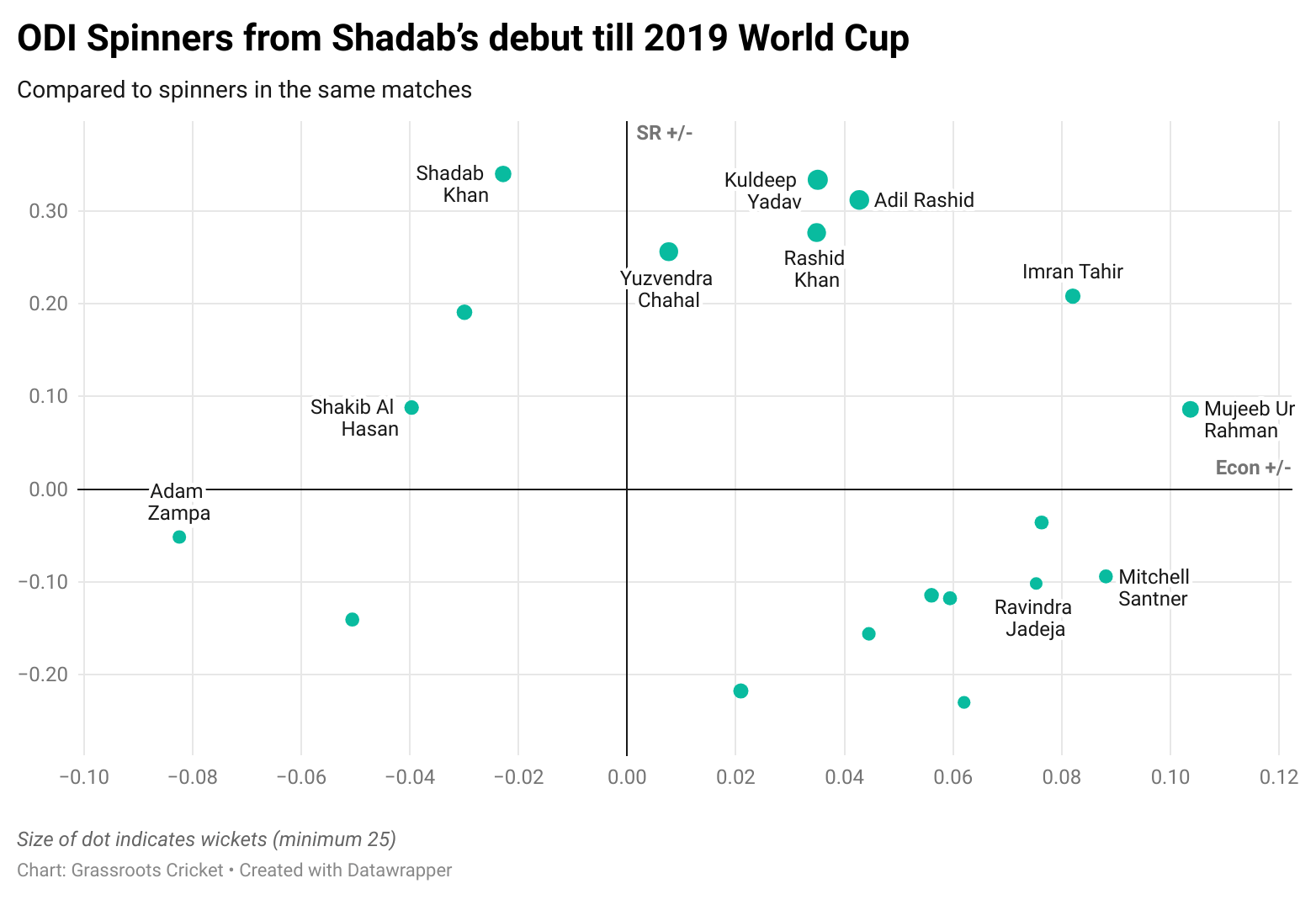 As Shadab evolved, he worked on the defensive skills that have seen him become a highly valued commodity on the T20 circuit. His recent ODI bowling figures would suggest that has impacted his bowling in the longer format, but perhaps the most important factor here is the lack of ODI games he has played recently. Shadab is a bowler who requires game time to build up his rhythm, but he hasn't quite been able to do that in the lead-up to the World Cup. Pakistan's vice-captain will undoubtedly look to carry over his hot streak from the last two T20 World Cups into the real World Cup.
Shadab started his ODI career brightly with the bat. In his first 7 ODI innings, he hit three half-centuries, alongside three fifties in Tests in Ireland & England in 2018. However, a combination of his batting form falling away and him getting very few opportunities with the bat meant he didn't reach 50 in any format for the next 18 months until 2020. Since 2020, though, he's been a different batsman.

In 2020, Shadab was appointed as captain of Islamabad United. He promoted himself up the order and hasn't looked back since, becoming a regular at #4 & #5, where he has a good T20 record. Most importantly, this has given him exposure to different situations, and his ODI innings in the last couple of years show the maturity in his batting. Batting aggressively against spin comes naturally to him, while he has significantly improved his game against pace and power game. His recent displays with the bat in ODIs have even led to calls for him to bat higher up the order. However, batting at number 7, he offers a failsafe option, while the temperament he has showcased recently is crucial at the backend of innings.
It's no secret that Pakistan have played a minuscule number of ODIs since the 2019 World Cup. Of the 36 ODIs they have played during this period, Shadab has only played 23 (with 8 of them coming in the last month), missing out on some due to niggles and injuries. Additionally, Pakistan aren't playing any more ODIs before the World Cup either, meaning there is little time to get in the groove properly. The likes of Adam Zampa and Kuldeep Yadav have played 35+ ODIs apiece since the last World Cup and go into the tournament as two of the finest ODI wrist-spinners in the world.
Shadab's bowling tends to improve as he gets more overs under his belt. Unfortunately, due to Pakistan's schedule, most of his outings this year have been in T20 cricket. In the ODI season, the initial signs were good with his wrist spin faring decently well. However, he fell away toward the end of the Asia Cup, struggling with consistency and his lengths in particular. With the bat, he has gained plenty of exposure in the past three years, but lack of ODI cricket and Pakistan's top-heavy batting line-up means that he isn't accustomed to playing big innings – otherwise, he may well have been an option to bat higher up the order. The hundred he made for Pakistan A in 2016 remains his only century in professional cricket.
Shadab Khan has been among Pakistan's finest players in the last two ICC tournaments – the two T20 World Cups. Therefore, there is a natural expectation that he will rise to the occasion once again on the big stage. In 2017 and 2019, he did that by making crucial contributions in generally unfriendly bowling conditions in England. Now playing a World Cup in India, he will be expected to play a more prominent role overall, and he will have to find his feet with the ball in particular.
His recent vital contributions with the bat also mean that there is a certain degree of faith in his batting. His fielding escapades mean that he's set a high standard for himself, and his leadership qualities are acknowledged by most in the Pakistan cricket fraternity. Thus, Shadab is one of Pakistan's most crucial players for the World Cup. Now in the 7th year of his international career, Shadab Khan is a well-known and respected commodity worldwide. Both Pakistan and the oppositions they will face are aware of what he brings to the table. Now, it's all about the execution of his skills under pressure, which he has already done time and time again.