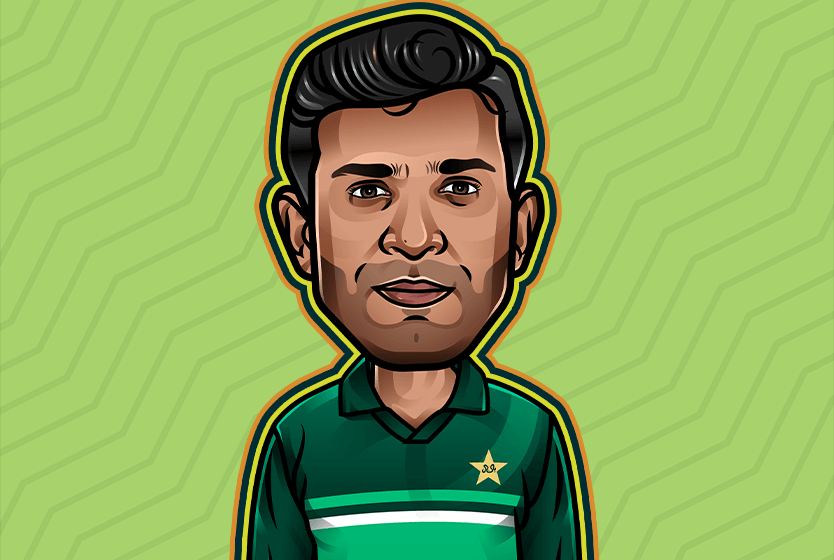 Iftikhar Ahmed
Despite an astonishing List A record with an average of 50+ at a strike rate of 90+, Iftikhar Ahmed has had a very stop-start ODI career. Yet, his overall skill set is very much needed in the Pakistan lineup. Despite lacking games and ODI experience, he is now a sure-shot middle-order option for Pakistan at the 2023 World Cup.
Iftikhar Ahmed has had a fascinating career trajectory – certainly not the atypical Pakistani cricketer's journey to the top. Ten years ago, he was a struggling young top-order batsman, yet to hit a hundred in professional cricket. In 2023, he is Pakistan's first-choice number 6 ODI batsman. How did this happen?
Across a period of 14 months, around 2013-15, Iftikhar finally got going in domestic cricket. He hit his first 5 hundreds – all as an opener. 2 were in List A cricket, 3 were in First Class cricket. One of them was a 150* off 381 balls, batting 500+ minutes during a follow-on, helping his side to salvage an unlikely draw. But his crucial break came in 2015 when he starred in the domestic T20 competition (also batting in the top order) with 300 runs @ 75 (SR 145). In the space of 9 months after Nov 2015, he had debuted in all three formats for Pakistan but failed to make an impact. That was it for a while at the international level.
In 2016, the SNGPL department signed Iftikhar Ahmed. There was no shortage of top-order batsmen here, and he promptly dropped down to (usually) number 4. In his first match of the season, he would hit a domestic hundred after almost 20 months. By the end of the season, he had hit 3 hundreds in First Class and 2 in List A cricket. That season heralded a turnaround – the start of Iftikhar Ahmed, the run-scoring monster.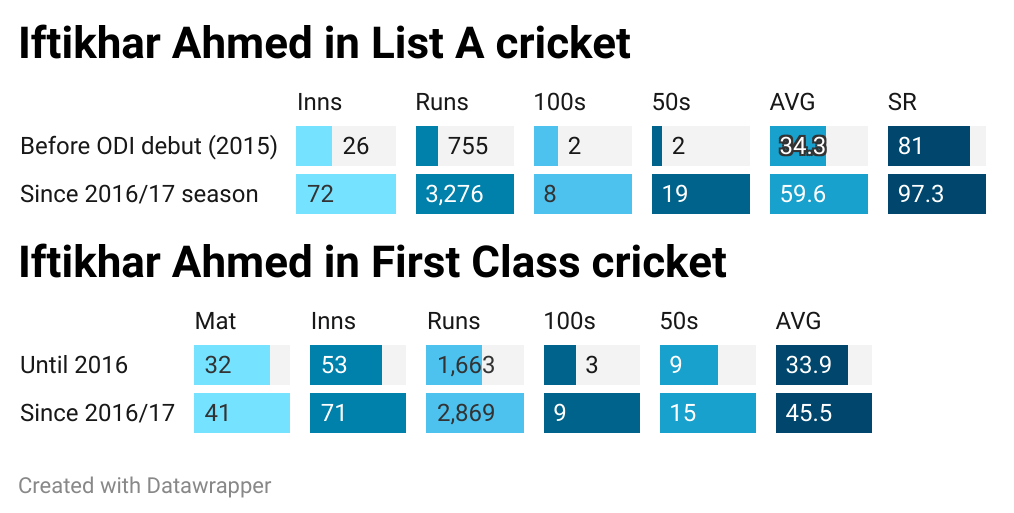 In 2019, Iftikhar was recalled to the Pakistan ODI setup. Pakistan played just 5 ODIs during the next 14 months. In these, he made 106 runs at a strike rate of 105, being dismissed twice. He also picked up a five-fer. Yet, he was sidelined, perhaps due to Pakistan's loss in a Super Over in a dead rubber against Zimbabwe, where he was dismissed for a first-ball duck.
In the meantime, Iftikhar slowly but surely refined his T20 skills. Before 2019, his strike rate was just 115 in the format, belying his true big-hitting ability. He began to rectify that, primarily as a number 5 batsman who excelled in hitting at the death. This culminated in his stunning displays in the 2021 National T20 Cup, where he averaged 100+ with a strike rate of 170 and was the Man of the Match in the semi-final & final and Man of the Tournament. Another ODI return beckoned in 2022… as he played 16 balls in the series against Australia, being dismissed just once before being dropped again.
Later in 2022, however, Iftikhar was one of the Pakistani batsmen who held his own in the T20 World Cup, elevating his standing in Pakistan cricket and beckoning the start of #IftiMania. Fast forward to 2023, and after an injury to Haris Sohail, Iftikhar was brought in as an injury replacement. In his second ODI match after the comeback, he smashed an unbeaten 94 off 72 balls against New Zealand, soon followed up by a 71-ball 109* against Nepal – ensuring that he wouldn't be discarded so easily this time. His crucial 47 off 40 followed up by 3/52 against Sri Lanka in a must-win game in the Asia Cup further consolidated his position.
Iftikhar made his name in List A cricket, primarily batting at number 4 or in the top order. Thus, he developed as the atypical Pakistani middle-order batsman, focusing on taking the innings deep and relying on his hitting at the back end of the innings. This is something that he excels at. However, with Pakistan having a settled top 4 and the desire for a stronger player of spin at number 5, Iftikhar has become the de facto number 6 in the Pakistan ODI lineup.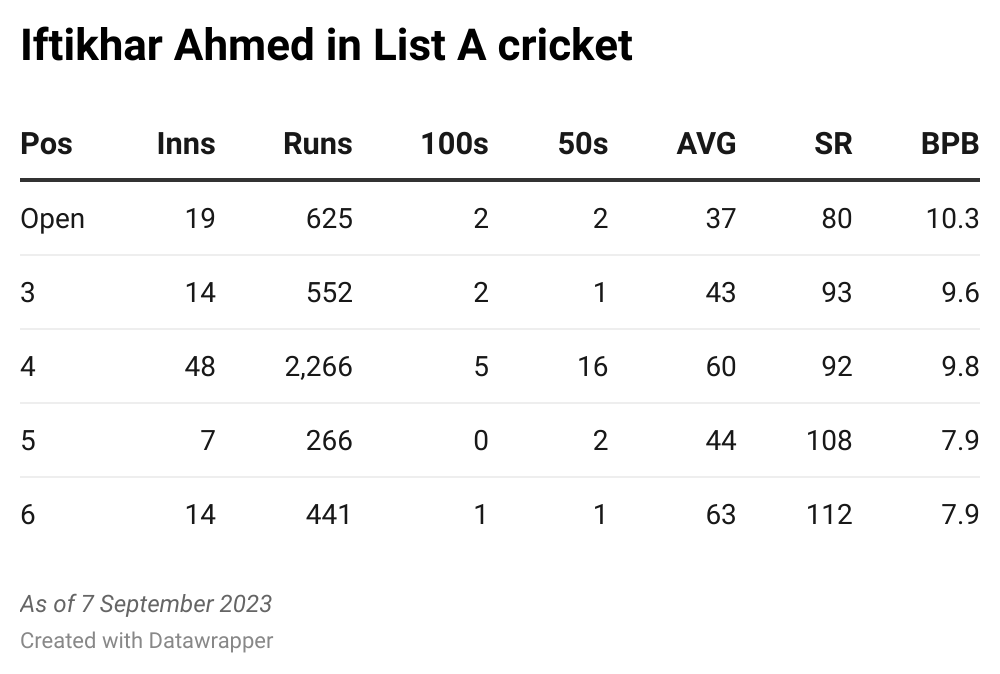 Iftikhar has spoken at length about having to prepare for this role, which requires a variety of skills, plus the temperament to play longer knocks in the case of collapses, alongside having the ability to tee off quite early into the innings. The latter is something he's struggled with occasionally, needing some time to settle down before he can start nailing the big hits. But the ODI format affords batsmen with time, and Pakistan is also equipped with plenty of hitting power down the order among the tailenders. If he doesn't come off in situations where Pakistan need big hits in the last 3-4 overs, others can make up for it, but the value he offers at an earlier entry point is excellent. As a superb slip catcher (or catcher in general) alongside bowling handy off-spin, he provides good overall utility.
Balanced Number 6 Profile
T20 cricket has given rise to a few myths about ODI cricket, and the number 6 role is one of them. Teams do not only require a six-hitter at this position, regardless of their output. Rather, a balance is required. Jos Buttler and David Miller, two batsmen with the most runs at number 6 since 2015, average 40+ in this role. Ideally, all of the top 6 should be capable of hitting hundreds, while the number 6 should also have the ability to hit out at the death, particularly against pace.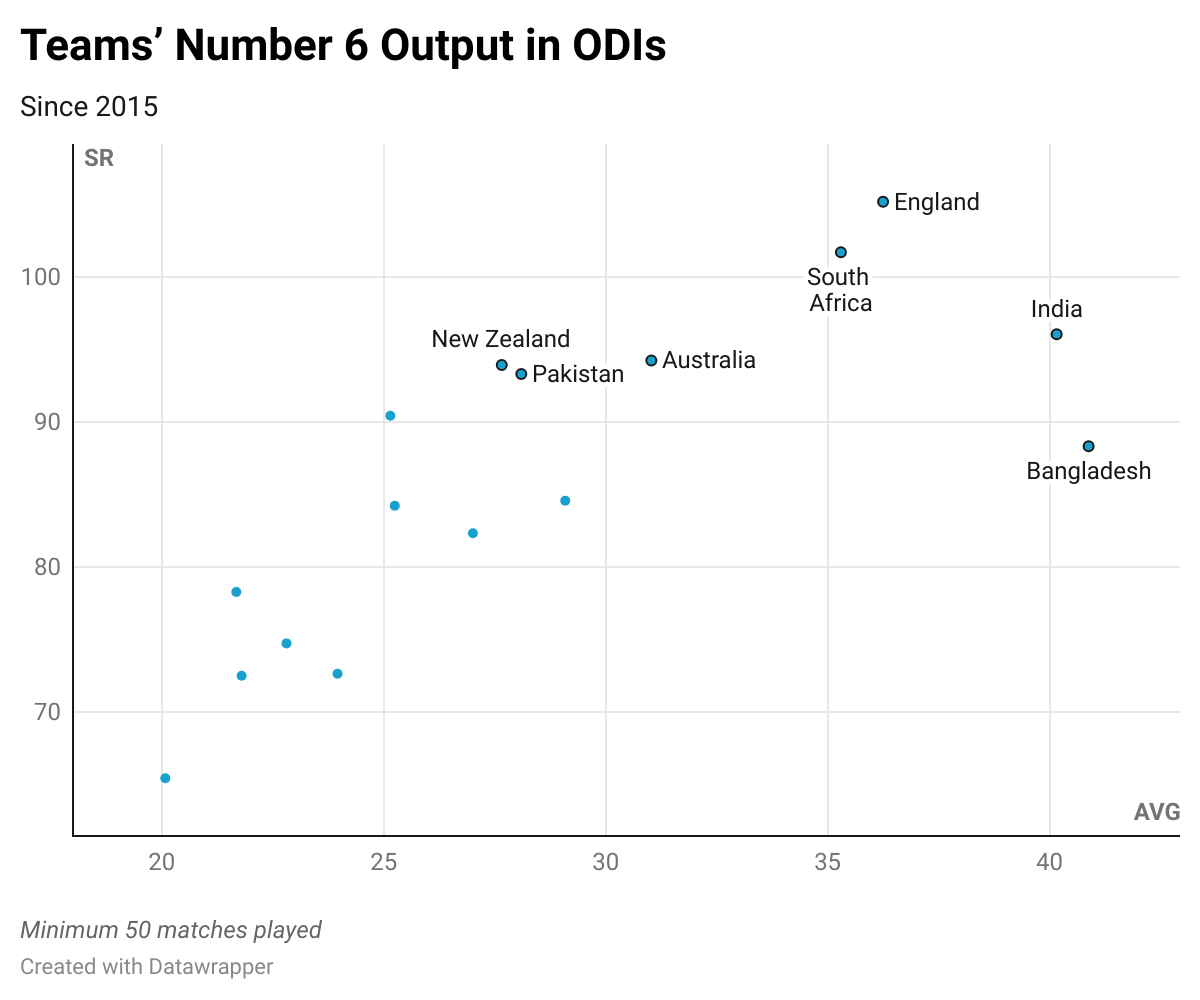 While Iftikhar may not be best prepared for this role from List A cricket, he has done well in middle-order roles in T20s, which address the requirement to hit fairly early into an innings. Where his List A experience will help him, though, is in seeing off spin, which he is quite adept at. His impeccable record higher up the order shows that he also has the temperament to play longer knocks, while his performances in the T20 World Cup were a very good indication of his maturity and the ability to absorb pressure, even on the big stage – something that will hold him in good stead going into a World Cup.
Naturally a strong hitter of the ball, Iftikhar has honed his six-hitting skills particularly well over the last few years, which has seen him become in demand as a number 5/6 batsman in several T20/T10 leagues, particularly the likes of BPL and LPL, where there are few quality hard-hitting middle-order batsmen available domestically. He has consistently sustained excellent death batting numbers over the past few years, averaging 33 while striking at 200 since 2019 in a role where failure rates are high.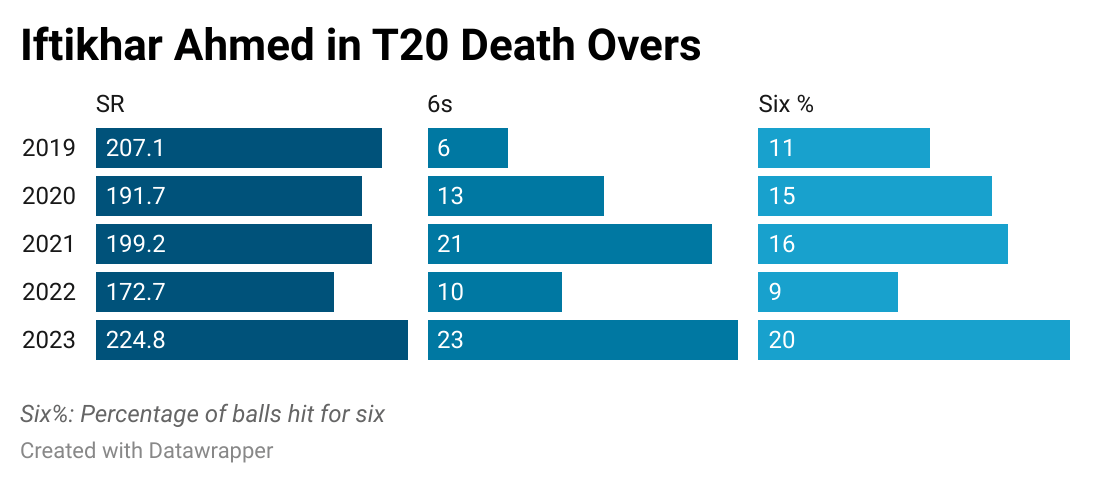 His method of six-hitting primarily relies on power down the ground or accessing the square leg boundary against fuller bowling, while he is also adept at depositing short balls over the legside boundary. However, Iftikhar isn't quite a modern six-hitter, lacking a variety of shots or a wide range of strokes, particularly unorthodox shots like the scoop. But he excels at his strengths and is very effective – no Pakistani has hit more sixes than his 73 in T20 death overs since 2019.
Starting Against Spin & Rotation
Just as Iftikhar's extensive T20 appearances demonstrate his strengths, they also let slip some of his weaknesses, which can be traced back to how he played during the earlier stages of his career. Often the standout batsman of his domestic sides, Iftikhar would be tasked with being the primary run-scorer and batting deep into his innings, due to which he would bat conservatively at the start, particularly against spin. T20 cricket means he has to be more attacking, so he takes on his favored match-up: pace.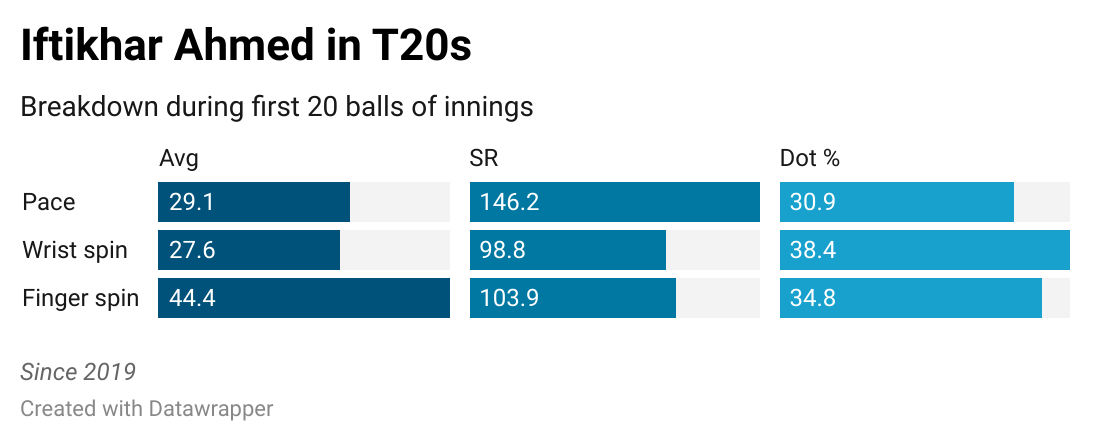 Iftikhar plays pace more aggressively at the start of his innings but usually looks to be conservative against spin. This can be a problem for the team if his partner is similarly on the back foot against the slower bowlers. Additionally, despite playing all types of spin conservatively, Iftikhar can still be susceptible to wrist spin at the start, especially if he isn't picking a bowler's variations early on. The lack of quality wrist spin at the domestic level in years gone by undoubtedly played a role in this. Once he is set, however, it's a different story, as he is adept at hitting every type of bowling after he gets used to the opposition and the conditions.
With regard to strike rotation, Iftikhar's slow starts can become a problem if he doesn't rotate strike early on. It's an aspect of his game that he has improved over time, particularly after it was noticed as a weakness at the franchise T20 level. However, the other negative aspect is his running between the wickets. He simply isn't the quickest runner and tends to respond slowly to his partner's calls. This is detrimental in ODIs, where running hard between the wickets is an important part of the game, especially in matches on bigger grounds where clearing the boundary is a tricky proposition.
It's taken a lot for Iftikhar Ahmed to earn the trust of the Pakistan team management. As recently as Pakistan's last ODI before the Asia Cup, he was once again on the bench, but the hundred against Nepal from a tricky situation in the Asia Cup curtain raiser followed by his impressive all-round show against Sri Lanka have almost certainly ensured he will be starting at number 6 in the World Cup. After playing a T20 World Cup in 2022, where he performed well in adverse circumstances under a lot of pressure, IftiMania will now be expected to rise to the occasion once again.
On the flip side, Iftikhar will enter the World Cup having played 19 ODIs spread across several years. He hasn't gotten anywhere near optimum preparation against quality all-round bowling attacks and must fall back on all the hard work he's put in over the years, whether situations demand he recall his First Class cricket temperament or his T20 hitting prowess. Ultimately, the 2023 World Cup is a massive tournament for Pakistan, and the number 6 role is one of the most crucial ones in an ODI unit. Unfortunately, failure is not an option.