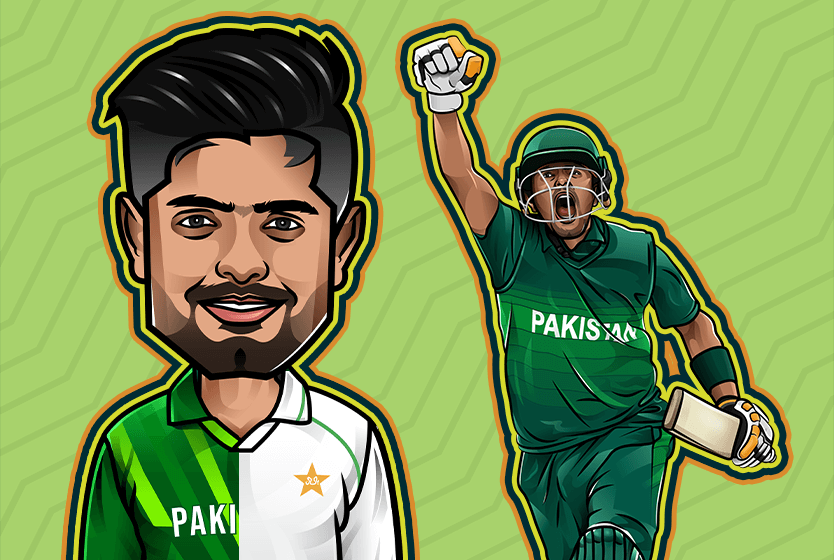 Babar Azam
Captain of the Pakistan team in all formats, ICC Cricketer of the Year for 2022, and arguably the world's best batsman right now – Babar Azam already boasts a pretty impressive resume. The world's number one ODI batsman was tipped for stardom from a young age and has indeed lived up to the billing. Not yet 29 years old, he is already regarded as one of the best batsmen ever produced by the country.
Babar made his ODI debut in the aftermath of Pakistan's 2015 World Cup journey. A struggling squad with a lack of resources had fought valiantly but succumbed to eventual champions Australia in the quarter-final. An embarrassing whitewash in Bangladesh followed suit, and Pakistan plummeted to an unprecedented number 9 in the ODI rankings.
A landmark series followed in May 2015, as international cricket was played on Pakistani soil for the first time since 2009, with Zimbabwe touring. A 20-year-old Babar Azam was included in the ODI squad, and he made his debut in the final match of the series, stroking a composed 54 off 60 deliveries.
After 5 half-centuries in his first 15 ODIs, Babar would get to his maiden ODI century against West Indies in the UAE – and promptly make it 3 on the trot. Hundreds in Australia and West Indies followed suit, as he became Pakistan's talisman in the batting order at number 3. Seeing a young batsman shoulder such responsibility was a new experience for most Pakistan fans. The 2019 World Cup would help him take the next step in this journey.
On a difficult batting track at Edgbaston in front of a huge crowd chanting his name, Babar played one of the finest knocks of his career, hitting 101* against eventual runners-up New Zealand in a magnificent victory. In Pakistan's 5 wins at the World Cup, his scores read: 63 (England), 69 (South Africa), 101* (New Zealand), 45 (Afghanistan), and 96 (Bangladesh). He finished with 474 runs in his first World Cup, the most by any Pakistani batsman in a World Cup. Not bad for a 24-year-old.
Since the World Cup, Pakistan have played a measly 28 ODIs, only more than Afghanistan among ICC Full Members. Yet, Babar's ODI game has gone to the next level in this period. He has averaged 70+, and the mid-80s strike rate has been elevated to the mid-90s. He's hit remarkable centuries in South Africa (after which he became the number 1 ODI batsman in 2021) and England, as well as a 73-ball hundred against Australia in a 350 chase. At one point, a remarkable five-match sequence for him read: 158, 57, 114, 105*, 103. He goes into the World Cup as THE premier ODI batsman.
Babar Azam was appointed as Pakistan's ODI captain in May 2020, replacing Sarfaraz Ahmed. As of now, he has the best win-loss ratio for any Pakistani captain in ODI history, albeit having faced a host of weaker sides, with ODI bilaterals relegated in importance during the last couple of years. Barring a 3-0 loss in England, it has been smooth sailing for Babar, the captain, so far in the format. The World Cup will be his first big test, though, but he will have the benefit of a fairly settled ODI unit to deal with.
Babar, the batsman, is potentially Pakistan's most important player. Technically among the best batsmen in the world, he is best equipped in the Pakistan batting lineup to handle quality bowling, and he has further matured in the past few years, enhancing his ability to play in various situations and conditions. His temperament perfectly suits the format, and most crucially, he has a terrific understanding of the demands of the situation. If an early wicket falls and there's some movement on offer, he'll rein himself in and focus on wicket preservation. If he comes in to bat after an extended opening partnership on a flat pitch, he will be proactive. The typical modern number 3 who churns out runs with regularity.
People tend to have a fundamental misconception about how ODIs are played, mostly skewed by England's style of play. England is the only ODI team that regularly goes hard in the powerplay, with the luxury of world-class middle-order batsmen like Jos Buttler and (formerly) Ben Stokes at their disposal. However, most other ODI teams do not go as hard early on in the innings and instead focus on building their innings from the top. It is here that Pakistan's top 3, particularly Babar Azam, excel.
In the past, Babar would occasionally go hard at the ball early on and be a candidate for outside edges to the slip cordon if there was away movement on offer. However, he eventually became more circumspect at the start of his innings, particularly when movement was on offer, realizing that he could catch up later. Now, he understands the value of playing himself in and taking his time, even if that leads to a period of slow scoring initially. If there is little or no help for the bowlers on offer, he's a master of regular scoring with minimal risk – thus being one of the best wicket preservers in ODIs.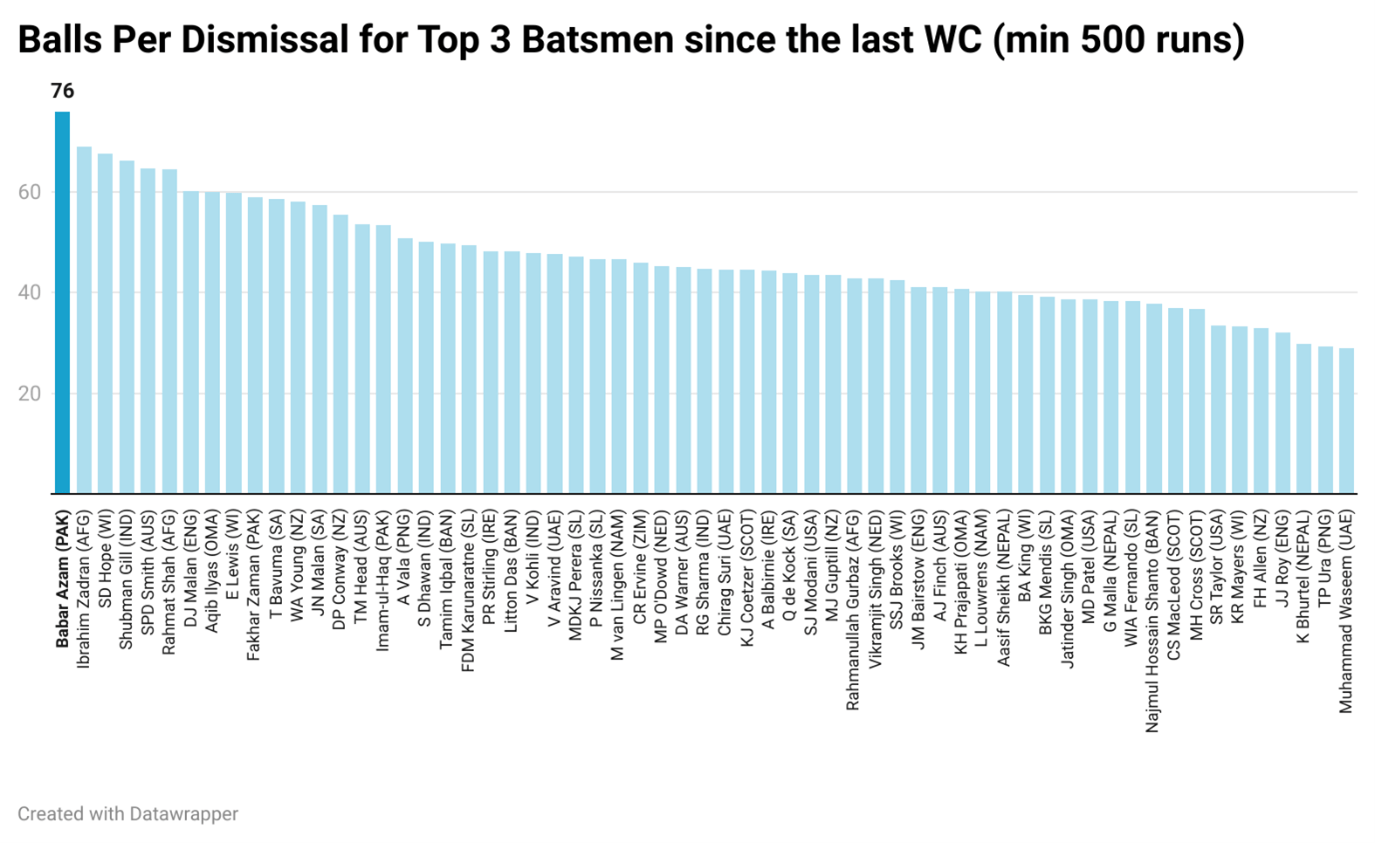 Tying in to the previous strength is run accumulation. Once Babar is in, he tends to contribute positively toward the team's cause. An astonishing 45% of his ODI innings see him score 50 or higher, 18% see him hit a century – both easily the highest benchmarks among all members of the 5000-run club in ODI cricket. He is the only batsman in the list to average 50+ runs per match. Once Babar is in and scoring freely, stopping him from accumulating runs is one of the biggest challenges bowlers face in the format.
The key reasons behind this are the ODI rules, where only 4 fielders are permitted outside the circle during the second powerplay (overs 11-40). This gives a huge margin of 30 overs where good stroke-makers can hit the gaps to rotate strike effortlessly while finding the occasional boundary with the extra fielder in the ring. Perhaps most importantly, almost every Pakistani bowler has expressed how difficult it is to bowl to Babar because he finds angles to hit boundaries even off good deliveries.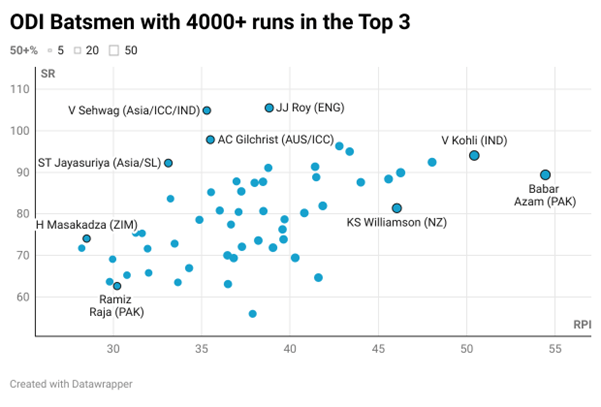 What really enables Babar to excel at wicket preservation and run accumulation is his ability to face any type of bowling. People will remember the famous graphic shown during the 2021 World Cup, where CricViz had analyzed he had "no clear bowler-type weakness." As it turns out, that might not be true (not anymore, at least) for the T20 format, where power is the champion. However, for ODIs, the claim certainly wouldn't be out of place. There have been periods where he has been dismissed by a certain bowler a few times, but there is no long-term evidence of problems facing a particular bowling type.
While we addressed wicket preservation earlier already, thus showing his ability to handle the new ball and pace, here it's important to mention that Babar is, at the same time, equally adept at handling spin. Paradoxically, he, in fact, has better numbers against away spin in comparison to most batsmen who excel against the ball turning into them. Right-arm off-spin, generally considered the best matchup for a right-hand batsman to counter, is the type of bowling that has the best chance of keeping Babar quiet.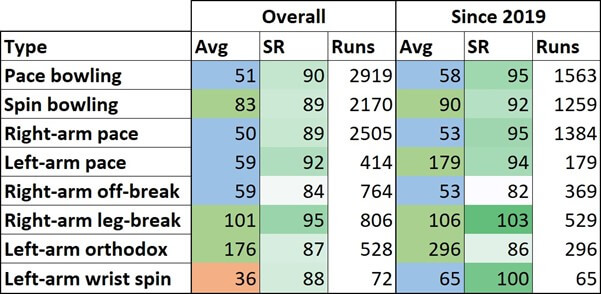 In comparison to the best of the best in ODIs, Babar Azam perhaps lacks the 5th gear that is invaluable to stretch totals – to transform 270s into 300s or 320s into 350s, particularly when it comes to hitting pace. It's not the worst problem to have in a team with a strong bowling attack like Pakistan, but it is an area of improvement, nevertheless. This goes back to some of the issues he has faced in T20 cricket, where he doesn't quite have the brute power needed to master the death overs despite being set.
However, Babar has worked on his game in this regard. He has certainly shown a better ability to hit sixes against spin, showing more of a willingness to slog sweep, which he nails more often than not. Additionally, he has recently hit sixes against spin on the front foot as well, whereas previously, he usually came down the track to hit spin. But the weakness remains against pace bowling, although he has demonstrated a willingness to better use the crease and angles to find boundaries at the death to compensate for not being able to muscle the ball.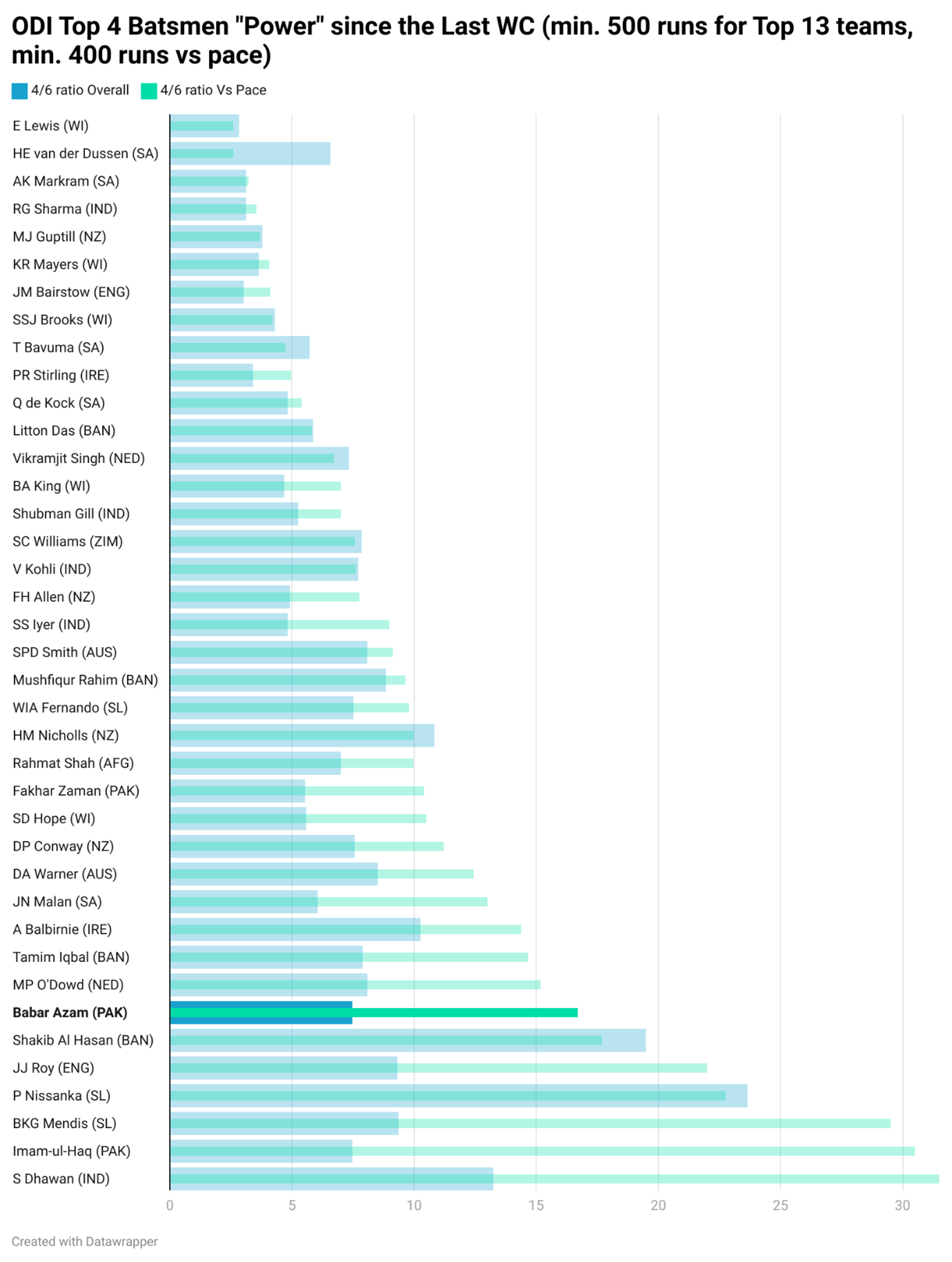 If you ask the average Pakistani fan, they may tell you that 5 hundreds is easily achievable for Babar Azam. Oh, and win the World Cup, too, while you're at it. To say that expectations are high would therefore be an understatement of epic proportions. There's also the small matter of his captaincy being under the scanner after recent Test defeats at home and failures at the final hurdle in T20 World Cups. The media is baying for blood, ready to run the next campaign at the slightest hint of weakness.
In 2019, Babar showed that he could rise to the biggest occasion of them all. He demonstrated that he had the skill and the temperament to shine on the stage where only the brightest of stars usually make an impact. Now 28 years old, he has only further enhanced those aspects of his game. Setting parameters to determine success in advance is a foolhardy task, but for Pakistan to have a successful World Cup campaign, Babar making crucial runs is a must. Having played 100 ODIs and with 5000+ runs to his credit, he is at the point of his career where he may be expected to peak. The biggest stage in cricket, the World Cup. In Asia. In India. Pakistan Captain. #1 ODI batsman. No pressure, then.