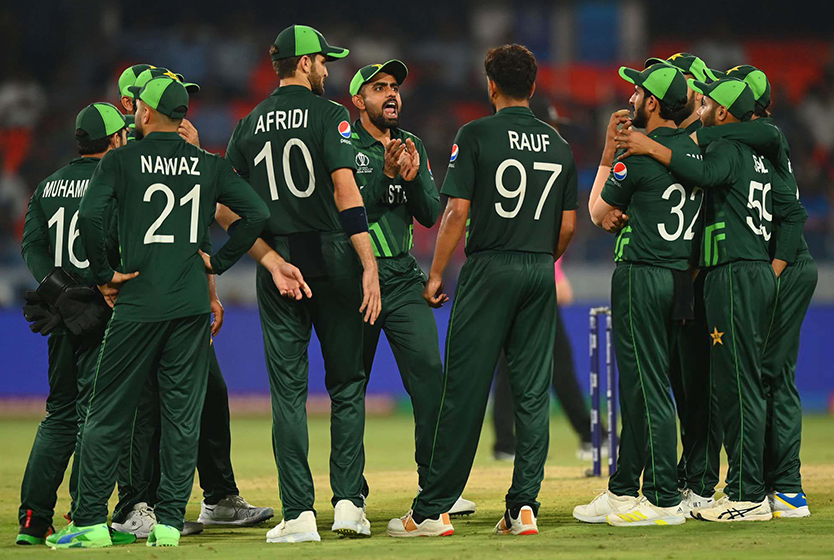 Pakistan in ICC tournaments: Ready-to-cook Mix
The most wanted, much-enjoyed recipe is out. Take notes.
Most teams try to use their tournament opener to make a statement. To get a good win that boosts their confidence. Especially if facing a lower-ranked team. They see it as a chance to properly announce their arrival. Bag an easy win. Get in a good NRR while it is still easy and not too tight. Not Pakistan, though. They don't like doing the normal stuff. They do things differently. They have their own ways. So, instead of using their first game to do the regular stuff other teams do, they use it to put together a recipe.
Not just any recipe. It is their own special recipe. A recipe so aromatic it pulls crowds every time it is cooked. Pakistan put together the perfect recipe for Pakistan in an ICC tournament: a ready-to-cook mix.
Pakistan in ICC tournaments (Ready-to-cook Mix)
Pakistan in big tournaments is different gravy. And people often find it difficult to understand what goes behind its making, so this recipe helps break it down into easy steps. Try it at home at your own risk, though. It smells nice from afar, and it is fun to watch people having it, but for the people having it, it is often difficult to digest, and sometimes it gets a little sour before it gets sweet.
Duration of the tournament
Two teaspoons full of some needless struggle from the team's most important batters. Any batter's struggle is never needful, actually. But needless here because this is a Pakistan side where the top order, which constitutes of some of the most important batters in the lineup, has done consistently well in the past, so any struggle now is completely uncalled for. There is absolutely no need for them to fail now when this is what they have prepared for all this time and done well throughout.
One tablespoon of a surprise performer. There will always be that one player who is not there in the initial squad plans but then will make it to the playing XI at some point and perform like he was made for the biggest stage. It was Mohammad Haris in the T20 World Cup last year. It might be Saud Shakeel in this World Cup. Pakistan spent a year or so investing in a different player for the role, but come the big tournament, there is a last-minute change in plans. A new player is being tried out at number 5, and fortunately for them, he is prepared for it. Even if he wasn't initially crafted for it.
One and a half teaspoon of a player under local media's radar performing. The local media will always find a player to target before a tournament for reasons only known to them, so one player will always be under extreme scrutiny, not allowed to step a foot wrong. The said player, though, is there for a reason. He made it there for a reason, and he will make sure he spells the reason out loud and clear during the tournament.
A pinch of a frustrating and slightly comical runout. A pinch of this is enough. But it is a must-add ingredient. A runout has to come in the most ridiculous way at the most ridiculous time and leave everyone screaming, 'Why would you do that?!'
A tablespoon of the opposition getting ahead in the game in games Pakistan should easily win. This bit is slightly more than a tablespoon sometimes, especially when they are playing against one of the lower-ranked sides. Do not ask why. There is no reasonable explanation for why the quantity might vary at times. But there are always points where the opposition is all over the Men in Green, who are frantically trying to find their ground. There are bits in the middle when the Pakistan fans seriously start considering giving up on the sport altogether.
A cup of fast bowling. This is very important. Most important, actually. There is no Pakistan cricket without some high-quality fast bowling, and there is no top-quality fast bowling without Pakistan cricket. The USP of every Pakistani lineup ever. There will be balls that will have the batters ducking for their lives. And there will be balls that will leave the batters twirling on their toes. Haris Rauf seems to have understood the assignment.
One teaspoon of dropped catches. This one is for the added flavor. Nothing boosts the flavor like a dropped catch or two. So it has to be added. Even when no one expects it to be added. Even when they have been a good fielding side for a considerable amount of time. Even when their catch efficiency numbers read above 80% on tables, putting them among the top fielding sides. But an ICC tournament is nothing without some extra flavor. So they add it. They do it. Only for the sake of it.
100 grams of things going wrong. Please use a kitchen scale for this because accuracy is important here. A flake more and it might be too much, a crumb less and it might be too less. So weigh it before you add it. And use it for seasoning only. It is recommended that this seasoning be used for marination before a tournament begins to allow it to settle and absorb for a tastier outcome. This seasoning comes in various forms. Some of its most popular forms include but are not limited to: injuries to key players, uncertainties regarding appointments in and around the team, serious, morale-shattering defeats in the recent past, or simply the ramifications of being non-Big 3.
Mix all the ingredients together. Then, put the Pakistan team in a stadium, under the lights. Raise the temperature. Turn the pressure high. And let them cook.
There might be minor tweaks to the recipe in every game, in every tournament. It is believed this is done so nobody can ever figure out the exact recipe, and replicating it is close to impossible for any outsider.