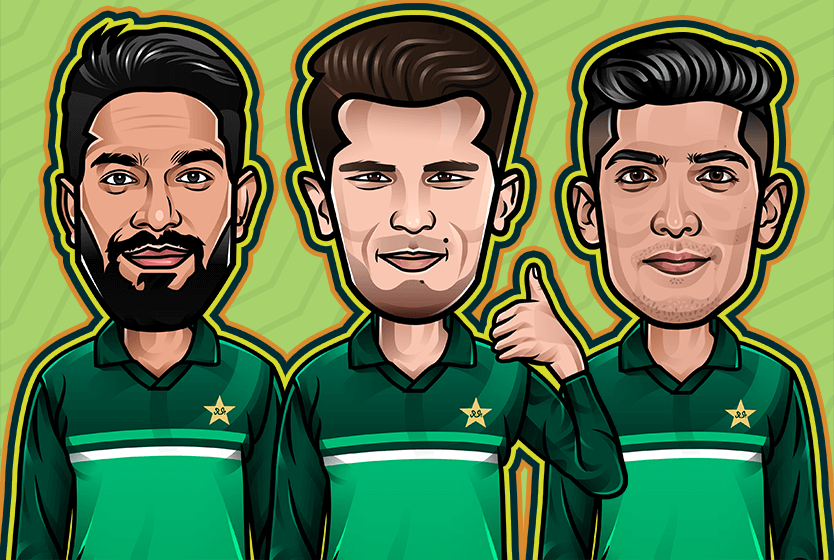 Life is good. Could it be better?
Shaheen, Naseem, and Rauf have played 6 ODIs together. In those 6 ODIs, they have promised the salvation of a lifetime. But promises are broken, and dreams are meant to be woken up from. And yet, you fall asleep every night because you need sleep, and thus, you need to dream. Dreaming is the base requirement to be a sports fan; you will not notice at first, but it is what will keep bringing you back.
In 6 ODIs, they have proven that between them, they cover all the possible frontiers limited-overs fast bowling has discovered over the past 50 years. Swing, Seam, Left Arm Angle, Reverse, Hit-the-Deck. Name it, and one of them has it, if not all of them – good enough to beat batsmen on defense but also wily enough to outfox them when they look to go after them. The only problem that currently arises is that ODIs only allow them to bowl 30 overs, so Pakistan have to make those 30 overs count.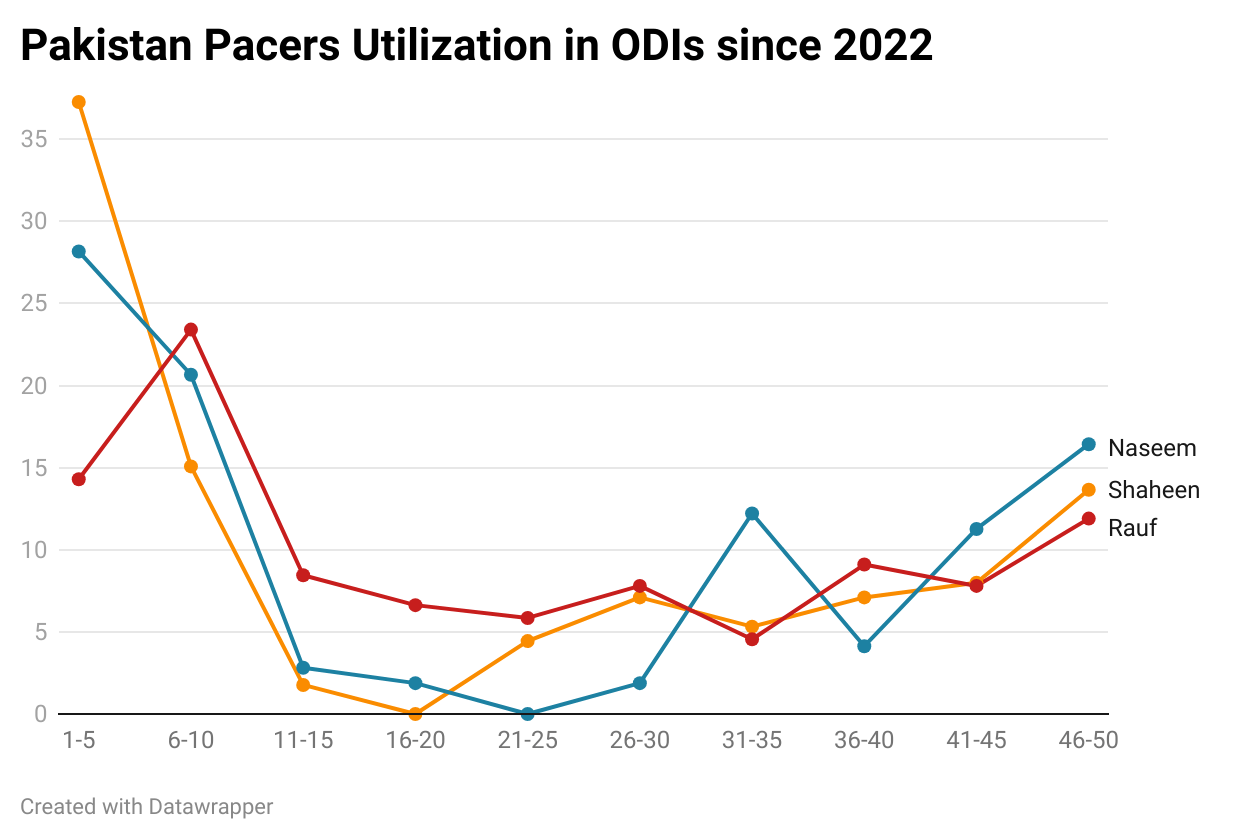 In terms of utilization, anyone who has watched enough of Pakistan playing ODIs this year knows the drill: Shaheen and Naseem to start with, Rauf in the middle overs till the death, where all three get shuffled to bowl 10. The opening bowlers naturally need a rest after their long spells and so rarely bowl in the 11-20 phase, where they recover their strength to be brought back in 21-35. Rauf provides the fast-bowling coverage in the meantime until the 30th over, where he is rested a bit to be brought back at the death.
Pakistan have a plan and have stuck to it for a while because it has worked well. Their plan was brought under the scanner in their game against India, where sticking to script with the opposition four down was perhaps not the wisest move. It is here, in the pre-match analysis, that you have to assess whether the problem was with the script itself or the conductor's adaptability. On spin-friendly wickets, allowing the spinners to bowl long spells in tandem is perfectly reasonable, but on flatter or seam-friendly tracks, it can allow the batsmen a sense of monotony that they are comfortable with. This monotony is largely an inevitability of the ODI middle overs and one that will be stated on the death certificate of the ODI format as a cause of its death.
With Rauf, Pakistan have one wrecking ball that they can deploy at such times when they feel the batsmen are beginning to enjoy the middle overs monotony. But Rauf will get tired, and he only has so many overs to spare. There will be times when there is a batsman at the crease who needs to be removed via a scalpel and will not be deterred by Rauf's hit-the-deck nature. It is here where the captain will need to call on his surgeon and give him an extended spell to work the said batsman over into yielding his wicket.
Pakistan will need Naseem. But they cannot bowl Naseem for an extended period if they have already bowled 5 overs of his upfront and are worried about saving 3 of his for the death. That only leaves 12 balls, and all of those 12 will not necessarily be delivered at the batsman you want them to be to.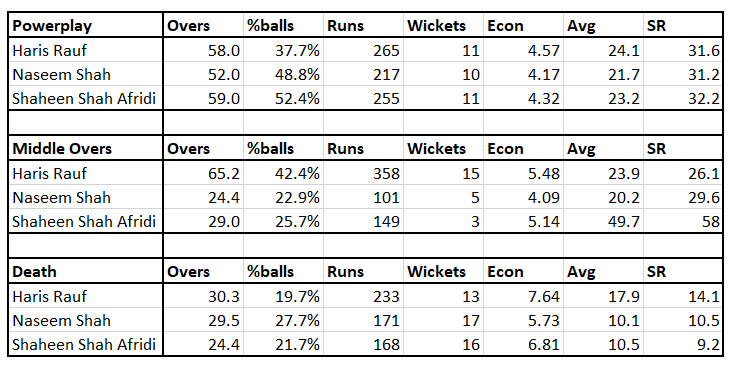 Pakistan are lucky to say that all three of their main fast bowlers can bowl in all phases of the innings. While Shaheen's effectiveness in the middle overs sticks out like a sore thumb, all other phases are covered with ease. It is a credit to Rauf's hard work on his new ball bowling that one has to ask Pakistan that maybe they should consider giving him a bite at it when it is about 3-4 overs old (ODIs have the two new balls rule, so Rauf would be coming on in the 7th or 8th over). That is something they have experimented with, and it has yielded promising results.
Powerplay wickets go a long way in deciding ODI matches because now the lower order has to do both jobs of taking the innings to the end and finishing it as well. Even an impressive recovery like India's in their first Asia Cup game saw them lose out on that latter overs impetus because there were no batsmen to come after the lower order had done the job that would normally have been done by the top order.
In the powerplay, Naseem's control at the start allows Shaheen to go on an all-out attack, and Shaheen being Shaheen should be bowling all the powerplay overs from his end. But Naseem could perhaps be pulled from the attack after 3 overs to give Rauf a bite at the new cherry, hence conserving Naseem's overs for a surgery if required.
Pakistan should not fear death, as in the death overs. They should also recognize the difference between the 41-45 phase and the 46-50 phase because, with 5 fielders out and higher batsman intent, the game basically transforms into the latter overs of a T20, but even in a T20, overs 11-16 differ from 17-20. You are allowed to bowl your spinner from overs 11-16 in a T20 and 41-45 in an ODI, provided he has the defensive skills. Shadab Khan has bowled over 50 overs in ODIs in the 41-45 phase with 14 wickets at an economy of 5.79 and an average of 23, which is similar to the death numbers of any of the frontline pacers since 2022, albeit spread over a wider sample size. If a situation arises where Naseem or Rauf need to be employed for an extended period in the middle overs, Pakistan should not worry about who will bowl at the end because they only have to make sure that the 5th bowler does not bowl there. Just make sure there are enough pacer overs for the 46-50 phase and to partner Shadab in the 41-45 phase. Apart from that, deploy at will.
Pakistan find themselves in a position where they can look forward to sleeping at night and daring to dream. It takes one wrong organic reaction to blow everything up, and it can happen at any time. Pakistan will watch that clock tick over, praying every second for the other shoe not to drop because, frankly, this seems too good to be true. Given a choice, they would rather lose out on a World Cup because of tactical deficiencies than an injury. Nevertheless, adjusting their tactics to suit the astronomical potential of their pace trio would be a wise move.