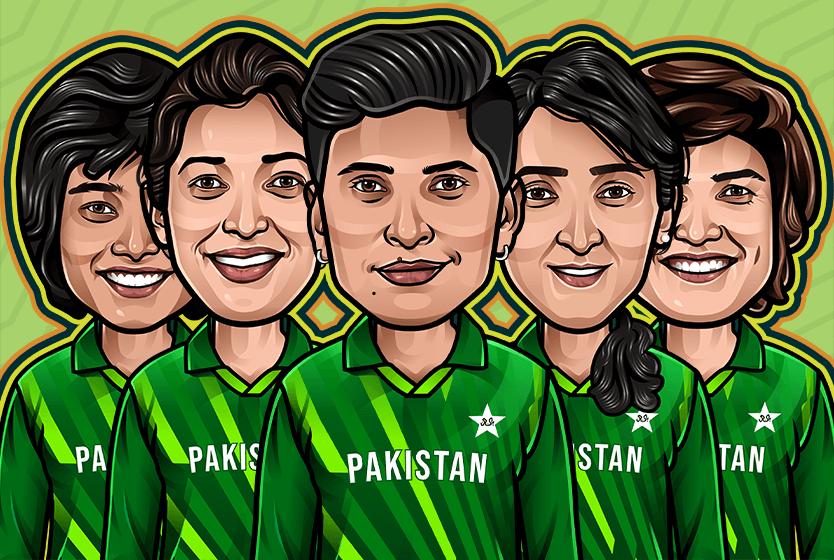 Muneeba in the Middle
On Pakistan Women's batting woes, a year of experiments, and emerging heroes.
The historic series versus South Africa has just wrapped up and in a brilliant and dominant show of modern T20 cricket, Pakistan has won 3-0. I am writing this on the night we've won our third game. It is very late but the adrenaline from the whitewash is keeping me awake. I'm not going to wax poetic about our wins or how well we played or what this means for us – I'm sure someone somewhere is writing a hard-hitting piece on this massive moment in Pakistan women's cricket, and so I'll leave it to them.
I will instead write about our batting lineup and how this series is effectively the product of a year and a half of experimentation, perplexing decisions, and general chaos. Like the adrenaline from beating this year's T20 World Cup finalists 3-0 keeps me awake tonight, our batting woes and complications have kept me up many nights before this (but in a bad way). And so this is my catharsis, I suppose an article that encompasses my observations and my understanding of the enigma that is Pakistan's T20i batting lineup from May 2022 to September 2023.
(Disclaimer: I write this as an outsider and as a fan with no knowledge of the inner workings and plans of Pakistan's think tank.)
In recent times, Pakistan's batting has been plagued with question marks and gaping holes. For much of last year and this year too, the top order was not settled. While Bismah Maroof became a mainstay at no. 3 soon after she returned from maternity leave and Muneeba Ali – one of the few top-order batters known to be aggressive and additionally useful because of her wicket-keeping skills – was also considered a starter as an opener, we struggled to find a partner for these two lefties at the top.
From the series vs. SL in May 2022 to the T20 WC in February 2023 – which was the last time we played international cricket before the SA series – we had 6 batters play in our top order.
This is how they fared when batting 1 to 3: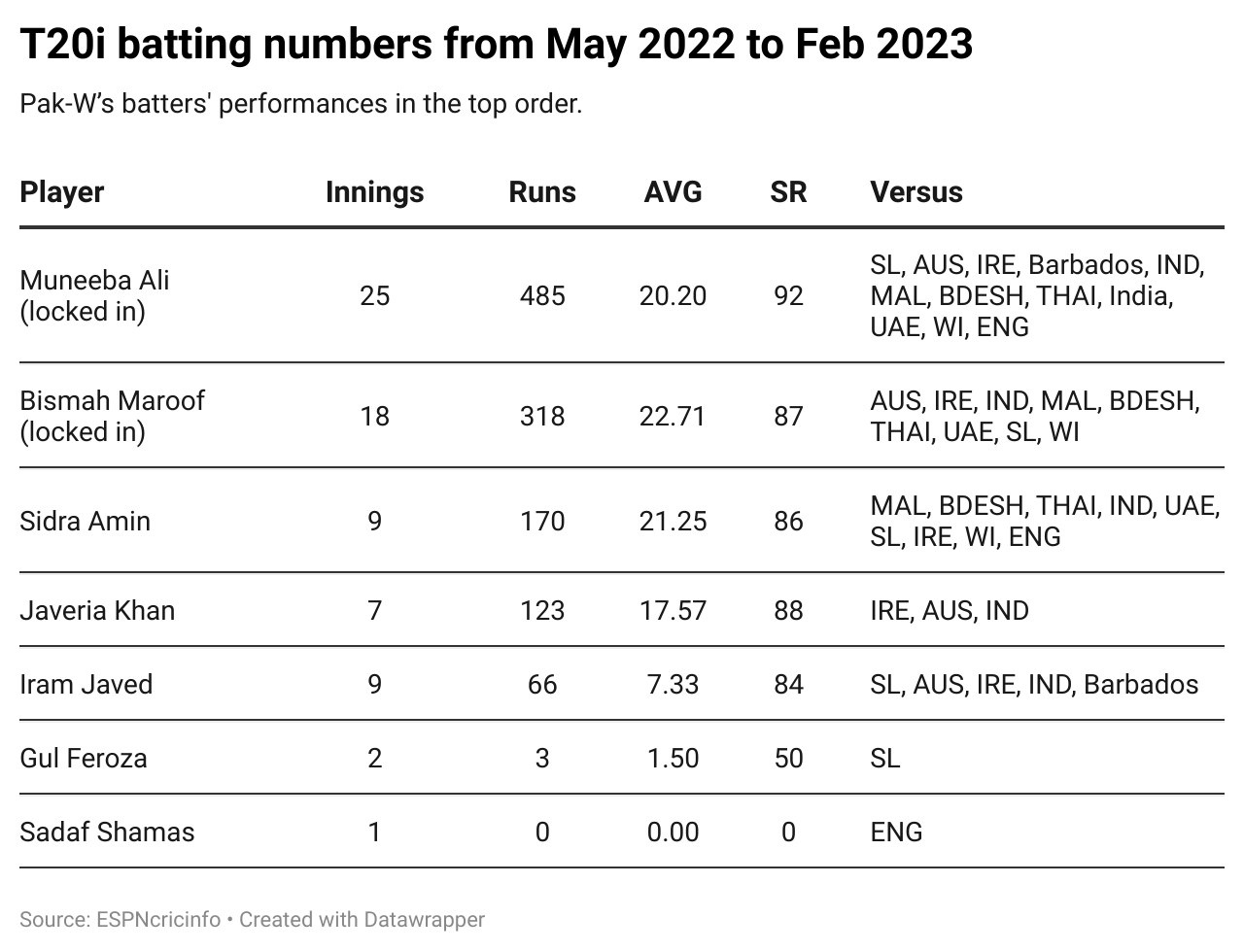 Match after match, we rotated between the 4 options to see who would make a stronger case for themselves. At one point, we even experimented with Bismah Maroof and Iram Javed as openers. Our home and away series went by and so did the Asia Cup, but the 2nd opener's spot showed no signs of being locked in. Sidra got a consistent run for a while in the Asia Cup, until we pivoted to Javeria in the series vs. Ireland and Australia. Even during the World Cup's practice games this year, Javeria and Sidra opened for us ahead of Muneeba. Just days from our first fixture vs. India, it seemed we were still unsure about who would win out between the two.
Perhaps it was the practice games that answered their question, or Sidra's continued struggles in the powerplay, or even the fact that they had persisted with Javeria for 5 consecutive T20is before that and believed it was best to trust her experience – in the end, it was Javeria who opened the batting with Muneeba versus India. Two more failures later, however, she found herself dropped. Since she has not received a central contract since then, it seems we have moved on from Javeria Khan in internationals. And so, after months of back and forth, we ended the World Cup with Sidra Amin as a front-runner for the 2nd opener in our T20i side and we went into our domestic season with this fact in mind.
Before we get into more batting lineup complications or introduce new characters, it's important to understand who Sidra Amin is as a T20i batter.
In my preview for the T20 World Cup this year, I said Sidra is a "better batter than her numbers say" – her numbers being 626 runs @ 18.41, 84 SR – and maybe she is. She is what most people consider a classical batter and her ODI numbers speak to her skill in the longer format. Out of all the options we tried in that long period of indecision, she got more T20i games, whether as Muneeba's partner or in the MO, than her 3 other competitors. We can presume this happened on the back of impressive one-day performances, runs in domestic T20 games, and strong backing from the management. I suppose they saw something in her that made them think she'd make it on the big stage in this format. But while Sidra got a few starts and performed here and there versus teams like Malaysia and Bangladesh, she failed to impress with the bat in games versus more challenging opponents. From what we saw, she visibly struggled to hit pace or even rotate the strike, showed little intent up-front, and to us at least, she seemed a batter ill-suited to T20is.
On the other end, Muneeba Ali, while not quite living up to her potential as an explosive, pace-hitting top-order bat, was doing better than Sidra. When she hit her famous century versus Ireland at the World Cup, it made Sidra's struggles at the same tournament seem even worse. Though one could argue that Muneeba's record as an opener was not all that fawn-worthy either, it was clear that she was outshining Sidra on the big stage. The pressure was on for Sidra and the fast ascent of youngsters Shawaal Zulfiqar and Eyman Fatima, who wowed at the U-19 World Cup and shone brighter still in the domestic T20 competition, certainly did not help her case.
For reference, the table below illustrates the performances of the top 10 run scorers of the Pakistan Cup (Phase 1):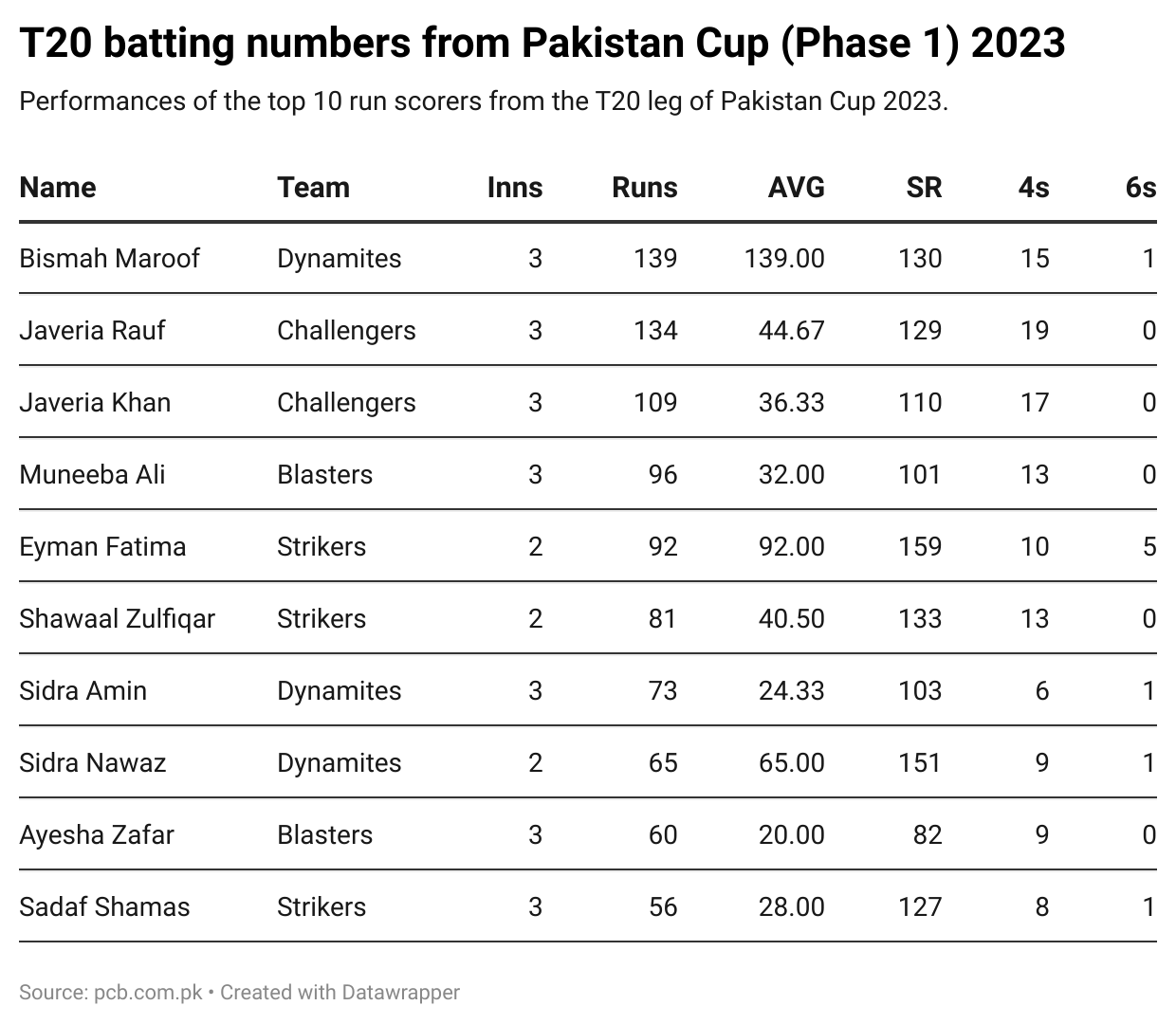 Suddenly, Pakistan had two more options for the top order. Though both Shawaal and Eyman were young and inexperienced, their intent and power could not go unnoticed, particularly when the bowlers they were succeeding against were much senior to them and the batters they were easily bettering in the domestic circuit were facing the same bowlers.
Now, Shawaal and Eyman were well ahead in the running. With the FTP promising 5 senior tours and the Asian Games in the 2023-24 season, we had an opportunity to experiment again with the team's top order. This time, instead of pitting older, experienced batters against each other, we could start our home season with a teenager known to attack early and hit big.
The expectation amongst fans was that Sidra would be dropped and Muneeba would open with one of Shawaal and Eyman. As it happened, it was Shawaal who made the cut. Maybe it was because she fared better in the 2 matches we played at the Emerging Asia Cup or they felt she was more ready – whatever the reason was, Shawaal Zulfiqar was named both for the series vs. SA and the Asian Games. What was left to see then was if the think tank trusted her to open in the first game versus South Africa.
Now, while the top order went through its identity crisis in the 2022-23 season, our middle order was relatively stable. We had Nida Dar finding glorious form for much of 2022, though it did seem to dip in early 2023. Bismah Maroof played some of her best knocks in the middle overs and rescued us from mini-collapses early on. Ayesha Naseem hit big in the middle and death overs and wowed crowds everywhere. The star of our middle order, and in fact, our entire batting lineup, through all of this was 18-year-old Ayesha, who attacked both pace and spin ruthlessly and had by far the best T20i batting numbers for a Pakistani player. So, when she took an early retirement after the World Cup, it was a massive blow. Pakistan were now short of a middle-order batter who they had begun to rely heavily on. With all our top order issues, ours was a lineup that especially couldn't afford to lose Ayesha Naseem.
So, ahead of the 2023-24 season and the opening series versus South Africa at home in September, our batting situation looked like this.
Top order:
We had moved on from Javeria Khan and settled on Sidra Amin
Sidra went on to have a decent domestic season with the bat: 73 runs @ 24.33, 103 SR
Muneeba Ali had recently done well at the World Cup and was a sure starter for the team
Muneeba was the best-performing batter for her domestic side: 96 runs @ 32.00, 101 SR
Shawaal had won out over Eyman and was selected for the series
Bismah continued her excellent form in T20s in the exhibition matches and domestic season 264 runs @ 132.00, 137 SR
Middle order:
With Ayesha gone now, we relied very heavily on Aliya and Nida to hit and carry the game forward in the last 8 overs
Nida missed the domestic season and had a surprisingly forgettable World Cup
Nida was under a lot of pressure to carry our spin-hitting in the middle overs
Pace-hitting in the last 6 overs was left almost completely to Aliya, who had been struggling for form for months
Aliya did poorly in the domestic T20s, scoring just 23 runs @ 11.50, 135 SR
Our MO was right-hander heavy with two lefties, Muneeba and Bismah up top
Fatima, our young pace-bowling all-rounder, had begun showing batting prowess but still raw and learning. At best, she could lead the tail – really well, but still only lead the tail
We had some middle-order options in our limited pool of players who were waiting to be slotted in: Iram Javed and Natalia Parvez

Both well capable of big hits in the middle order
Both had been performing steadily in local circuits for a while and were itching for comebacks to the national side
Iram ended up having a rather poor domestic season: 21 runs @ 7.00, 75 SR
Natalia fared better with 43 runs @ 21.50, 113 SR
Natalia ended up going to the Emerging Asia Cup and despite not performing there in the few balls she faced, she was selected for the SA series.
Before the series, I predicted the following XI from our squad (for the sake of this article, let's assume the majority of fans agreed with this batting order – which I believe they did):
Muneeba Ali (wk)
Shawaal Zulfiqar
Bismah Maroof
Nida Dar
Nataliya Parvez
Aliya Riaz
Fatima Sana
Aroob Shah
Umme Hani
Diana Baig
Nashra Sundhu
In our full squad, we essentially had 3 top order options: Sidra Amin, Muneeba Ali, and Shawaal Zulfiqar. By naming this predicted XI, I was expecting the management to drop Sidra, someone who they had been backing (albeit on and off) since last summer, who had a decent domestic run, and who had just been awarded a prestigious Level A contract. This was a big ask. They couldn't drop Muneeba either, of course: she's our keeper and potentially one of the best T20 players we'll ever produce. And they couldn't very well bench Shawaal, not after vowing publicly that this series would mark the dawn of a new, youthful era in Pakistan women's cricket, with younger players like Aroob and Shawaal in the side.
So, what did they do then?
They opened with Sidra and Shawaal, kept Bismah at 3, and introduced Muneeba into the middle order with Nida and Aliya.
Muneeba's new role was a shock to most, if not all, fans. Who would have thought that the batter who scored Pakistan's first T20i century and showed the most promise as an opener would get "demoted" to the MO and deprived of the full 20 overs that openers get? And maybe this was the plan for weeks, maybe it was what they experimented with in the camps and training sessions. Nevertheless, planned or unplanned, it was met with disbelief.
But now, in hindsight, I argue that the XI they went with is likely the best-case scenario for this team. Let me explain.
We know a few things to be true:
We know Muneeba is definitely a starter in our XI
We know Sidra Amin has favour and has shown mettle and skill across formats
We know the think tank had decided they want to be more forward-thinking and bring young girls into the fold, so Shawaal should start
And we know our middle order is struggling to hold up our lineup
Then, by shifting Muneeba to the MO, a few things happen and things start falling into place.
First, what does this batting order mean for Muneeba Ali?
With all her potential as a T20 batter, I believe she was being held back in the format mostly because of a lack of clarity in her role as an opener. Should she attack early on in the powerplay and take risks? Should she conserve her wicket? Should she focus on attacking pace on one end or attack spin as well while her partner/s continue to struggle and dip in and out on the other end? The experimentation in the top order and lack of clarity in her role was affecting her confidence. For an expressive and attacking player like Muneeba, confidence is key.
But now, in the middle order, Muneeba has a specific role. Here, she has clarity. She is told to hit pace and spin and to keep the boundaries flowing. She is told, you will most often be sent out with the RH batter on the other end. So, work with them and make the most of our last few overs (or get out trying, it's fine). For Muneeba, a smart and innovative batter, this means she can do wonders. With clarity and the team's trust in her ability to score runs quickly and riskily, Muneeba will thrive.
Next, what does it mean for Sidra Amin?
Despite many chances, Sidra struggled to show intent early in the innings and was rather inconsistent with her performances. Perhaps they mirrored the inconsistency in the opportunities given to her and perhaps she was always on edge, knowing she could be dropped after every game for another batter waiting in the wings.
Now, things are different. Sidra has been given a high-level contract and she's been awarded that opening spot presumably for the rest of this year, if not the entire season. She's likely been told to go out there and prove she deserves it. In this series, we saw her be more innovative, brave, and attacking than ever. She said so herself after the 2nd T20i, that she has deliberately worked on and developed her T20 game, tired of being labelled a "good ODI batter". With security in her spot and determined to prove her worth, Sidra has already begun to look like a better T20 batter.
Finally, what does this batting order mean for young Shawaal Zulfiqar?
It means she is being trusted with the opening spot. She opened for all 3 games, despite low scores, which are to be expected, and will only (hopefully) help her grow. With the Asian Games and series vs. Bangladesh ahead, we can hope she will continue to get the backing and opportunities she deserves. For a young attacking batter in Pakistan, whose side has long relied on experience and anchors to hold their batting up, this is a very new, very big deal.
For Nida, Aliya, and Fatima, as well, the Muneeba experiment is good news. It has meant they have one more batter in their middle order and she's a leftie too, which is always a useful addition.
For reference, this is what we saw our batters do in the series: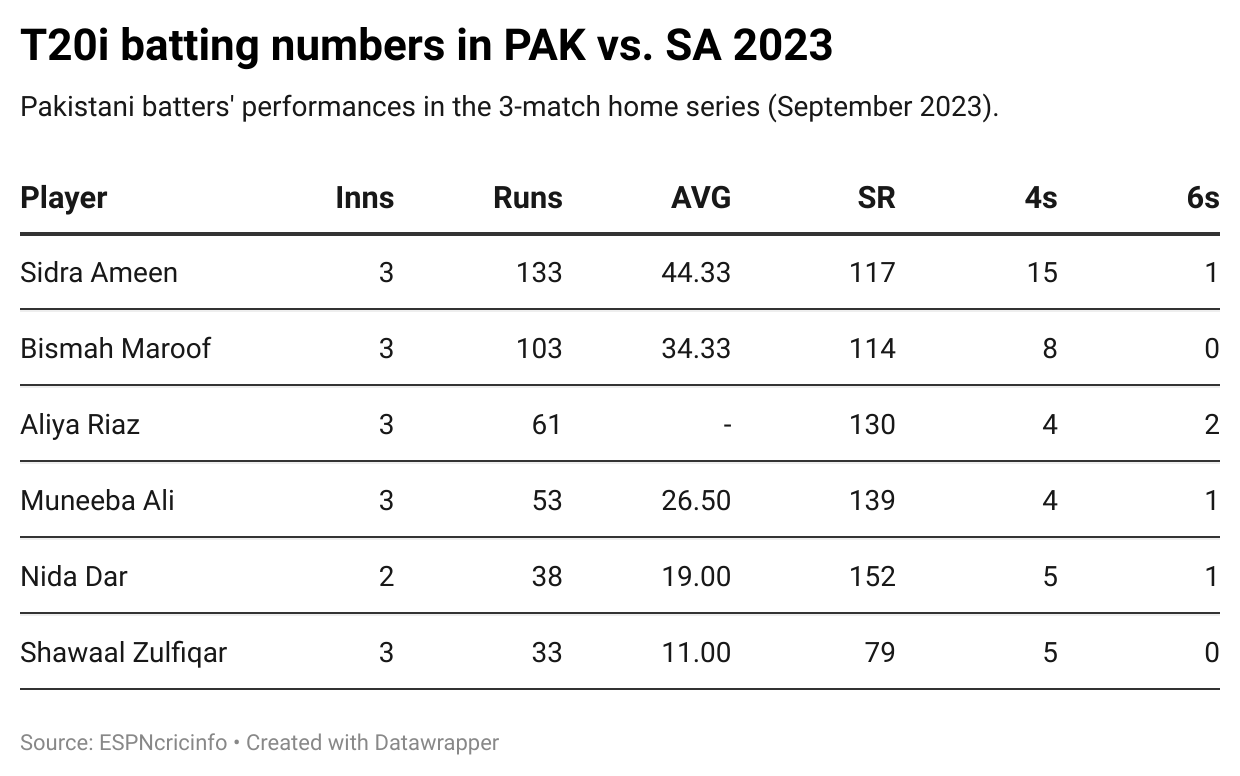 Some final thoughts:
When you get used to the idea, Muneeba in the middle order seems like it can be a very good thing. Granted, we've seen her do it in just 3 games, but it has shown signs of it working well for us.
Now, Muneeba is one of our best bats and you can argue she deserves the time and opportunities that only the opening spot offers. You may ask, are we wasting her potential and missing out on many more T20i centuries and half-centuries by keeping her as our left-handed middle-order aggressor? Maybe we are. But are we doing what seems like the right thing for this group of players at this time? Sure seems like it.
Will Shawaal and Sidra be able to handle the powerplay overs? Time will tell.
Will we know more about Muneeba's middle-order capabilities once we've played 5-7 more games in different conditions and she is tasked with more intimidating RRR and with setting and chasing higher scores? Absolutely.
But, is this offering Nida & the team more flexibility than we've had in recent times? Yes.
Have we seen Muneeba play some of the best shots she's ever played at the international level in just the 3 matches she's had in the middle order? Also yes.
Is it still too soon to say anything conclusive? Yes again. But it's worth talking about anyway.
Like I said at the start, in recent times, our batting lineup has been plagued with question marks and gaping holes. But now, it finally feels like our experiments are yielding answers. It feels like we're plugging holes, so I'm going to rest easy for a bit. And who knows, maybe Eyman Fatima will come banging on selectors' doors in the next few months and we'll have a whole new experiment to try out. Until then, Sidra-Shawaal-Bismah-Nida-Muneeba-Aliya-Fatima is a pretty good batting lineup, if you ask me.