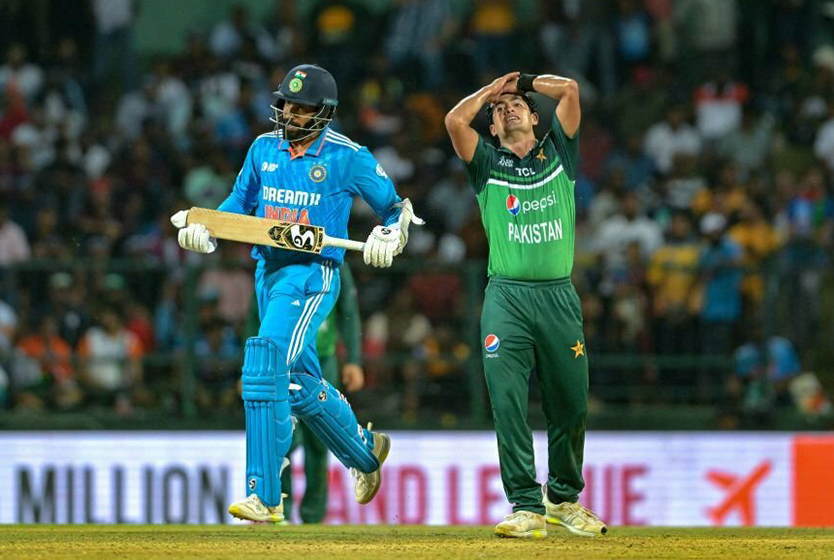 A Perfect Tragedy All Along?
Before the match against Afghanistan, if you had looked at the points table, Pakistan's journey in this World Cup had been a perfectly mixed bag so far, with two wins and two losses. Of course, there was the caveat that the defeats were against India and Australia and the wins against Netherlands and Sri Lanka. The picture was muddled even more by the fact that it took a record World Cup chase to defeat the Lankans, and the Dutch had Pakistan at 38–3 and then 188–6 in the first innings before faltering in an achievable chase of 287. The big encounter at the Modi Stadium was decided by yet another collapse against India in a World Cup, while the Aussies handed Pakistan a defeat eerily similar to the one in 2019, as Usama Mir made the biggest possible mess of a skied catch you could imagine, an image sure to be etched among the memories of this World Cup for Pakistan fans.
While it was not surprising to see 2 defeats against two sides who have been relatively consistent bete noires for Pakistan in World Cups, you would not have anticipated these kinds of ebbs and flows against lesser sides such as Netherlands and Sri Lanka two months ago. The ODI side was as settled as it had ever been, and concerns that its performances had predominantly come against second-string sides were understandably brushed aside, given the obvious quality of the players. The top three was making bucket loads of runs, with Fakhar Zaman having a bumper home season, while Mohammad Rizwan, Salman Ali Agha, and Iftikhar Ahmed provided stability in the middle order as well. The pace trio was anointed arguably the world's best in the format, with each of Shaheen, Naseem, and Rauf providing wicket-taking capacity throughout the 50 overs, and Usama Mir's emergence improved confidence in the spin stocks. Thus, the Asia Cup, starting in late August, was to provide a trailer for the kind of cricket Pakistan could be expected to play in the World Cup.
*****
After brushing aside Nepal in Multan to boost their confidence, it was time for the first true test of this Pakistan side's label as one of the favorites for the World Cup. After a World Cup cycle filled almost to the brink with ODIs against second-string and lower-ranked sides, it was time to step into the big leagues to face off against Rohit, Gill, and Kohli's batting dominance, and Bumrah, Siraj, and Kuldeep's bowling prowess.
On a pitch with variable bounce and some early assistance for the seamers, along with overcast conditions, India confidently elected to bat first. It felt almost like a message to the Pakistani pacers, daring them to prove themselves, if not outright belittling their threat. It would prove to be the wrong decision.
If there's a bowler who doesn't back away from a challenge – carrying unmitigated innate confidence in his abilities – it's Shaheen Shah Afridi. No matter the context, every opening batter is greeted with a smattering of inswinging full deliveries at pace. Or at least, that's always the intention. Since those twin knee injuries, the pace isn't quite in pace is pace yaar territory anymore, and the swing, diminished in size somewhat, is more undisciplined, straying from its intended target more often. It's almost as if the ball is telling Afridi that he isn't the same anymore. That something has changed.
Nevertheless, he persists. Rohit sees the first inswinging yorker coming and digs it out. As always, he lets the batter know what's coming. He lets everyone watching know what's coming. Like the Shaheen of yesteryear, he is predictable, but now he is not unplayable. It looks like they can play him now. The second attempt strays on the pads and is casually flicked for four.
Although almost too casually, even for Rohit Sharma, as it brushes Fakhar Zaman's outstretched fingers at square leg. You can rarely afford to be too casual against Shaheen, as the next two balls remind Rohit, who inside-edges them both. It's not as effortless as before, and it's at the expense of swing, but the zip is still there. It doesn't stop Rohit from flicking him for almost six in his next over. Again, it isn't quite clicking. The pieces are all there, the pace, the swing, the threatening line and length, but they don't work in harmony. He lands on the crease almost tempestuously, a storm of fast-bowling meanness brewing inside. Except that the hurricane he wants to unleash on the batter seems like too much to handle at the same time, making him lose control.
He alternates yorkers and length balls without success for another over until a brief break due to a passing shower. Half an hour later, his bowling seems transformed. The length is perfect, slightly shorter, the swing isn't being forced out, and instead, he effortlessly beats Rohit's outside edge with seam movement twice in a row. He had let Rohit and everyone watching know what would transpire on the next ball, the last one of his third over. Two away, one in. Timber. Predictable and unplayable. But rather than a hurricane of inswinging yorkers, it seems a persistent, disciplined drizzle of immaculate seam bowling. In the next over, facing Kohli, he persists with his newfound formula, and the universe seems to gift him Kohli's inside edge, directing the ball onto the stumps. He gets greedy again after the most prized wicket, with overcooked inswinging yorkers reaping only wides and singles. In his next over, the fifth of his opening spell, it's back to the newly tried and tested as Shubman Gill ties himself into knots trying to decipher the seam movement.
That he played out a maiden without getting out seems like a win for him.
All this time, at the other end, a similar but oh-so-different spectacle was unfolding. Naseem Shah didn't need a chastening few early deliveries to figure out how to bowl perfectly. Perfect length, perfect line, ball after ball.
Some seam in, some away, without reward. Neither Rohit nor Gill, otherwise relentless Powerplay aggressors, dare to display a hint of hostility. It looks and feels like a special spell being weaved, and yet there is no reward. But perhaps this subtle magic is the reward itself. Wickets are too low for him.
They are for mere mortals. He makes the batters play and miss. There is no respite of getting to walk back to the pavilion and watch from afar. Their agony must continue. He is here to thrill us, to make us dream. He sends shivers down our spine. Almost perpetuate ecstasy, but there is no climax. Our agony must continue, too. At the end of his opening spell, he bowls a length ball on middle and leg to the left-hander Ishan Kishan. As he shapes to flick it through midwicket, the ball nips away to take his outside edge and rolls away for a boundary, wide of the slip fielder, almost 180 degrees from the direction the batter wanted it to go in. It seems the most pyrrhic of the victories of this world are reserved for Naseem Shah.
Average speed regularly above 140 KPH and a mix of the hardest of lengths and yorkers. As third wheels go, Haris Rauf is pretty useful. After being driven nonchalantly a couple of times by Shreyas Iyer in his first over, he gives in to the primal instinct of every fast bowler and bangs one into the pitch. Iyer, who has a known weakness against bouncers, rifles a pull through midwicket. Except it doesn't go through Fakhar Zaman's hands, and he has to depart as abruptly as his dismissal transpires. A few overs later, with India 3 down, Rauf accounts for Shubman Gill, who was somehow still alive on 10 off 31, with some seam movement that kisses his inside edge on its way to the stumps.
*****
Were this a work of poetic fiction, the story would end here. Pakistan's Shehanshah had exiled India's King after having trapped their Captain, and his enforcer, Rauf, finished the job by getting rid of the Prince. All this after a magical sorcerer had intimidated the adversaries into submission without even dealing them a real blow. But this is the real world, and the story goes on. It goes through India fighting back against a toothless display of spin bowling and setting a target of 266. It goes through unrelenting Sri Lankan rains, which rob Pakistan of a chance at reaping the reward of a fantastical pace bowling display. It goes through Lahore and then Sri Lanka again as BCCI shenanigans, a wrong decision at the toss, pathetic fielding, and a nonsensical, nightmarish reserve day pass by. It goes through another shattering Asia Cup loss to Sri Lanka, and it crashes into a wall of heartbreaking numbness after Naseem is ruled out of the World Cup and takes with him the spells keeping Pakistan's fast bowling magic alive.
But it must all go on. New heroes must emerge to keep the flame of hope burning. Like Saud Shakeel, the most memorable performer in an easy-to-forget victory against the Netherlands. And after a Naseem-less bowling attack is reduced to rubble by Sri Lanka, it is Abdullah Shafique and Mohammad Rizwan who etch their name in the World Cup history books, pulling off the highest chase in the history of the tournament with twin centuries in front of an adoring Hyderabad crowd. The latter may not be a new batting hero in ODIs, but he is at last universally acknowledged as one, battling through cramps and remaining unbeaten through the innings. After the victory, journalist and author Osman Samiuddin quipped that Pakistan had chased the highest score in World Cup history in 2023, but they did it while playing as if they were in 1992 by preserving wickets early and catching up at the end.
As the next matches would demonstrate, this approach would not work against better bowling attacks. Against India, Babar and Rizwan would play out the spinners in the middle overs with barely any hint of aggression or intention of scoring boundaries, staying rooted in their crease. Slow accumulation, followed by a sudden collapse, left Pakistan with far too few runs on the board. Facing Australia at Bengaluru, we were served with a redux performance of the match against them in 2019, as another dolly off Warner's bat was dropped, who duly made Pakistan pay again. Just as had transpired four years earlier, a thundering opening partnership threatened to take the Aussies to at least 400 before the left-arm quick leading Pakistan's attack picked up a masterful 5-fer to set up an achievable chase considering the conditions. A chase that Pakistan messed up despite having the advantage at multiple times in their innings. 2019 mai bhi aisa hua tha.
*****
Although the memory never left, it was at this point in the tournament, after the bowlers had been battered and humiliated, that those first few overs in Kandy came back to haunt me, and I imagine I mustn't have been alone. And thinking back to what could've been, to the magnitude of what we lost, it does not seem worth it to try to analyze the next two matches too thoroughly (the match against Bangladesh is an hour away as I type this). The batters continued on their usual wicket-preserving way against Afghanistan and South Africa, posting two below-par totals that, although chased with varying degrees of difficulty, still resulted in the same outcome.
But no matter the nuances and variables, captaincy blunders and umpire's calls, collective amnesia of ground fielding techniques, and opposition batters' skills, there was this nagging thought inhibiting my rational coping mechanisms, like a trauma that you've tried to bury in your subconscious that emerges at exactly the wrong time to twist the knife and stomp you right back into gham hour just as you're ready to move on. Had Naseem been there, it would all feel better. It would all be better. There is no way Australia would have put up an opening partnership of 259 in 34 overs, no way Afghanistan would have sleepwalked to a chase of 282, no way we would have had to suffer the indignity of opening the bowling with Iftikhar Ahmed, no way the South African tailenders would have scampered easy singles without getting their stumps knocked over. There is no way he wouldn't have made it all better.
*****
It felt as if we'd reach the promised land and turn it into an empire.
We may give ourselves solace — tasalli — by elevating Naseem Shah's brilliant but fruitless spells to the level of art. But after putting his body and mental health on the line to produce the most ecstatic, unrewarding performances, after making himself and 200 million people dream of World Cup magic, after having given up the chance to say a final goodbye to his mother, lest one forget, what has he received back from cricket so far, apart from intangible pride and glory that have, at this point, become unwelcome guests in an empty trophy cabinet?
Pakistan fans are always looking for those unmistakable signs, for traces of a destiny already written by divine decree — qudrat ka nizaam — for hints that it's all meant to be.
This, then, must have been meant to be a perfect tragedy all along.
The opinions expressed solely belong to the writer and do not necessarily reflect the views of Grassroots Cricket.