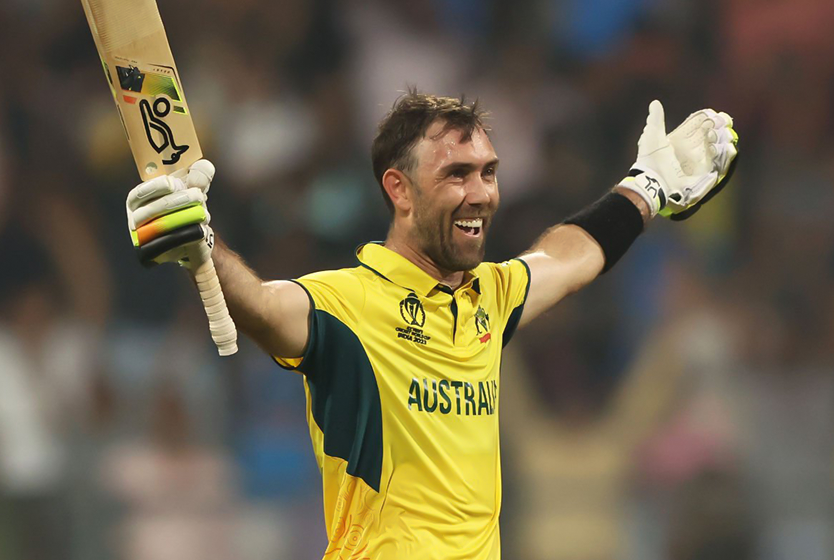 Glenn Maxwell's Mumbai Miracle
Of course, the historic Wankhede stadium was the scene of the miracle.
'And he should not have to walk off the park; he should be carried off,' said Ian Smith in the commentary box as Glenn Maxwell stood in the middle of Wankhede with arms aloft, a wide smile, pulling off a miracle to cement his place in the folklore of Australian and World Cup cricket. A coruscating knock cheered by a vociferous crowd and millions watching on television around the world.
In the chase, at the 17th over mark, when Rashid Khan trapped Marcus Stoinis in front of the stumps, the Aussies were reduced to 86-7, and at that stage, if someone had told you that Australia was going to win this match, the incredulity of the statement would have overwhelmed you. All factors were against the chasing team. Just three wickets in the bank and history: no Australian team had scored this much to win a match in the history of World Cups. To add to the dire equation, a four-pronged spin attack, an Afghanistan win, was the likely result.
Chasing 292 for the win, the Aussies were rocked by inspired bowling spells from Naveen ul Haq and Azmatullah Omerzai. The Afghan pace duo took two wickets a piece to reduce the opposition to 49-4. Such was the command over swing and seam that it felt like they were bowling on a green top in Cape Town.
It was the ninth over when Glen Maxwell joined Marnus Labuschagne on the crease, and many felt Australia's hopes rested on this pair, who not only had to lay a foundation but also had to score big. Five overs in with 20 added by the duo, Labuschagne got run out as he reacted late to Maxwell's call and, despite his desperate dive, couldn't make it – Australia fell into a deeper hole.
Stoinis and Mitchell Starc went after brief stays in the middle. Maxwell was given out lbw on 27 when Noor Ahmed's leg break hit below the knee roll. He reviewed the decision more in hope than anything else, and technology came to his rescue as the ball went over the stumps – a lucky break. Four balls later, he was dropped by Mujeeb ur Rehman, and from there on, you could sense a shift in his mindset that he was ready to scrap and fight alone.
It wasn't the usual Maxwell fireworks that we have gotten accustomed to over the years. Running out Labuschagne would have definitely added more responsibility on his shoulders. To begin with, It was an innings of calm and poise, control and calculation. He was determined to give respect to good deliveries and punished everything that was loose, and quite certainly, with the passage of time, self-belief rose above insecurity. Maxwell was 33 off 38, 43 off 45, and 50 off 51, displaying a perfect blend of attack and defense.
From there on, you could sense that he had decided to take on this much-vaunted Afghanistan attack. Despite being bogged down by cramps, he launched an assault upon the Afghan spinners, and no matter who came to bowl, they started disappearing into the stands. In the 33rd over of the innings, Maxwell hit Ahmed Noor straight down the ground and followed it up with a single in covers to reach a century off just 76 balls – his second of the tournament and fourth overall in the format, but apart from raising his bat towards the pavilion, there weren't many emotions. His mind fixated on the 106 runs that still needed to be scored, his mind visualizing where to score.
Afghanistan talisman Muhammad Nabi was soon introduced into the attack for the first time in the 34th over and was greeted with a six over the leg side – he conceded 20 off his two and never came back to bowl. Maxwell had left Afghanistan baffled. It felt like he was finding gaps and clearing rope at will, and captain Hashmatullah and his team had no answer to it.
Huge credit should also be given to Pat Cummins, who understood his assignment and stuck with Maxwell. He is a better batter than many give him credit for. He gets in line, fights his corners, and doesn't throw away his wicket. He scored just 12 runs, and yet they may be the most precious runs he will ever score for his country.
At the 40th over mark, with Australia needing 60 off the final 10 overs, it became evident that Maxwell's body won't support him for long. Two overs later, when Maxwell hobbled for a single to reach the non-striker end with his score at 147, he went down on the turf with hand on his leg, muscles cramping and spasming, and facial expression suggesting he was gone. For the fourth time, Australia's physiotherapist, Nick Jones, rushed onto the field, where Maxwell told him he was done. In response, he was told that if he chose to go off now, it would be nearly impossible for him to come back as his body wouldn't allow him.
From there on, it was clear that if Australia had to win, the runs had to come in boundaries. He had only one choice, to stand and deliver on one leg, and at that moment, Maxwell summoned every ounce of mental strength and got into fifth gear.
The 35-year-old was also helped by an old drill he used to do in the Big Bash League (BBL). "One of the things I used to work on before every BBL game – going back about eight or nine years – was foot drills where the first 12 balls I'd face, I'd stay dead still but try and hit them as far as I could," he said.
"Whatever the length, I basically had to hold my top body for as long as I could to get the right trajectory to feel like I hit a six. Working on that upper-body movement without using your legs is actually a good way of finding out where your ideal heave point is," he added.
The next over, he plundered Azmat to long off for four before reverse sweeping the next one for four. The same dose was repeated in his next over before playing an outrageous reverse scoop for a six to deflate Afghanistan. The next two overs from Naveen and Rashid were tactfully negotiated and went for just 11 runs combined. With 22 required from 24, Maxwell got stuck to Mujeeb and dispatched him for a six, four, six, and another six to notch up a miraculous win and his double hundred.
He ended with 201 not out off just 128 deliveries and hit an astonishing 21 boundaries and 10 maximums. Maxwell became the only player to register multiple centuries from number five or below in World Cup history, but at that moment, all of these records felt insignificant in front of what he had just accomplished. On a night when Mumbai's sky was glittering with stars, there was only one star that outshone all, and that was on the ground as Maxwell had enshrined his own legacy with a performance that will be spoken for eternity, as it was a display that left those who thought they had seen it all with their head shaking and jaws open. A display that left the jaded and disappointed whistling as they skipped back home.
The opinions expressed solely belong to the writer and do not necessarily reflect the views of Grassroots Cricket.