The Unsung Reliability of Ajju Bhai
The story of Azhar Ali, a loyal and dignified servant to the nation.
7142 Test runs with 19 hundreds for someone who was supposed to be a premier leg spinner? A two-format skipper and a Champions Trophy winner. All right, but a rare, good guy in a rather problematic lot of egoistic individuals? That is the tale of Azhar Ali, who has fulfilled his dream of leaving a legacy, and then some.
In a world full of flashy white-ball batters, Azhar's heroics in the longer format of the game often go underappreciated. Such is the story of Pakistan's fifth-highest run-getter in the format, but above all, a loyal and dignified servant to the nation.
Understandably, not many players retire with 97 Test matches next to their name. Earning a Test cap is a dream, but representing your country in hundred Tests is a magical feat – achieved only by four Pakistanis in the history of the game.
In many ways, Azhar falling measly short of reaching 100 Tests is ironic. For most of his career, the veteran had to adjust to varying circumstances. Throughout age group cricket, Azhar impressed with his leg spin, starring for Pakistan U15 and U17. Such was his promise that he was handed a first-class debut aged just 16. His domestic side at the time, KRL, had the likes of Saeed Ajmal leading their spin department, so Azhar seldom played.
With just ten FC appearances in nearly five years, Azhar had to find other ways to break into the side. During the off-season, he plied his trade in club cricket in Scotland to hone his batting skill. Soon, his perseverance saw him break into the KRL side as a batter in 2007/08, where he averaged over 50 that season. Years later, for Pakistan, Azhar selflessly volunteered to open the batting when needed and was moved around often. For such an individual, ending with 100 Tests would have been fitting, but in Danyal Rasool's words, "One hundred is a poetic number, much too magical for a prosaic man like him."
In terms of numbers, Azhar's contribution to the Test side was significant. As an integral part of Misbah-ul-Haq's invincible side at home in UAE, Azhar was impeccable at number three. Under Misbah, Azhar racked up 1968 runs at home, averaging a tad under 58. His best years, however, came between 2014 and 2016, when he excelled both at home and away. The veteran's consistency during that time was instrumental in Pakistan winning the prestigious Test mace in September 2016. Months later, he scored a remarkable triple-century versus West Indies and followed it up with a double-hundred at MCG versus Australia.

Azhar's flexibility was admirable, a real testament to his selfless nature. He fared well at the top of the order and at number three too. Opening the batting, Azhar chalked up 1556 runs at 45.76 – the highest batting average for any Pakistani opener in the history of the game (minimum 20 Tests). However, his numbers at three make for remarkable reading. At 3, no Pakistani batter has scored more runs than Azhar. It was at number three that he played some of his most special knocks, including a rampant 103 to chase down a mammoth fourth-innings score versus Sri Lanka (Pakistan's highest Test match run chase, then).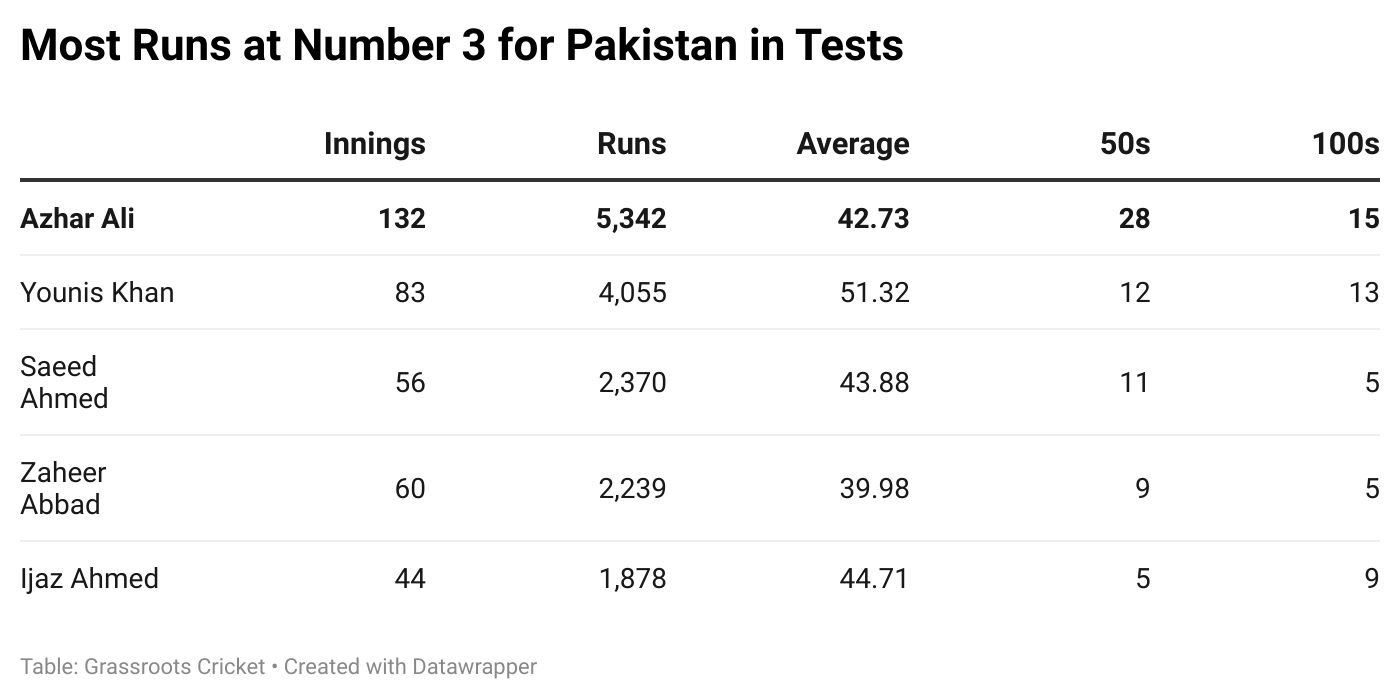 In ODI cricket, Azhar fared reasonably well too. Sadly, his showings in the Champions Trophy 2017 are often forgotten. He ended as Pakistan's second-highest run scorer in the tournament, with 228 runs at 45.6. After a solid 76 versus England in the semi-final, the right-hander followed it up with a crucial 59 in the final versus India. Following an early reprieve in the final, his inexperienced opening partner, Fakhar Zaman, was slow to get off the blocks. Azhar then took the initiative and kept the scoreboard ticking. By the end of the powerplay, Pakistan were placed solidly at 56/0, with Zaman 16* (29) and Azhar 29* (31). Azhar was eventually run out for 59, but his selfless approach was instrumental in Pakistan's success.
Despite Azhar's stellar campaign, he was sidelined after just three ODIs in New Zealand and replaced by Imam-ul-Haq. Such is Azhar's character, though, that he decided to retire gracefully.
In a similar turn of events, Azhar was made Test captain in 2018, a tenure that was short-lived. He was only given nine Test matches before being ousted as captain in a rather unpleasant fashion. He handled it gracefully, though, much like he managed the media over the years.
Such is his aura that he was chosen to represent Somerset for three years, where he also earned their prestigious county cap. He stacked up decent numbers, but it was his influence in the dressing room that garnered praise. Since 2022, Worcestershire secured his services, where he hit a memorable fourth-innings hundred versus Sussex to save the game last month.
In all fairness, Azhar is an unsung hero who has shaped Pakistan's red-ball cricket. His numbers may well be surpassed, but a player of his dignity and honor will be hard to find. To quote the legendary Johan Cruyff, "It's better to go down with your own vision than with someone else's." Azhar's career is the true epitome of that, as he quietly left a mark in his own way. He carved a story of his own, representing the nation with pride and honor. Farewell, Azhar Ali, and thank you for your services to this beautiful game.