Bazball – Rebirth of English Test Cricket?
Brendon McCullum and Ben Stokes have rejuvenated England's Test side. Will they be able to win the 2023
Following a 4-0 annihilation in the Ashes, another underwhelming and substandard performance by Joe Root's XI followed as they faced a humiliating defeat by the Caribbean back in April 2022. This resulted in the 32-year-old stepping down from captaincy while managing director Ashley Giles and head coach Chris Silverwood were sacked from their respective designations. However, Root still remains England's most successful Test captain, having led his side for 64 Tests with 27 wins and 26 losses, along with 14 centuries and 5295 Test runs, averaging 46.4.
First Test Summer Under "Bazball"
Ben Stokes took charge of the office on 28 April 2022, with former New Zealand captain Brendon Mccullum appointed as England's Men's Test head coach. Having a new setup meant that the team needed to be instilled with a new approach towards the game, the foundation and philosophy of which was laid by Stokes himself.
The captain-coach duo heeded into their first Test summer with the first assignment against England's 2019 World Cup final rivals, the Kiwis, who ended up being "Bazball-ed" 3-0 by the two Js of England cricket (Joe Root & Jonny Bairstow), who directed their side to a meticulous series win at Leeds. Next on the to-do list was the one-off Test vs. India that concluded the 2021 series, which had gotten postponed due to the pandemic. Courtesy of a momentous partnership between Joe Root & Jonny Bairstow, England secured a comfortable 7-wicket victory over India, with the latter being the main man causing most of the damage to the opposition, ended up notching twin hundreds in the Test.
The third victims of Bazball happened to be the Proteas, who were convincingly drubbed by England in a 2-1 series win. Stokes and his men had six out of seven Test match triumphs in the first Test summer under the new establishment.
England's jubilant Js all smiles after a record-breaking run chase vs. India (via Getty Images)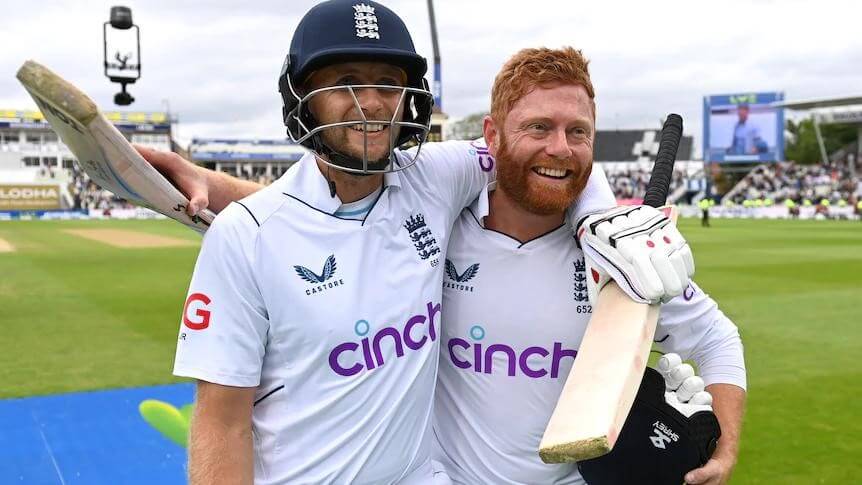 Away Tours – Pakistan & New Zealand
After celebrating a fruitful Test summer, Stokes and his army embarked on an expectedly arduous and daunting tour of Pakistan for the first time in 17 years to play a 3-match series. Instead, this ended up with England putting up a dominating performance, including a historic 74-run victory in Rawalpindi. The series ended in Karachi with England blitzing their way to another astonishing 3-0 series victory, with the emergence of an ingenious and vibrant batting talent named Harry Brook, who had debuted in the third Test vs. South Africa in the summer.
In February 2023, England met their most frequently played opponents again, but this time at Mount Maunganui, where they vanquished the hosts by a comprehensive 267 runs, with Harry Brook standing out as the star performer with two well-struck half-centuries. The series ended in a draw as New Zealand sealed a nail-biting 1-run victory in Wellington.
England rejoice as Jack Leach takes the final wicket to seal victory in Rawalpindi (via @dudleyplatypus on Instagram)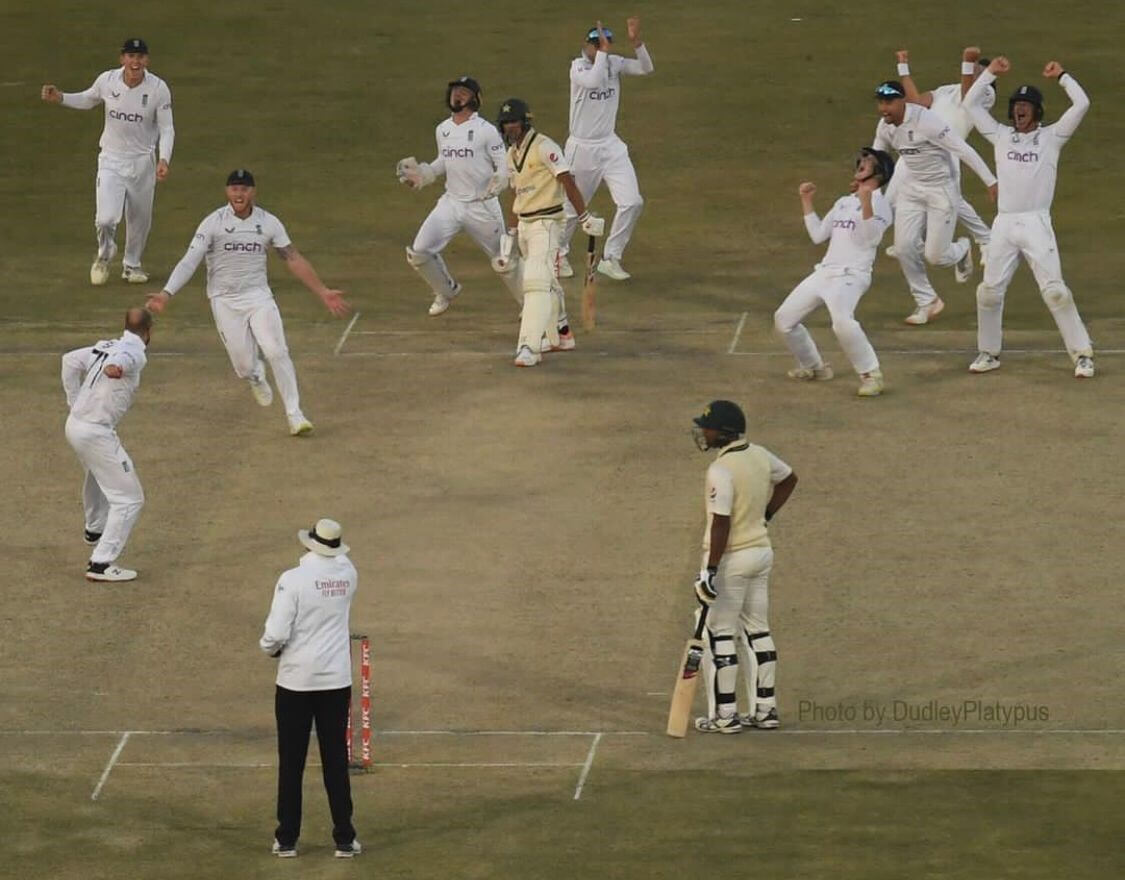 What Is Actually Bazball?
The term Bazball is as fancy and embellished as it sounds. Named after Brendon McCullum's nickname 'Baz,' the term refers to the 'Baz' style of approaching Test cricket. The term, as obnoxious as it sounds to the boss himself, was coined by ESPN's UK editor Andrew Miller on an episode of the Switch Hit podcast.
Bazball is often misinterpreted by some cricket watchers. Most people speculate it to be brainless slogging all over the park, hitting a four, or perhaps playing a reverse ramp on every other delivery. Well then, hold on – it might not actually be so. "Bazball" elaborates on England's panache and strategy of aggressive Test cricket. With no dramatic changes to the players selected, England's gameplay is merely a methodology of assertive cricket, like a well-oiled machine with many components that work together in perfect harmony to execute their plans and achieve their targets.
Ben Stokes has made it crystal clear that he wants his side to go out and score runs at an aggressive pace. He hates losing games or settling in for a 5-day Test match only for it to result in a tedious draw. The 31-year-old mentioned that he wants to draw more fans toward Test cricket by adopting a fearless approach even if the results don't go their way. "If you're brave enough and willing enough to go out and play that way, even if you lose, it's going to be entertaining," Stokes said after England thrashed Pakistan to clench a 74 runs victory at Rawalpindi.
Compared to Joe Root, the most significant change in this England team is that they are "fearless." Being fearless is a relatively broad term, but to condense it, it focuses on giving confidence to players to back their strengths, and England's white-ball setup means they have a lot of batsmen who enjoy playing aggressive cricket on the front foot. Stokes' ingrained his personal life's ideology of "Rather than fearing failure, try to embrace it" (a famous phrase from his documentary) into his professional life.
Batsmen have miraculously flourished under the leadership of Ben and Baz. It won't be an exaggeration if we say that most of them unleashed themselves into ferocious beasts. While every batter adhered to the strengths of his game, the majority of them blossomed significantly in this new era. Let's have a look at their averages before and after Stokes took over.

Despite my personal misgivings regarding the discourse surrounding strike rates in Test cricket, the current situation surrounding England's relatively expeditious scoring demands that it be considered.

It's no surprise that a significant portion of England's batting lineup has altered their pace of play, as evidenced by the statistics. Keeping player records aside, the team as a whole has broken quite a handful of records.
First side in Test history to chase four scores of 275+
First England side to win 4 consecutive Tests batting last
9th-highest successful run chase in Test cricket (378 vs. India, Birmingham 2022)
First side in Test history to whitewash Pakistan at home
Most runs scored on Day 1 in Test history (506/4 vs. Pakistan, Rawalpindi 2022)
Highest scoring rate ever in Test cricket, i.e., 4.65
First Test team to score 400+ in an innings at 6+ RPO (Twice in 6 months, 524/4d @ 6.33 vs. Ireland 2023, 657 @ 6.50 vs. Pakistan 2022)
Most sixes by any Test team in a year (89 in 15 matches in 2022)
Most boundaries hit by England in a Test innings (86 fours, 9 sixes vs. Pakistan 2022)
Scored 1946 runs in 4th innings in 2022, the most by any team in a calendar year
People often speculate that Bazball refers to a combative and confrontational display of batting. However, England's win in Multan was entirely about Ben Stokes and his bowlers. Since BnB (Ben & Baz) took charge, English bowlers have managed to pick up 10 wickets in every innings they've played, amounting to a total of 250 wickets in 25 innings. These include not just those with the Dukes at home but also on the flat wickets we saw in Pakistan. A prime example is how Mark Wood struck twice just before lunch to pave the way to victory in the Karachi Test vs. Pakistan. Wood's figures of 4/65, including those two wickets of Saud Shakeel and Mohammad Nawaz, ended up being the difference between the two sides.
Jack Leach is another prospect whose improvement under Ben Stokes' leadership has been noteworthy. Leach isn't someone who will win games single-handedly. He has always been someone who will hold one end, at times covering for Stokes as he regulates his load, and he has provided essential breakthroughs when the team has needed them. The 31-year-old has been effusive in his admiration for his skipper.
On claiming his 5th 5-wicket haul in Tests vs. NZ, he was asked about the captain's message, to which he replied: "He said: 'Give everything you have got. Sometimes it is just hard graft. You have to keep going, give that bit more and enjoy the graft rather than worry about things not happening.' He added, "Stokesy has talked about wanting to challenge me in lots of different situations. I have learned a hell of a lot and things I will take forward – how I prepare, thinking about county cricket and bowling longer spells." The left-arm spinner has 45 scalps to his name in 13 matches since Stokes took over, including 3 fifers and a single 10-fer.
England vs. Pakistan, Multan Test 2022 (via AFP)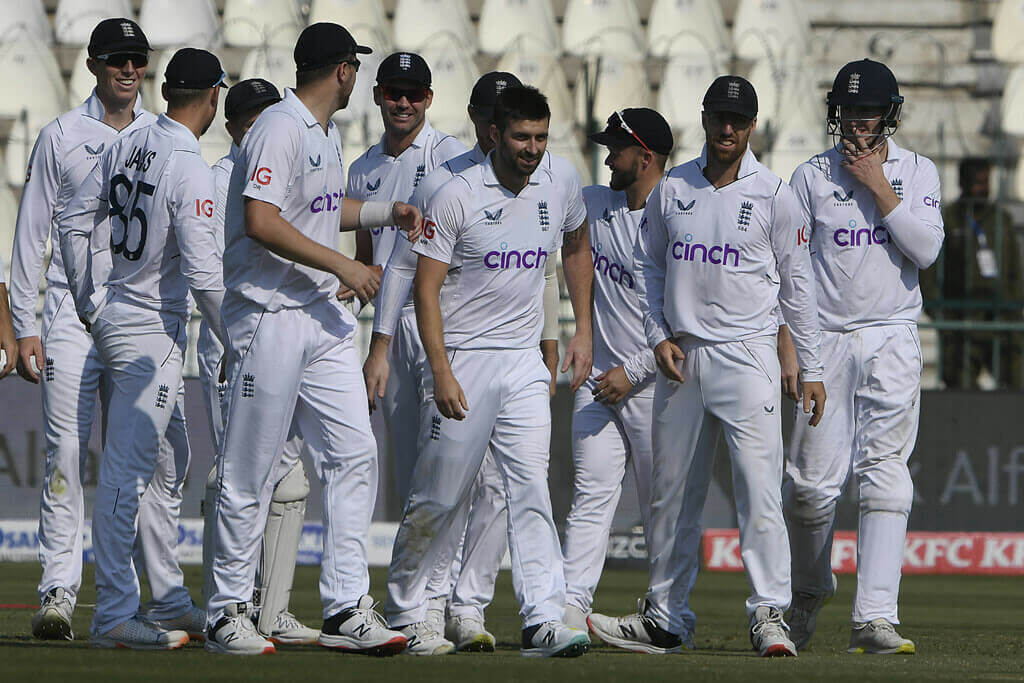 The Importance of Jonny Bairstow
Anyone who has witnessed England's rollercoaster journey knows what resilience Jonny Bairstow brings to this renewed England team. Indubitably he has been the main character of Bazball. His transformation arc since 2022 has been transcendent and utterly impressive. He has been a part of momentous run chases, including the 378 run chase vs. India in which he scored authoritative twin hundreds in Birmingham, a sizzling 92 ball 136 vs. New Zealand in Nottingham, and another two imperious scores of 162 and 71 to seal a series victory over New Zealand in Leeds.
| | | | | | |
| --- | --- | --- | --- | --- | --- |
| | Matches | Runs | Average | Strike Rate | 100s |
| Under Root | 45 | 2366 | 29.57 | 53.88 | 5 |
| Under Stokes | 7 | 681 | 75.66 | 96.59 | 4 |
Jonny Bairstow's transformation. Stats via ESPNCricinfo
Future Challenges: Ashes 2023 & 2024 India Tour
Till now, to no surprise, Ben Stokes and his men have been on the way up and have never looked back. However, unarguably, the herculean Test for Bazball will be upfront against the mighty and formidable Aussies. Australia's relentless bowlers will probably be the biggest challenge for England's batters to counter. England have been evidently straightforward that their game plan would not change regardless of the opposition. While speaking to Nasser Hussain on Sky Sports, Stokes said, "We want fast and flat wickets. We want to go out there and score quickly." He further added, "I'm not going to change anything just because we're in an Ashes series. Every game I play this summer in the Ashes will be to produce a result."
For England, disrupting the lengths of the lethal and pernicious Aussie bowlers will be a challenge. Australia's bowlers are all in satisfactorily impressive form. Upon inquiry, Steve Smith said, "I said it initially when Bazball started; I'm intrigued to see how it goes against our bowlers. They (England) have obviously done well against some other attacks, but they haven't come up against us yet. It's obviously been exciting to watch. I've enjoyed watching the way they play and the way they've turned things around in the last 12 months or so. But we'll wait and see how it comes off against us."
Things and debates are heating up vigorously as the battle claimed to be 'the pinnacle of Test cricket' approaches. The entire cricketing world will be curious to see how England deals with this grueling task. Ultimately, the question of 'Will Bazball work against Australia?' will finally be answered.
The second massive onerous assignment for Bazball will be the 5-match series against India scheduled for Jan-March 2024. India in India are an inevitable force to grapple with. Numerous teams have visited India, but none have come out triumphant. The last team to defeat India in India was Alastair Cook's England in a 4-match Test series in 2012, coming from being 1-0 down after the first Test. Since then, India have won 16 Tests series at home on the trot. It will surely be an exciting and thrilling adventure for the Bazball approach in India against the likes of Jadeja and Ashwin.
The opinions expressed solely belong to the writer and do not necessarily reflect the views of Grassroots Cricket.