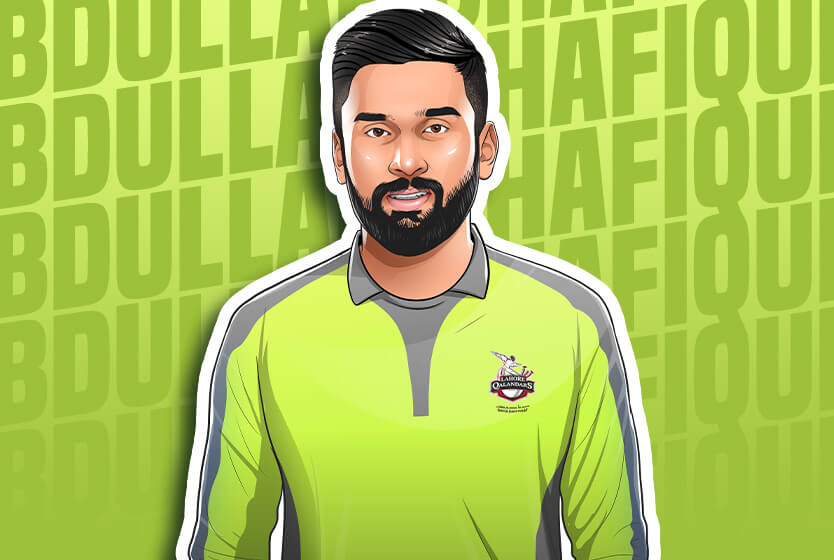 The Rise (and Rise) of Abdullah Shafique
Looking at Abdullah Shafique's career so far, including his spectacular recent run in the Pakistan Super League.
Breaking into the Under-19 side aged 15. Scoring an epic fourth innings 160* in Sri Lanka. A part-time musician and a full-time cricketer. Textbook, classy, and modest. The signs are encouraging, but can the 23-year-old promise longevity?
If you are a young pace bowler in Pakistan, it's perhaps realistic to be fast-tracked into the national side. Think of Wasim Akram back in the day or Naseem Shah if you are looking for more recent examples. For batters, however, the ball game is different, especially in red-ball cricket. Abdullah Shafique, anyhow, is an exception, but that is greatly due to the flawless fundamentals of the 22-year-old's technique.
Born in Sialkot in 1999 to a cricketing family, Shafique started young. His father, Shafique Ahmed, was still an active first-class cricketer then. His uncle, Arshad Ali, who went on to feature for UAE, played the sport too. Shafique's raw skill was prominent, and he broke into the Sialkot Under-16s side aged only 14. He quickly transitioned into Sialkot's Under-19 side, where he scored an astounding double-hundred in just his second outing.
Aged 15, the opener featured for Pakistan's Under-19 side, where he had the chance to rub shoulders with individuals like Shadab Khan. His consistency in the 2nd XI setup led to a first-class debut in 2019, where he hit a delightful 133 on debut. The actual breakthrough arrived a few months later in the National T20, when he scored a classy 58-ball 102, becoming the first Pakistani to hit a hundred on their first class and T20 debut.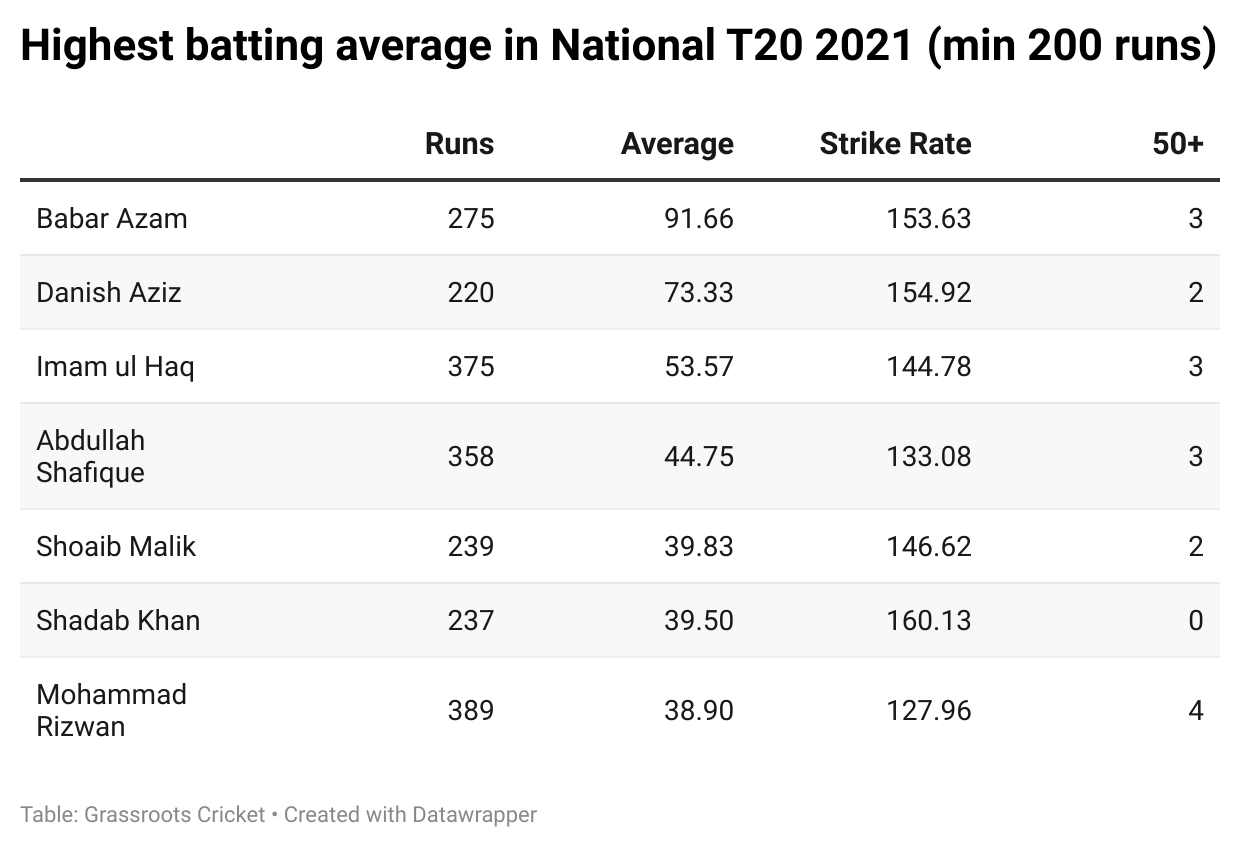 His impressive showings in the campaign led to a national call-up for the home series versus Zimbabwe, where he scored an exciting 41* on his T20 international debut. Not all was rosy, however, as the right-hander struggled versus New Zealand in the following month. Shafique was dismissed for a duck in both outings and was subsequently dropped from the side.
Regardless, the 23-year-old was handed maiden call-ups to Pakistan's Test and ODI sides to play South Africa. Despite staying on the bench, the right-hander left a lasting impression, earning praise from the then-coach Misbah-ul-Haq. By now, Shafique was seldom getting any match practice since he traveled with the national squad during the domestic season. In the National T20 in 2021, the right-hander was traded to a struggling Balochistan, who finished at the bottom of the table. Despite that, Shafique left a significant mark, amassing 259 runs at 37.00 in the tournament.
He was then picked in the Pakistan Shaheens tour to Sri Lanka whilst being named for the senior side tour to Bangladesh as well. Shafique's gritty 117 versus Sri Lanka A then earned him a senior side debut in the same month. The right-hander grabbed his opportunity as he looked at ease versus a formidable spin bowling unit. He chalked up two half-centuries on his Test debut, scoring 150 runs in three innings as Pakistan eased home to win the series by 2-0.
Next, the 23-year-old was drafted into the PSL by a new-look Lahore Qalandars side as they yearned for a change in fortunes. In a campaign where most batters fired, Shafique found it hard to get going, registering a string of low scores. He scored just one fifty in eleven outings and struck at a meager 128. He did fare well in the eliminator, however, top scoring with a brisk 52 off 28 balls. The Qalandars went on to win the tournament, concluding a rather disappointing campaign personally for Shafique, though.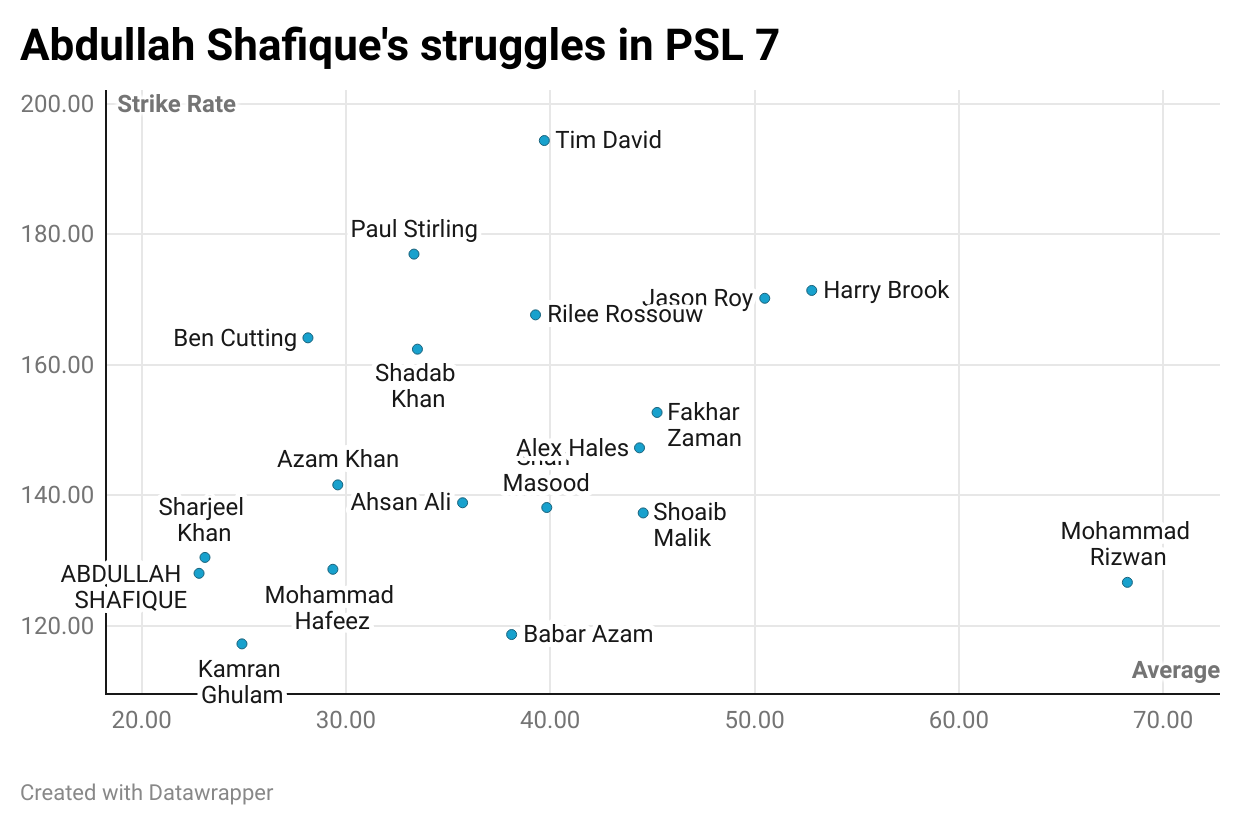 By then, most people had established Shafique to be a red ball player, which made total sense at the time. His showings in white ball cricket were modest, and his ability to up the ante was often argued. In Test cricket, anyhow, he continued to impress. In Australia's historic tour to Pakistan, Shafique was majestic, drawing comparisons to Babar Azam. His second innings hundred in Rawalpindi was a display of sheer brilliance. In Karachi, following on in the second innings, Shafique scored a gritty 96, agonizingly short of his ton. His 96, which spanned over four sessions, earned Pakistan a well-earned draw. In Lahore, Shafique continued his rich run of form, scoring a silky 81 in the first innings.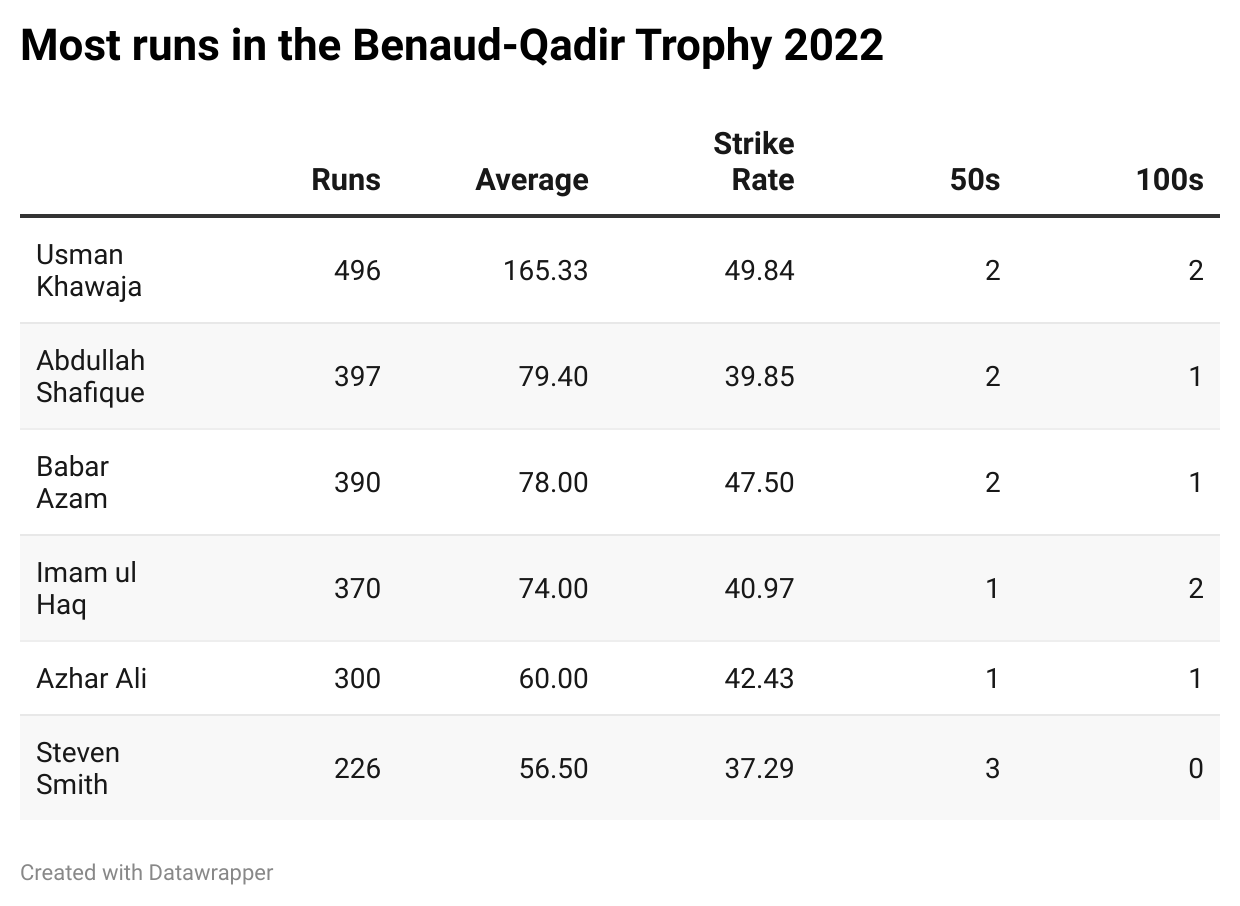 Shafique's real test, however, awaited in Sri Lanka. In the first Test in Galle – a spin bowler's dream surface – Pakistan were skittled by Prabath Jayasuriya in the first innings. They had their backs against the wall, requiring a record-breaking fourth innings target of 342 at the venue. Enter Abdullah Shafique, a young man eager to show his character. Most argued that his defense was reminiscent of Rahul Dravid or Ricky Ponting – who Shafique idolized growing up – but perhaps it was just Abdullah Shafique in his own groove. With a control factor of 90%, his patience was beyond belief, as he batted for 524 minutes on a wicket that played all sorts of tricks. Shafique's ecstasy when he hit the winning runs showed what it meant to him, as Pakistan completed a historic win on the back of his unbeaten 160 off 408 balls.
Pakistan had finally found a reliable Test match opening batter, or had they? The last Pakistani opening batter to average more than 40 is Saeed Anwar (minimum 2000 runs). Shafique, then, had over 700 runs to his name, at a staggering average of 67.00. On England's tour to Pakistan, Shafique scored another fluent ton in the first innings. His next five outings, however, yielded just 99 runs at a tad under 20. In the most recent series versus New Zealand, he managed just 43 runs in four knocks. Presently, Shafique has impressive numbers in the format, 992 runs at an average of 47.24. His red ball form may be a concern, but Pakistan look set to back the right-hander.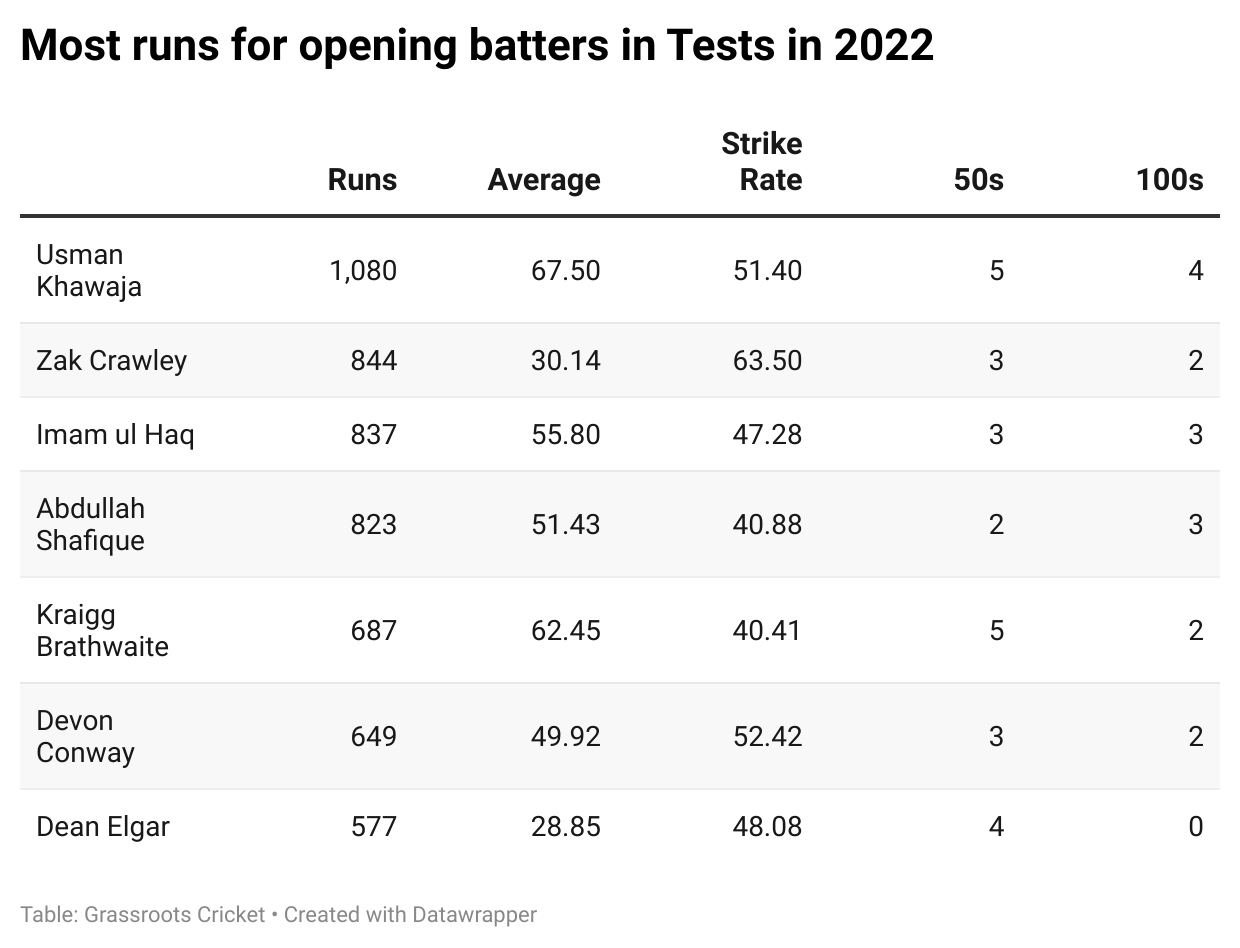 If you have read this far into this piece, thank you truly for your patience, but hear me out. Abdullah Shafique is NOT just a red ball batter. Well, if you previously argued that, you aren't to be blamed. For most viewers who watch the PSL, he looked very limited and didn't leave much of an impression, and he has barely featured in any white-ball cricket otherwise. In the 2022 PSL, Shafique ranked 30th in terms of batting impact/innings in the tournament (via ESPNCricinfo).
Right then, so what has changed? Well, be very excited if you are a Pakistan cricket fan because the right-hander has added an exciting new facet to his game. Having missed out on the first three games of the season, Shafique starred on return, scoring a breathtaking 75 at a strike rate of a touch under 183. His innings, which included five maximums, set up a comfortable victory for his side. His following scores, 45, 15, and 48, were fluent, contributing to the team's success. Traditionally, Shafique is tasked to play second fiddle to Fakhar Zaman, but he has clearly exceeded that. In four innings, the 23-year-old has racked up 183 runs at a strike rate of over 160.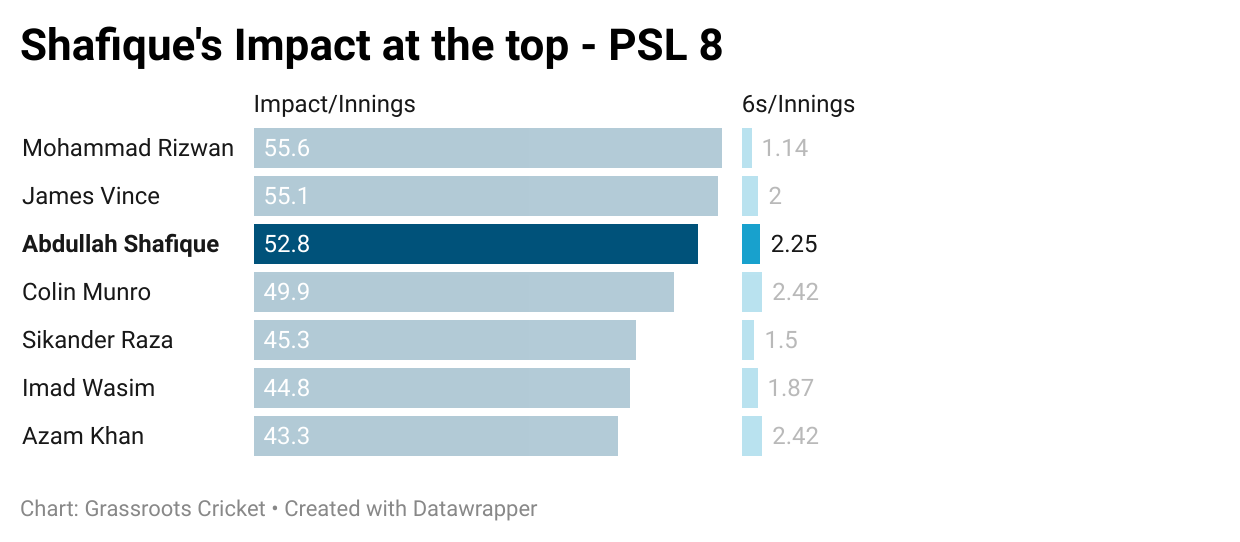 Shafique's remarkable new-found ability to play risk-free cricket and maintain an impressive strike rate has been commendable. By adding a new dimension to his game, Shafique's utility in the format has certainly risen. With the modern-day game evolving as it is, the need for an anchor at the top has been diminishing, as players must evolve with the need of the hour. In a country where individuals are content with a limited batting ability, Shafique has proven to be an outlier, with a major improvement in his approach.
The 23-year-old's technique and match awareness are unquestionable, and Lahore Qalandars will hope that he can provide rapid starts consistently at the top. His red-ball form may be concerning, but his revamped white-ball approach is certainly exciting. With his skillset and ability, expect Abdullah Shafique to be around the Pakistan setup for years to come, hopefully in all three formats of the game. As Osman Samiuddin argues, the problem isn't that Pakistan's openers don't start well. It's that they end badly. Pakistan will hope Shafique can continue to evolve and fulfill his promise of being the three-format opener Pakistan have longed for.
The opinions expressed solely belong to the writer and do not necessarily reflect the views of Grassroots Cricket.