Pakistan's T20 Batting Revolution
A look at how Pakistan's newest generation of batsmen are catching up with T20 cricket.
Peshawar Zalmi vs. Karachi Kings before this season was a relatively low-key encounter, with Peshawar triumphing more often than not. It did not have the titan clash vibes of early Peshawar vs. Quetta games or the edge of Lahore vs. Karachi. That all changed this year, thanks to a single trade, but we are not here to talk about that; well, not directly, anyway.
In 2020 and 2023, the two sides met in Rawalpindi. Both games saw a rampant Mohammad Amir, who scythed through Zalmi's top order. In 2020, the scoreline stood at 11/3, and in 2023, it was 13/3. On both occasions, there was one foreign batsman and one local batsman at the crease. The foreign batsman looked to drop anchor and play till the end because of the early jolt.
Now if you were to ask a T20 batsman what is an ideal ground, he would most probably answer the one with a true pitch where you can easily hit across the line and short boundaries because that makes his job easier. Guess which ground in Pakistan fits those requests to a T? Pindi.
In 2020, the local batsman began his innings slowly, sticking to conventional cricketing wisdom of setting a platform from which to explode later on. His commitment to this philosophy saw his score at one point be 3 runs off 14 balls, a strike rate of 20. It is an approach, he could argue, that worked for him. He finished as the top scorer of the innings with 68 off 55 at a respectable SR of 123. His team would finish on what he may have felt was a "fighting total" of 151.
In 2023, the local batsman walked in in the 3rd over, and by the end of the 7th over, he was on 37 off 19 balls. He walked off at 84/4 in the 10th over, having course corrected the innings to resemble a normal scorecard and thus reducing the burden on the incoming batsmen. The team would finish with a score of 197 in 20 overs.
The 151 would go on to be chased comfortably in 18.1 overs, while the 197 would prove to be 24 runs too many for Karachi. The difference between the two local batsmen is indicative of Pakistan's T20 batting revolution. In a chasing dominant ground like Pindi, a score of 151 is no better than 80 all out. Either way, a loss is imminent; the local batsman in 2023's approach meant that a win remained on the table for Peshawar.
A domestic system's true effects can not be judged until it has been in place for at least a decade. Once that period is up, you can observe not only how it has molded the players who have been within it but also those who have been outside it, looking in. When those players peer through the looking glass and see T20 cricket played in a way different from what they are accustomed to, they are influenced to change their game to suit that style of play because it has proven to be more successful.
You will have the occasional unicorns in the earlier years – either a younger player who is ahead of the curve and somehow has the talent that has not forced him into being changed to fit the norm or an older player who caught on to the trends and adapted to them. One delivered the numbers of the best new local batsman of 2023 in 2020, while the other shot his team to the title with a man of the tournament performance. One's talent caught up with him and the other's body. Unicorns are not allowed to live long; they are either hunted to death or mutilated to become cart horses.
But 8 years down the line, it is not one youngster with an abundance of talent or an old man figuring himself out. It's multiple youngsters figuring the game out, and that is when conventional cricketing wisdom will fall. For they are no longer unicorns but a hydra – how many of them are you going to preach to? How many are you going to tell to hang around and not go for their shots? Kids these days are headstrong, and they know what is successful because they can see it win teams tournaments and prestige.
Pakistan's T20 batting revolution is here, and it's here to stay.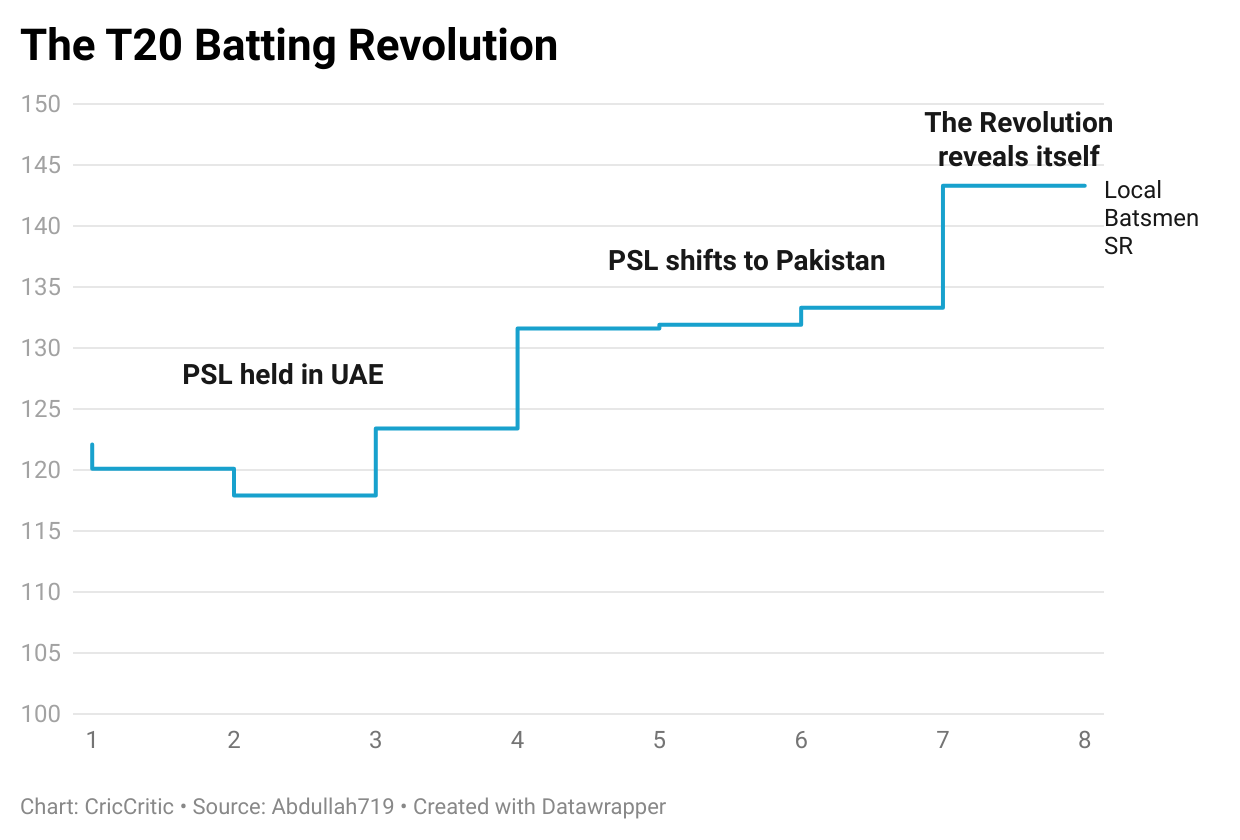 The opinions expressed solely belong to the writer and do not necessarily reflect the views of Grassroots Cricket.