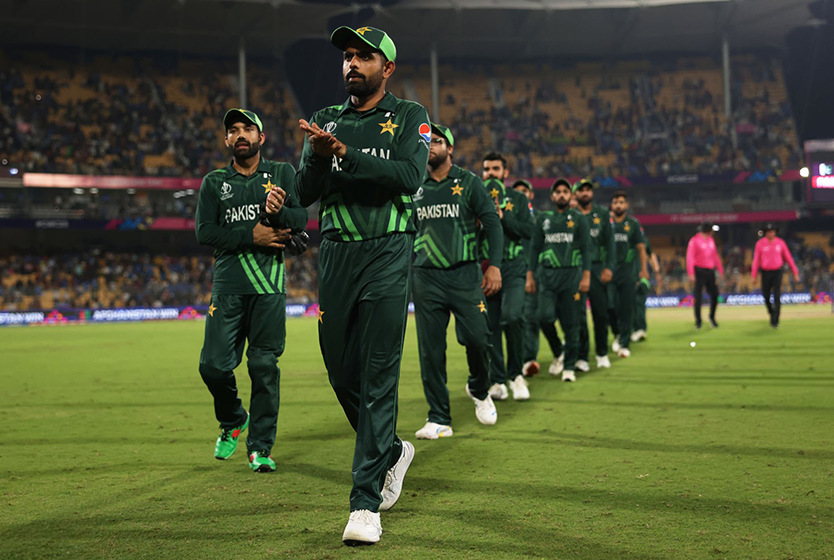 The Dawn of a New Era?
A little over two months ago, Babar Azam and his boys were on top of the world. They very convincingly eased past Afghanistan with their sights on the grand prize – the ODI World Cup. Now, following a dismal performance in the mega tournament, Babar Azam has stepped down from all three formats. Unsurprisingly, in very PCB fashion, the successors were announced within two hours of Babar's resignation.
So, what really went wrong? Well, not often does a Pakistan team have all its bases covered heading into a major tournament. In fact, right before the Asia Cup, many pundits argued that Pakistan was among the favorites for the World Cup. Sure, Naseem got injured, but what happened to the others?
In Nasser Hussain's words, historically, Pakistan has always been a mercurial side. Much of that has been on the back of world-class bowling attacks in the past. Ironically, their bowling let them down this World Cup. Shaheen Afridi's powerplay numbers saw a massive dip, with just 3 out of his 18 wickets coming in the powerplay. Haris Rauf was lacklustre, very unlike the Haris Rauf who would normally see his thunderbolts whizz past the outside edge. Hasan Ali had an average tournament at best, but from a seventh-choice pacer, you wouldn't expect much more.
The biggest disappointments were the spin trio of Shadab Khan, Mohammad Nawaz and Usama Mir. To say that the spinners underperformed would be framing it nicely because, let's accept it, they were all shocking. The lack of control was appalling, and none of them looked threatening at any point. Shadab (2 wickets at 118.5), Nawaz (2 wickets at 111.5), and Usama (4 wickets at 62.0) combined to pick up just 8 wickets in the entire tournament. To put that into context, their combined tally is less than that of Aryan Dutt of the Netherlands (10 wickets at 42.6).
Before I delve into the leadership argument, perhaps it's fair to highlight the few silver linings too. Rizwan had a decent tournament, bailing Pakistan out of trouble on a couple of occasions. Abdullah's gritty effort at the top was praiseworthy, too. Personally, though, the highlight of the tournament for me was watching Wasim Jr bowl at the death. He's old school in so many ways, and he's just a kid bowling his heart out. Maybe Pakistan could have gone to him earlier in the tournament?
Now, admittedly, Babar's tournament was underwhelming, both as captain and as batter. Most of his tactical decisions were rather mediocre, and consequently, his batting suffered, too. In the lead-up to the World Cup, most of us expected Babar to boss it at the biggest stage in what is arguably his best format. His run tally of 320 runs was simply not good enough, especially when you consider some of his entry points. Compare that to 2019, where a free-flowing Babar stood tall against some of the best attacks in the world. Whether or not Babar would have done better without the pressure of captaincy is another debate, and that question will remain unanswered – at least for now. Hopefully, his decision to resign as captain will allow him to enjoy his batting again. In the bigger context of things, it's the correct call for both himself and the team.
So, even though Pakistan aren't scheduled to play any ODIs for a long while, what does the composition of the team look like going forward? Who are the locks in this current side? You would argue that Abdullah has cemented his spot at the top. Fakhar might hang around till CT 2025, but surely it's time to throw Saim in? However, the actual concern is the lower middle order (take that India game for example). All of spots 5-8 are potentially up for grabs, because frankly, Iftikhar might not be the best long-term option, and Saud hasn't done enough to cement his spot. Shadab and Nawaz offer a little bit of batting here and there, but the World Cup has proven that you need wicket-taking options in the middle overs. Despite Haris Rauf's disappointing returns, I would think that they'll retain him, apart from Shaheen, Naseem (when fit, of course), and Wasim Jr.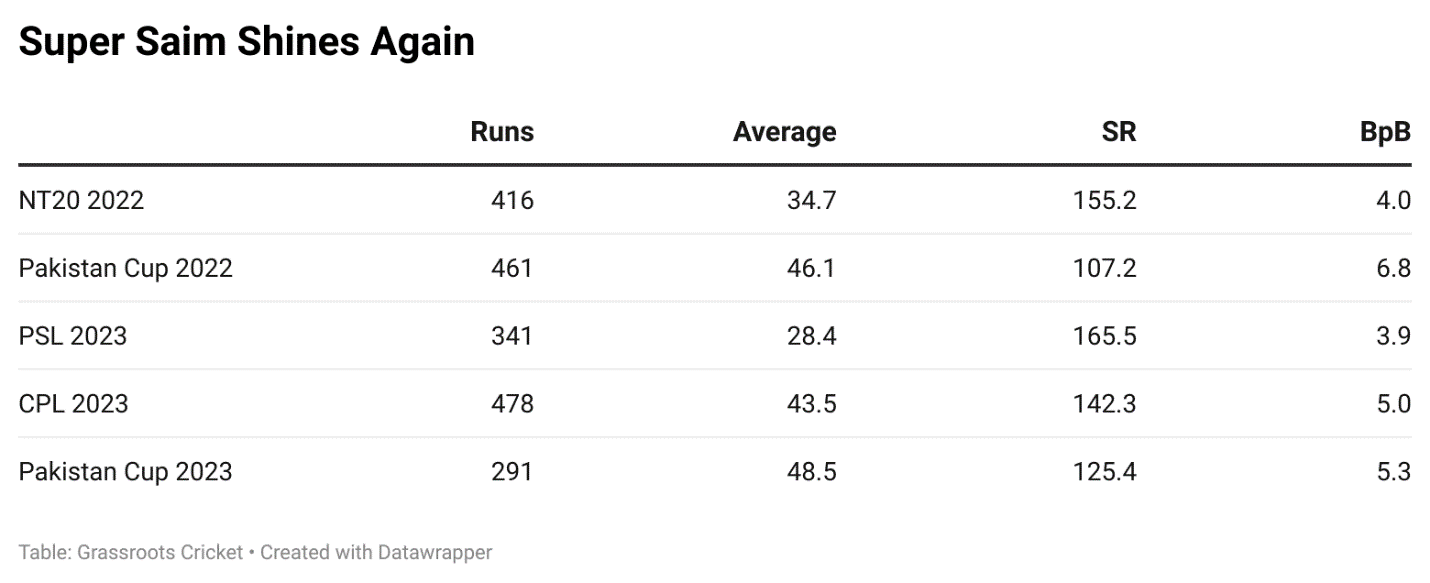 How do you then juggle between Abdullah, Saim, and Fakhar (provided he is in the plans for CT) at the top? Well, you rotate between them to avoid a situation where someone who is very inexperienced has to play a mega tournament straight away (Fakhar in CT 2017, Abdullah in WC 2023). As far as the middle order is concerned, I think Salman Ali Agha was hard done by and should have featured more often. Provided his utility, he should be a candidate for a longer run at number 5. The number 6 conundrum largely remains a concern, too, and hopefully, someone dynamic like Mohammad Haris can grow into that role over time. Until then, Iftikhar is probably our best bet.
But if you have Mohammad Haris at 6, you want batting cushion at 7 and 8. At 7, Pakistan's requirement is for a proper allrounder, and excuse my recency bias, but Mubasir Khan is a fairly good match for that. For a while, Mubasir has been hammering down the door for red-ball selection, but quietly, his white-ball game has improved too. In the ongoing Pakistan Cup, Mubasir has starred with both bat and ball, performing consistently in clutch situations.
For the lead spinner role, there are a few promising (and young) options. Abrar Ahmed should be the first choice, but Sufyan Muqeem and Mehran Mumtaz provide an interesting skillset too. Sufyan is an X-factor, but you could argue that he needs more experience. Perhaps a couple of seasons in domestic cricket will suffice. Mehran, on the other hand, is a classic slow left-arm bowler. He keeps it super tidy (career econ of 4.82) and can chip in with the bat as well. With all three of them though, inexperience will be a concern, so Pakistan will have to be prepared to give them sufficient time to develop over time.
Anyway, with the World T20 set to be played next year, the emphasis will now primarily shift towards T20 cricket, with Pakistan scheduled to play 14 T20s prior to the mega event. Regardless of how that goes, keeping the Champions Trophy in mind, the management must map out potential candidates for the ODI side. Most importantly, going forward, the goal must be to prepare backups for every position. Playing half-cooked players in major tournaments is a massive risk, and not everyone is Abdullah Shafique anyway. The lack of depth has cost Pakistan another major tournament, but with such a young and promising crop of players, not all is lost. With the recent new appointments and a competent leadership group, the dawn of a new era promises to beckon.