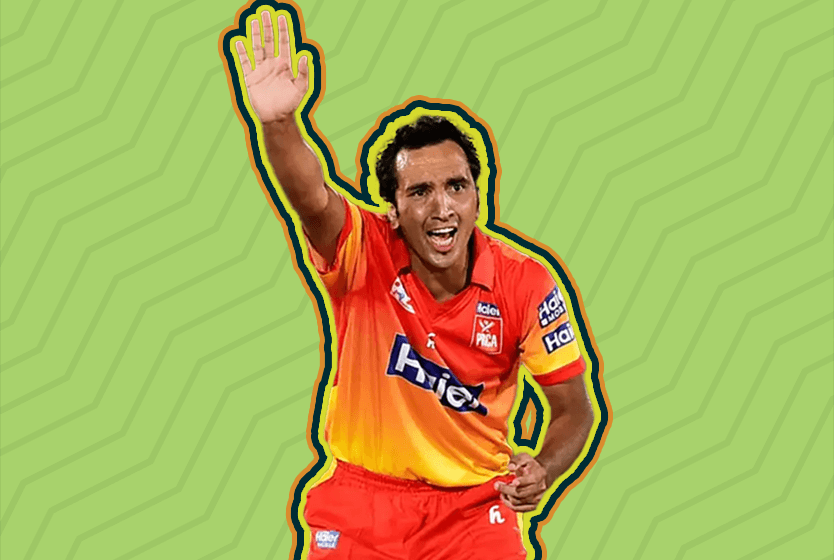 Swat's Forgotten Timing-Killer and Staying Ahead of the Change-Up Revolution
In the past decade, the Matta Tehsil in Swat Valley has produced two international bowlers for Pakistan: one, the latest, most exciting arrival on the country's ever-busy pace conveyor belt, and the other, who would make for a good trivia question – both courtesy the brilliance of Abdur Rehman and his eye for spotting the unique. But that is where the commonalities end; in fact, Ihsanullah and Imran Khan Jr. are, in every sense, antithetical to each other. Unimposing demeanor, short height, a soul patch, and a brisk speed-walk to the bowling crease – Imran Khan Jr. is the total opposite of what your mind would produce if tasked with constructing an image of the average fast bowler from Pakistan.
In a land where pace is worshiped, and there is always a fast-bowling surplus, Imran Khan Jr. came during a period when the well was running dry. He was a cornerstone of Abdur Rehman's 'more brain than brawn' Peshawar side that won back-to-back National T20 Cup (then Haier Mobile T20 Cup) titles in 2014 and 2015. He finished both tournaments as the leading wicket-taker, collecting 28 wickets across 13 innings (averaging 12.5), earning himself a maiden call-up to the Pakistan side – a run that lasted a mere three games before it was shut down unceremoniously by Eoin Morgan and Sam Billings.
This is partly intended as a tribute to Imran Khan Jr.'s unorthodoxy and partly to frame a series of questions on what made him effective, what limitations he had, and what we can understand from the former to work around the latter for Pakistan's next generation of fast bowlers in light of an impending 'change-up' revolution.
Imran Khan Jr. epitomized the Harshal Patel quote in The Cricket Monthly, 'There's nothing wrong in bowling 24 slower balls in a T20 spell.' Hassan Cheema once described him as 'a poor man's Jade Dernbach', but he was never as quick and is more closely comparable to Hampshire's Benny Howell. In reality, Imran Khan Jr. is an unclassifiable bowler who relied exclusively on his repertoire of variations. While his bowling style could be quickly dismissed or oversimplified as a slower delivery spam, there is more to it.
In their book, 'Hitting Against the Spin,' Ben Jones and Nathan Leamon challenge the use of the term 'slower ball,' favoring instead the baseball term 'change-up,' to describe deliveries that defeat the batsman not only with a change in pace but a change of trajectory that may be caused by a swerve, dip, and lift of the ball, given that this would then be a different kind of delivery, rather than being a slower version of the same one.
Imran Khan Jr. could bowl six different change-up variations in an over, which remains a testament to his skill and guile. He had mastered the back-of-the-hand slower ball, which was not as commonly used in domestic cricket at the time, which lent him the ability to impart considerable backspin on the ball that would create a sharp dip and, as a result, keep the bounce unexpectedly low. He was also helped by his low release point due to his short height, left-handed angle, and use of a wider crease position to deliver at a slower pace, which made the dip more pronounced and harder to judge, almost à la Derek Underwood.
The struggle with unorthodoxy
It could be argued that given his record, Imran Khan Jr. should have been used more, particularly in the PSL – maybe, maybe not, but it is also true that the novelty factor of bowlers like him has a very short shelf life, especially in today's age due to the widespread availability of ball-by-ball video footage making it easier for teams to break a player down frame-by-frame. His biggest limitation, despite his myriad of variations, was a simple one: the absence of a stock ball. He did not have the pace to trouble a tail-ender nor the height to generate bounce.
In a Footmarks episode, Jarrod Kimber, referring back to an article of his published in 2013, talked about the limitations of Ajantha Mendis that ultimately unraveled the mystery associated with him. Despite being classified differently, Imran Khan Jr. too, like Mendis, was 'all mystery' and, as a result, had similar issues as the Sri Lankan spinner – he was a slow medium pacer masquerading as a fast bowler who could deviate the ball off the pitch but did not have a (good) standard ball. For a change-up to be effective at deception, it requires an effective stock ball as a first step for the eventual set-up. If everything is special, nothing really is.
Pakistan's embrace of the change-up
Modern-day fast bowling exists in the gray. Pace alone is not sufficient; we have seen it with promising bowlers like Musa Khan, Aamir Jamal, Shahnawaz Dahani, Ihsanullah against Shaheen Shah Afridi in the PSL 8 final, and even early-days Haris Rauf. While Pakistan and world cricket will always have its need for speed, which cannot be taught, it is more about what can be taught. A wide, open space remains to build that repertoire of 'change-up' deliveries that can allow upcoming fast-bowling prospects to be more well-rounded. If you don't have a change-up, you need one.
This is especially true, and a humbling experience at that, when fast bowlers begin to lose pace towards the second half of their careers due to years of wear and tear; what they lose in pace can be made up for, to an extent, using guile with Rumman Raees and Mohammad Amir being the biggest exponents of reinventing themselves by digging deep into their bag of tricks. It is almost akin to a veteran wrestler extending their career by trading in a high-paced, high-risk offense to adopt a slower, more technical wrestling style as their body breaks down and they lose a step of speed.
'Change-up' deliveries remain an underrated, largely undervalued skill in Pakistan. No one in Pakistan has yet mastered the knuckleball or regularly experimented with a three-quarter seam ball like Tim Southee. In recent memory, two balls immediately come to mind that demonstrate peak display of this technical skill: Anwar Ali's 96.7km/h vicious, side-spinning off-cutter that beat Alex Hales in flight, and Muhammad Umar's 113.6km/h leg-cutter to Amir Yamin that pitched at a middle-stump line only to turn sharply and kiss top of off.
There are a few players in the domestic circuit currently who use these deliveries to good effect – Sohail Khan, Amad Butt, Umaid Asif – but there seems to be an unmissable pattern. All of these names have an average speed of high 120km/h, flirting with 130km/h on rare occasions (although Sohail and Umaid were faster in their respective primes), which makes them over-reliant on the change-up as their stock delivery and easier for batsmen to get dialed in, often leaving these bowlers overexposed and prone to leaking more runs – the Imran Khan Jr. conundrum. In this regard, the most interesting case is that of Multan Sultans' upcoming pacer, Abbas Afridi.
Retained in the Emerging category by Multan Sultans, Abbas Afridi finished the 2023 season as the league's highest wicket-taker in a performance that shared striking similarities to Harshal Patel's record-breaking IPL season in 2021. Abbas' most notable performance came against Quetta Gladiators at Rawalpindi during the league's highest-scoring game, when he completed a hat-trick and a five-wicket haul. His bowling speeds for each of the wicket-taking deliveries: 134.2, 104.9, 108, 97.5, 134.6km/h.
Like clockwork, he then repeated this feat for the Montreal Tigers on a slow Brampton pitch during the Global T20 Canada. Despite finishing as the previous PSL's highest wicket-taker, there is an eerie silence surrounding Abbas, who is slower in pace than most contemporaries. Following PSL 8, there have been four squads used for Pakistan Shaheens' tours that have rotated 13 fast-bowling options between them; Abbas has made neither squad. Granted Abbas' success in the league was greatly complemented by an Ihsanullah-sized threat from the other end, but he remains a product worth investing in, particularly when playing on abrasive and sluggish surfaces in the UAE and the Caribbean.
Bowlers like Abbas Afridi face an uphill task of staying relevant in an ever-shrinking game, which can only be achieved by upskilling and adding to their repertoire. Abbas has had a promising start to a long development journey ahead – his brilliant back-of-the-hand change-ups, coupled with a sharp sense of sequencing of those deliveries in a spell, mixed with mid-to-high 130km/h quicker variations, make him a threatening enough option in the shortest format. Bowlers like Abbas may not be immediately attractive prospects, and he may never play for Pakistan owing to an overabundance of bowling wealth, but they bring an important skill set to the table that makes Pakistan's cricket richer for having them, much like Imran Khan Jr.
The first hybrid and the last
Jr.'s blink-and-you-miss-it career likely does not warrant a chapter on its own, but it reads as a prologue to the interaction between cricket, angles, and physics for upcoming bowlers in Pakistan's domestic circuit. While you would take the bet on ever-green bowlers like Haris Rauf or Naseem Shah playing and succeeding in any era, it is almost unquestionable that a player like Imran Khan Jr. could have only existed at that point in time, only in that particular arrangement of events, and only under the tutelage of Abdur Rehman and no other. Imran Khan Jr.'s last sighting was in the US Masters T10 league in August, where he finished as the tournament's most economical bowler (6.92 economy across 7 innings). Nine years removed from his debut for the Peshawar Panthers, Imran Khan Jr. continues to make little sense, but he survives, and there could be a lesson in there for us.