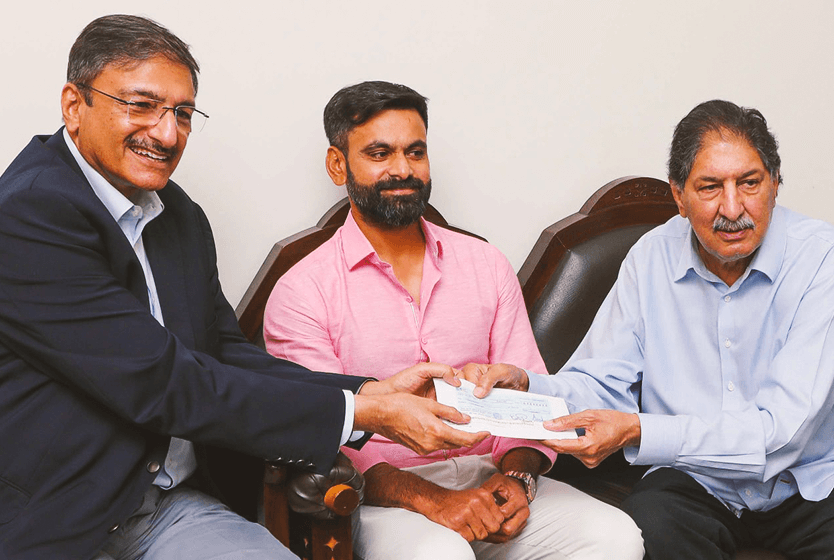 PCB restores Sarfraz Nawaz's pension
Mr Zaka Ashraf, the head of the Management Committee, met former Pakistan fast bowler Mr Sarfraz Nawaz on Monday to resolve the outstanding matters over his unpaid ex gratia payments since January 2017.
The meeting was held in a cordial atmosphere at National Cricket Academy in the presence of former captains Misbah-ul-Haq and Mohammad Hafeez. Mr Zaka Ashraf handed over a cheque to settle the payments under the Players' Welfare Policy and assured Mr Sarfraz Nawaz of unconditional support.
The ex gratia payments had been discontinued as a result of disciplinary proceedings initiated against Mr Sarfraz Nawaz by the previous managements over the violation of Code of Conduct under the Players' Welfare Policy.
Mr Sarfraz Nawaz has assured the PCB of his compliance to the Code of Conduct and the ex gratia payments to him under the Players' Welfare Policy will be now be resumed.
Zaka Ashraf: "I was upset to see a former Test cricketer in such a condition and it was disturbing to see Mr Sarfraz Nawaz being deprived of his rightful pension. It is disappointing that the previous administrations have used the PCB's coffers to settle personal scores. No cricketer should have to go through what Mr Sarfraz Nawaz had to face, and I want to reassure every former and current cricketer, international or domestic, that the PCB considers them as its asset and will look after them at every stage of their life and in every possible way. They deserve to be loved and respected by their cricket board."
Sarfraz Nawaz: "I have visited the National Cricket Academy after almost six years and received a warm welcome from the PCB officials. I am pleased that Mr Zaka Ashraf has reinstated my pension. Given my health, I am particularly grateful for this step. In a voluntary capacity, I offer honourary services to the board to enhance fast bowlers' skills for cricket's advancement."
Mr Sarfraz Nawaz played 55 Tests and 45 One-Day International for Pakistan from 1969 till 1984. He famously delivered a 33-ball spell in Melbourne on 15 March 1979, in which he took seven wickets for just one run. He went on to bowl his best bowling figures of nine for 86 in that innings which helped Pakistan to their second Test win in Australia. The right-arm fast bowler took 177 Test wickets at 32.75 and dismissed 63 batters in ODIs at 23.22 runs apiece. He took 1,005 wickets at an average of 24.62 in first-class cricket.