Pakistan's Intriguing Number Three Conundrum
With Azhar Ali's retirement, Pakistan are searching for a new dependable hand at number 3 in the Test lineup.
With Pakistan's 2023-25 World Test Championship cycle set to commence later this month versus Sri Lanka, they now face the dilemma of choosing their preferred number three batter.
Over the years, most of us have been fortunate enough to watch the likes of Ricky Ponting, Kumar Sangakkara, and Hashim Amla showcase their craft at number three. More recently, Kane Williamson and Marnus Labuschagne have clearly stood out. For the longest, the position was the least of worries for Pakistan, having been occupied by Azhar Ali and the legendary Younis Khan to precede him.
Arguably, batting first drop is an uphill challenge, one that involves immense responsibility. It is comparable to walking on a tightrope because once your number three fails, your middle order is exposed – potentially to a shiny new ball. With Azhar at 3, Pakistan perhaps didn't value the substance he provided. Frankly, the fundamentals of his game weren't flawless, but he did get the job done. So, with that chapter truly closed, who are Pakistan's current choices to pick from? Let's delve deeper into the options they have at their disposal.
Possibly the safest choice, Shan Masood seems likely to start the series at number three. In Pakistan's latest red-ball assignment, Masood batted at three versus New Zealand, albeit with little success. The left-hander is technically sound and understands the game but has never really kicked on and delivered to his true potential.
Masood's overall returns (1500 runs at 28.3) in Test cricket aren't noteworthy, and his ability versus spin is questionable too. Playing Masood at three would make much more sense in seam-friendly conditions or the pacy wickets of Australia. Besides, the left-hander will turn 34 later this year and will be 35 if Pakistan makes the WTC final.
Understandably, it would be slightly harsh to sideline Masood after just two Tests at three, but if Pakistan are searching for long-term options, it would make more sense to give a longer rope to someone younger.
Born in a cricket family, Muhammad Huraira was quick to make a mark for himself. As a 17-year-old, he starred for Pakistan U19 in the 2020 World Cup, scoring a memorable half-century versus Afghanistan in the quarter-final. Huraira rapidly transitioned to First Class cricket, making a prominent name for himself. The right-hander ended his first season as the highest run-getter with 986 runs, including a stunning triple century versus Baluchistan, becoming the 2nd-youngest Pakistani after Javed Miandad to achieve the feat.
Even then, with just a sole season under his belt, Huraira's pedigree was untested. However, he went up a notch in the recently concluded QeAT season, scoring over 1000 runs in the competition, including a highlight double century in the final. His consistency earned him a lot of praise and got him on the radar of the national selectors.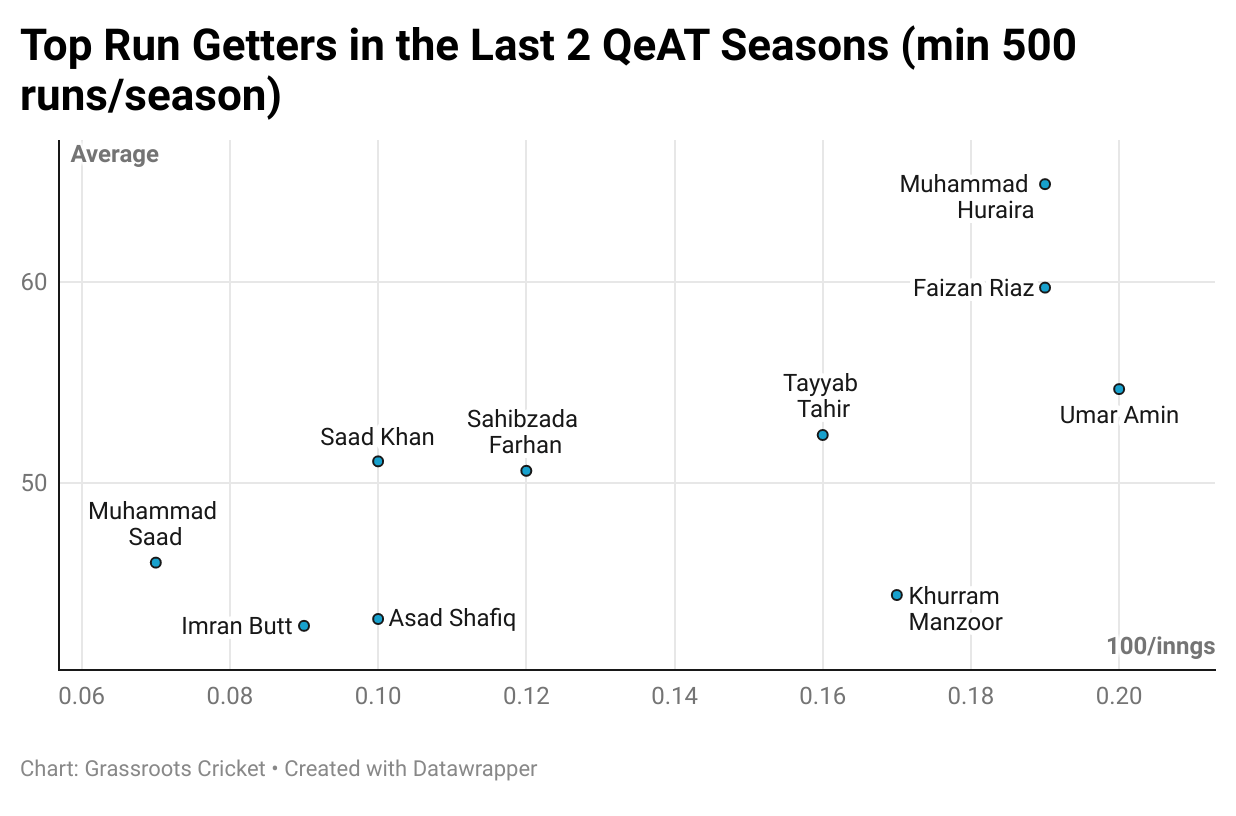 Aged 21, Huraira has eight First Class hundreds to his name, and he averages a staggering 68.24. Now that the right-hander has been picked for the series, Pakistan's management must decide if he's ready for the challenge at the highest level. Going by his domestic returns, Huraira fares well versus the new ball, and his temperament is solid. The 21-year-old plays spin supremely well, and his excellent ability to cut and pull put him in good stead as an overall batsman. The one caveat would be that he's played in a lot of high-scoring games in First Class cricket so far and will definitely face greater challenges at the highest level. If Huraira is to feature, he would likely slot in at the top of the order. However, if the management decides to stick with the current opening pair, Huraira could certainly provide an option to bat at number three as well.
Having established himself as a prolific run-getter at number four, the idea of Babar moving to number three is contentious. His numbers at four are amongst the best in the world, while his returns at number three were rather forgettable. Number three may be a vital spot, but moving Babar from his preferred number four could possibly stir up more trouble. His skill level is undoubted, so he would probably fare well at number three too, but perhaps he is psychologically more comfortable at number four. Pakistan could opt for this approach if they decide to play both Sarfaraz Ahmed and Mohammad Rizwan in the same lineup.
The golden boy, or is he? Abdullah's short journey in Test cricket has been enterprising. Lauded by pundits as a generational talent, Abdullah was fast-tracked into the Pakistan national setup. The foundation of his batting is flawless, and his technique is as near to textbook as it gets. The 23-year-old's start to Test cricket was seamless, almost as if he cracked the code from the word go.
Recently, however, his numbers have steeply declined. In his last four Test matches, the right-hander has crossed thirty only once. His returns versus the new ball are worrying, but Pakistan will certainly back him, given his potential.
Abdullah will return to Sri Lanka confidently, particularly to Galle, historically a happy hunting ground for him. On Pakistan's last Test tour to Sri Lanka, Abdullah crafted a record-breaking 160* in the fourth innings, a tremendous knock that spanned over five sessions.

There is no doubt that Abdullah will eventually come good and deliver on the promise he has shown, but could a change in setting help the right-hander? If Pakistan are to hand Muhammad Huraira a debut at the top, Abdullah could slide down to number three, a position he isn't too unfamiliar with – it is where he scored a century on First Class debut. At number three, with age on his side, he could prove to be a vital cog in the side while providing longevity as well.
It is likely going to be a tossup between Masood and Abdullah, who are seemingly the front runners. With Masood, Pakistan could opt for experience and calmness. Abdullah, on the contrary, could benefit from the opportunity with an ideal scenario of a change in fortunes. His technical prowess is praiseworthy, and his temperament is top-notch. If Abdullah can make it count at three, Pakistan would ideally have their number three and four sorted for years to come.
Personally, I would love to see Huraira slot in at the top of the order, with Abdullah sliding to number three. The prospect of Huraira being handed a debut sounds exciting, and it would allow Abdullah more breathing space as well. While the idea is certainly tempting, in such a case, Pakistan would end up with a fairly young and inexperienced top three, something they will consider.
At least, for once, Pakistan have a few decent options to pick from. Regardless of who they opt for, they will hope it pays off in the long run and provides the middle order with more respite than in recent times. With Pakistan set to begin their WTC cycle versus Sri Lanka, they will need their batters to step up and earn them prized WTC points.