Pakistan Shaheens Tour of Zimbabwe 2023: Series and Player Performances Review
The Shaheens beat Zimbabwe A 2-0 in the four-day series while Zimbabwe Select won the one-day series 4-2.
"What is the use of such tours?"
In 2016, a budding 18-year-old Pakistani cricketer toured Zimbabwe with Pakistan A, unsure of whether he was destined to progress further in his cricketing journey. He had found success at the Under-19 level and then experienced 10 domestic games, but he felt he may not be cut out for the highest level of cricket. This tour, however, made him feel like he belonged. Shadab Khan is now Pakistan's white-ball vice-captain and a household name across the cricketing world. That is the use of such tours.
Pakistan Shaheens' tour of Zimbabwe came to an end with the visitors clinching the 2-match Four-Day series 2-0, while the hosts won the 6-match One-Day series 4-2. The Zimbabwe A team for the First Class games was inexperienced, similar to the Shaheens squad. However, the hosts fielded a strong Zimbabwe Select squad for the one-dayers with this series their final warmup before hosting the World Cup Qualifiers.
The trio of Craig Ervine, Sean Williams, and Sikandar Raza combined had more List A experience than the whole Shaheens squad. Significantly, this was the first time the Shaheens team got a proper taste of the 50-over format since 2018 – the tour of Sri Lanka last year contained 3 one-dayers, but 2 were washed out. All in all, it was a good opportunity for the Shaheens squad, primarily containing youngsters, to gain some experience.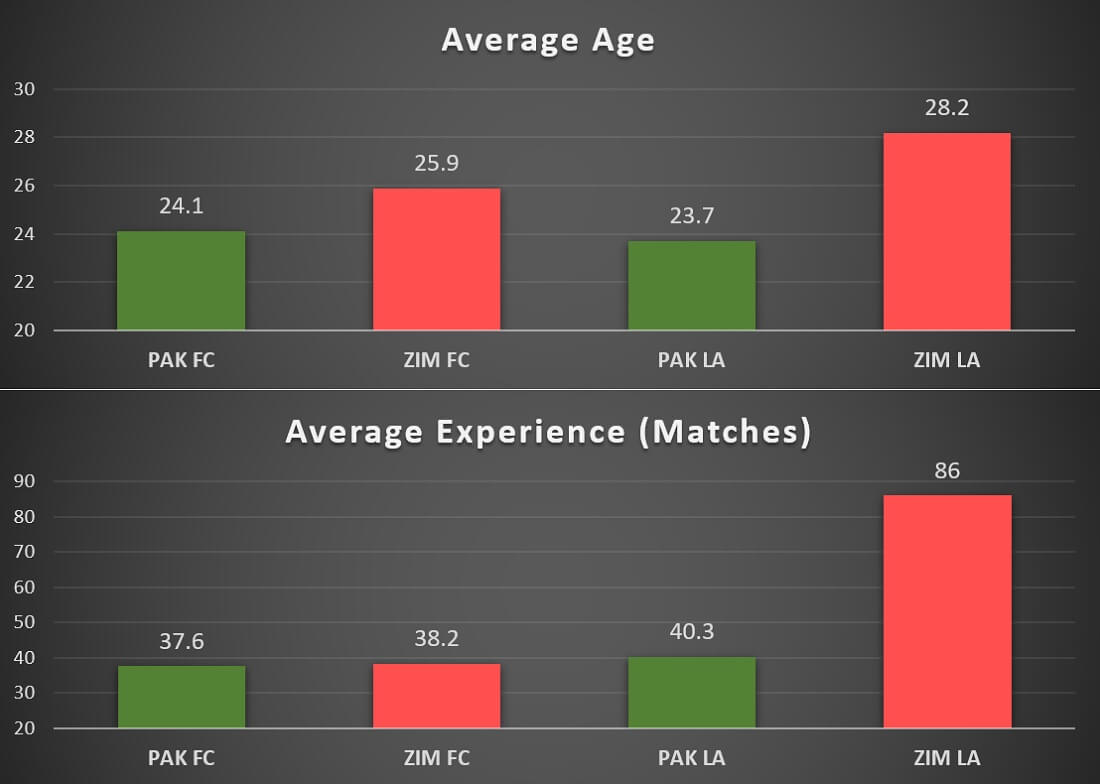 Before delving into the results, it's important to discuss the purpose of an A tour (and, indeed, other developmental tours, such as the U16 and U19 teams). First and foremost, such tours allow youngsters to experience different conditions, countries, cultures, and customs. More than just the cricketing aspect, tours to other countries can aid players' development.
However, much of the discourse around this tour was about the results, particularly the one-day series loss. But results really should be the second point of focus. A developmental squad should play cricket to develop and improve players. This may require backing players despite failures and possibly compromising on results to help players develop.
The Shaheens swept aside Zimbabwe A with relative ease in the four-day matches – both sides had similar domestic experience, but the Pakistan side's quality shone through. In the one-day games, a far stronger Zimbabwe Select XI posed more competition, making a strong start to the series and always being one step ahead. Eventually, their experience was invaluable as Craig Ervine's 195 in the last game sealed a series win. With better displays in the field, the Shaheens may have achieved a better result.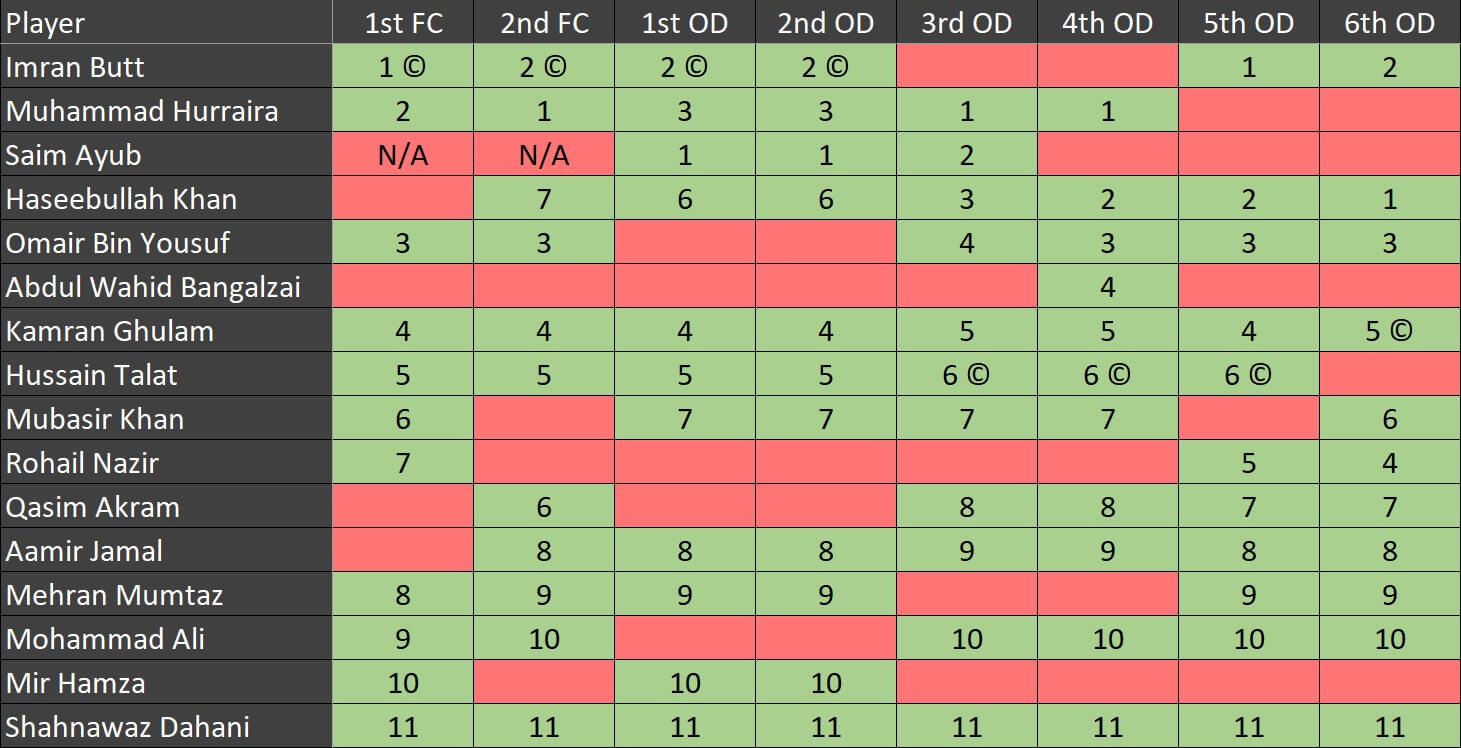 When a captain is benched halfway through the tour, and the stand-in captain's struggles result in the appointment of a third captain, it's easy to see that not everything went according to plan.
The first bit of questionable decision-making was during the 1st four-day game. The Shaheens put up a huge first-innings total, then bowled out Zimbabwe A for 225 in 76.3 overs. Here, with 1.5 days left in the game, perhaps giving the bowlers a rest for a session would have been pertinent. Instead, the follow-on was enforced, and the Shaheens ended up bowling in excess of 180 overs at a stretch. Despite the bowlers visibly tiring toward the end of the 3rd innings, however, Mehran Mumtaz's match haul of 11 wickets proved just enough as the Shaheens clinched victory late on the final day.
The Shaheens made 3 changes for the 2nd game, ensuring that almost everyone in the squad had gotten a chance in the series. However, it was arguably harsh on Mubasir Khan to be relegated to the bench, and that too without getting to bat. Player of the Tournament of the last 2 editions of the Quaid-e-Azam Trophy, Mubasir may well be in contention for Test selection within the next year and deserves maximum game time. Regardless, the Shaheens triumphed with relative ease this time around with an innings victory.
The one-dayers posed a new challenge with Zimbabwe Select's more experienced squad, while most of the Shaheens squad had only Pakistan Cup experience to fall back on. The Pakistan Cup has been an afterthought in the domestic cricket calendar in recent years, with the National T20 Cup and Quaid-e-Azam Trophy understandably being priorities. The inexperience showed, with Pakistan's top order struggling against accurate new-ball bowling with seam movement on offer. This once again led to some haphazard decision-making.
Pakistan's top-order struggles meant that no single opening pair lasted more than 2 games together in the 6 one-dayers: Saim-Imran, Saim-Imran, Hurraira-Saim, Hurraira-Haseebullah, Imran-Haseebullah, Imran-Haseebullah. After batting struggles in the first 2 games, the Shaheens overcompensated by only playing 3 specialist bowlers for the next 2 games. The gamble did pay off in one game, but it may have come at the cost of player development. Qasim Akram was batting far too low at number 8, and if Aamir Jamal is to develop into an all-rounder, it's unlikely that he'll do so batting at number 9.
The first-innings scores in the one-day series seem to indicate that batting was getting progressively easier: 234, 236, 278, 295, 314, 385. Thus, perhaps youngsters like Hurraira and Saim could have been backed further, but the desire to avoid potential losses obviously played a part in the somewhat defensive strategy of playing 8 batsmen. The blame for this can't go solely to the management – when sports journalists start raising a hue and cry about results, decision-makers inevitably feel some pressure. But the same vociferous crowd has to accept that you either go out there to win every game or keep your eyes on the bigger picture.
In hindsight, the squad had too many top-order batsmen, which resulted in a lot of shuffling around. Kamran Ghulam, who usually bats at Number 3 in List A cricket, batted at 4 and 5. Haseebullah, another batsman who has dominated in the top order in 50-over cricket, started the series batting in the lower order. Omair Bin Yousuf missed out on a couple of games despite his outrageous form. Abdul Wahid Bangalzai only got to play 1 game.
Most importantly, the captain and vice-captain, Imran Butt and Hussain Talat, both struggled, despite being two of the most experienced members of the squad, raising question marks about their futures come the next Pakistan Shaheens tour, which will hopefully be in the near future.
Imran Butt (c)
Four-day: 3 & 62*, 27
One-day: 6 (15), 45 (81), 64 (65), 6 (9)
The squad captain will be disappointed with his returns this series. Imran Butt had 2 performances of note, 62* in the small chase of 106 in the first FC match and 64 in the fifth One-Dayer. After struggling in the first two one-dayers, he relinquished captaincy (or was relieved of his duties) and returned for the final 2 games without captaining. He did pick up 9 catches on the tour, again showing his prowess in the field, particularly in the slips. However, leading the side on a tour of Zimbabwe, he would have been hoping for some big scores to make a case for his return to the Test top order (which has a vacancy after Azhar Ali's retirement) – but he failed to do so.
Hussain Talat (vc)
Four-day: 51* & 11*, 74
One-day: 29 (25), 10 (15), 10 (12), 5 (7), 7 (8)
Named as the vice-captain for this tour, Hussain Talat failed to live up to the billing. He had a decent, if unspectacular four-day series, but the one-dayers would be the main source of disappointment. In the last 3 editions of the Pakistan Cup, he is the only batsman to have hit 3 hundreds while batting at number 4 or below. With Pakistan's lack of left-handed middle-order options in white-ball cricket, this was a great time for Talat to announce himself as a contender. However, by the last match of the series, he was on the bench after some dismal performances with the bat. His bowling was ineffective in the one-dayers, too, with 14 wicketless overs going for 8.5 RPO.
Muhammad Hurraira
Four-day: 178, 64
One-day: 3 (10), 33 (36), 19 (29), 17 (27)
One of the rising stars among young openers, Muhammad Hurraira further enhanced his reputation against the red ball, smashing 78 runs in the first session of the series and going on to add a further 100 to his tally. Of his 8 centuries in First Class cricket, 5 are scores in excess of 150, including a double and triple hundred. However, his struggles in the 50-over format continued, where he is yet to register a score of 50+ after playing 10 matches. His natural flamboyant game and efficient strokeplay against spin mean that he should be a fine top-order batsman in the format – it's likely just a matter of time.
Saim Ayub
One-day: 8 (9), 0 (1), 28 (25)
Flown in to be part of the one-day squad only, Saim Ayub flattered to deceive. The experienced Tendai Chatara, a veteran with almost 600 wickets, including 250 in List A cricket, troubled him throughout the series. Saim almost certainly got a rough decision in the first match, where he was adjudged LBW despite the ball appearing to pitch outside the line of the leg stump. However, Chatara delivered an inswinging pearler to remove him first ball in the second game before dismissing him with a bouncer just when he was starting to look good in the third match. The 50-over format allows top-order batsmen to assess conditions and take their time. Saim has all the skills to succeed once he figures out how to blend his assertive strokeplay with some pragmatism.
Haseebullah Khan
Four-day: 117
One-day: 45 (63), 8 (12), 49 (60), 22 (33), 62 (77), 35 (36)
15 months ago, Haseebullah hadn't made his domestic cricket debut. Now, he has 2 First Class hundreds, 5 List A hundreds, and a PSL fifty to his name. No matter the situation, no matter what you ask of him, the boy from Balochistan finds a way. In the second four-day game, he made an impressive century to ensure an innings victory for the Shaheens. In the first one-dayer, he came in to bat at number 6 with his team struggling at 77/4 and made a striking 45, looking in total control. He was duly promoted up the order for the last 4 matches, where he contributed some good knocks, although he'll be kicking himself for not converting one of them into a ton as he's done so often in the Pakistan Cup. A bright future awaits.
Omair Bin Yousuf
Four-day: 250*& 33, 65
One-day: 29 (38), 153 (126), 89* (87), 4 (6)
623 runs and an enhanced reputation – Omair Bin Yousuf had a tour to remember. The 24-year-old top-order batsman from Sindh has had a stop-start domestic career. He began his First Class career brightly but had a couple of middling seasons, not unusual for a young batsman. Before this tour, he didn't have a List A hundred to his name, and a year ago, he had played just one T20. 2023 has been kind to him, with him making his PSL debut, making a half-century for Quetta Gladiators, and then shining on this tour of Zimbabwe with some remarkable knocks. Despite being one of the few batsmen in the country relatively comfortable off the back foot, where Omair has struggled in the past is consistency. After 40 matches, he has 9 First Class hundreds yet averages in the low 40s, primarily because he tends to get a lot of early, cheap dismissals. If he can convert these recent displays into a more consistent run in the next domestic season, an international call-up may not be far away.
Abdul Wahid Bangalzai
One-day: 0 (2)
A victim of the make-up of the squad – Abdul Wahid Bangalzai got only one chance due to the abundance of top-order batsmen on the tour. Just 20 years old, the Balochistan batsman has his whole career ahead of him. So far in his domestic career, he's shown a tendency to get starts but has struggled to convert them into substantial scores – working on that should be his primary target for the upcoming season.
Kamran Ghulam
Four-day: 26 & 2, 2
One-day: 42 (64), 0 (2), 27 (29), 55 (79), 12 (15), 56 (47)
A disappointing tour overall for Kamran Ghulam, particularly the red-ball leg. He came in to bat with the Shaheens in strong positions in both games but couldn't make his innings count. Then, in the one-day series, he struggled in the initial games where Pakistan's top-order struggled, and they needed their experienced hands to stand up. However, he bounced back with two half-centuries in the last 3 games. It's hard to escape the notion that his displays in the four-day games may see him fall out of contention for the Test squad. The upcoming domestic season will be very important for his career.
Mubasir Khan
Four-day: 0/24 & 0/63
One-day: 0/50 (9) & 49 (68), 0/29 (4) & 44 (60), 1/53 (10) & 30 (32), 0 (3) & 0/61 (9), 0/47 (8) & 115 (77)
Somewhat of a mixed bag for Mubasir Khan. However, considering that he's just 21 years old and this was his first overseas tour, he can be pleased with his overall efforts. Unfortunately, he didn't get to bat in the first four-day game and then sat out the second. In the one-dayers, he usually looked at ease with the bat in the middle order and made strong contributions, culminating in a stunning century in the last match. Still, he will be disappointed to have bowled almost 70 overs of off-spin on the tour with just the solitary wicket to show for it, especially considering the number of left-handers he bowled to.
Rohail Nazir
One-day: 16 (24), 87 (91)
After having stagnated for a season and a half, Rohail Nazir bounced back during the second half of the previous Quaid-e-Azam Trophy to come back into contention. Here, he got the first FC game ahead of Haseebullah, but like the rest of the lower middle-order, he didn't get a chance to bat. With his fellow wicket-keeper giving him strong competition, he only returned for the last 2 one-dayers. Rohail's 87 in the last match was an innings of class after coming in at 23/2. However, he couldn't quite give the innings the push it required to be able to chase down the mammoth target of 386 despite Mubasir's heroics.
Qasim Akram
Four-day: 36 & 1/31
One-day: 0/8 (1) & 57* (40), 16 (15) & 0/18 (2), 13 (7) & 3/9 (3.4), 2/60 (9) & 1 (3)
In the last 3 editions of the Pakistan Cup, no batsman batting at #4 or lower has made more runs than Qasim Akram (1152 runs @ 40/95 AVG/SR). However, the Shaheens squad composition always meant he'd be fighting for a lower-order spot rather than batting in the middle order, and so he did – 2 games at number 8 and then at number 7. After sitting out the first 2 one-dayers, he came in to bat at 169/6 in a 279 chase and played a match-winning 57* off 40 – accounting for one of the Shaheens' two one-day wins. In 2 other games, he got out trying to hit when it was required, plus suffering an unfortunate run out after a deflected straight drive. Against a strong Zimbabwe side boasting the likes of Blessing Muzarabani, batting higher up the order would have been a really good experience for him.
Aamir Jamal
Four-day: 3/51 & 35 & 2/45
One-day: 4/35 (8) & 4 (10), 5/75 (10) & 5 (8), 3/60 (10) & 4 (4), 0 (1) & 1/47 (10), 24* (18) & 1/30 (5), 2/89 (10) & 19 (13)
If there was one standout performer besides Omair Bin Yousuf on this tour, it would be Aamir Jamal, who picked up 21 wickets overall. The 26-year-old effectively played the enforcer role, often coming in to bowl after the powerplay and getting crucial wickets. In the 1st one-dayer, he removed Ervine, Madhevere, and Williams in 3 consecutive overs to reduce Zimbabwe Select to 64/5. Another excellent display and maiden 5-fer followed in the next game (including Ervine and Williams again) before he lost the plot against Muzarabani. In the 4th one-dayer, he got the authentic Pakistani experience with an easy catch shelled off his bowling – Ervine, on 42, went on to make 161. Next one-dayer, he dismissed Williams again caught behind before getting the better of Raza in the final match. He troubled left-handers throughout, taking 10 LHB wickets @ 17.6, including 3 dismissals of Ervine for 50 runs, who made 416 runs @ 83 in the series. However, he remains on the expensive side, occasionally exhibiting a lack of control to go with his pace and aggression. While he has shown some batting ability, scope for improvement is limited while he bats at number 8 or 9.
Mehran Mumtaz
Four-day: 5/47 & 6/110, 3/36 & 1/60
One-day: 1/45 (9), 1/38 (6), 2/36 (7), 0/42 (6)
Maiden five-fer, maiden ten-fer – Mehran Mumtaz couldn't have started the tour on a brighter note. The 20-year-old left-arm spinner's marathon effort in the first four-day game yielded him 11 priceless wickets – by the end, he was visibly tired, having bowled 50+ overs in 2 days as the Shaheens enforced the follow-on, but he got the final wicket just in time to ensure his side would be able to force a win. Another good effort followed in the next game as the Shaheens won by an innings. The one-dayers posed somewhat of a stronger challenge, particularly with the presence of experienced left-handers in the middle order. While Mehran didn't find a lot of success here, he also didn't get overwhelmed by the contest.
Mohammad Ali
Four-day: 2/56 & 2/98, 4/36 & 3/49
One-day: 1/43 (10), 0/46 (10), 1/15 (7), 2/32 (7)
Somewhat unfairly slandered after his Test appearances on flatbeds in Pakistan's home season, Mohammad Ali continued to show his utility with the ball. He was an effective wicket-taker in the two four-day games, picking up 11 wickets @ under 22 apiece. In the one-dayers, he was impressive with his figures not being a true reflection of his efforts. The 30-year-old threatened with the new ball and was always hard to get away. In the last one-dayer, he suffered an ankle injury due to which he couldn't complete his quota – had he been able to, perhaps the Shaheens could have restricted Zimbabwe Select to a more manageable total.
Mir Hamza
Four-day: 0/38 & 2/64
One-day: 3/37 (10), 1/30 (6.5)
Somewhat of an underwhelming tour for Mir Hamza, although it was surprising to see him not feature more often in the one-dayers. He picked up 2 wickets in the first four-day game before making way for Aamir Jamal in the next one. In the first one-dayer, he took the important wicket of the rampaging Ryan Burl to keep Zimbabwe Select to a chaseable total. However, he didn't get a chance in the final four one-dayers as Pakistan opted to go with the same 3-man pace attack for all 4 of those games.
Shahnawaz Dahani
Four-day: 1/39 & 0/42, 0/19 & 2/33
One-day: 2/42 (7.3), 2/36 (8), 4/43 (10), 2/60 (9.3), 3/29 (6), 0/105 (10)
The only player besides Kamran Ghulam to play all the matches on the tour of Zimbabwe, Shahnawaz Dahani had mixed fortunes. He struggled at the start, not finding a lot of success or looking like much of a wicket-taking threat in the four-day games. However, he regained his mojo in the one-dayers, regularly making early breakthroughs as his hard lengths proved tough to negotiate. He picked up 7 powerplay wickets @ 17 and looked to be regaining some of his pace and threat. Unfortunately, he was taken apart in the final one-dayer as Ervine smashed 195. There was a significant disparity between his numbers vs. RHB (11 wickets @ 10 avg/5.7 econ and LHB (2 @ 103/6.4). It was surprising to see Dahani play 6 one-dayers in 11 days, particularly with Mir Hamza missing the last 4 matches. Unless the left-arm seamer was injured, there was definitely room for better workload management here.