Pakistan Cricket Heritage
On fast-bowlers, yorkers, and pakistan cricket heritage.
Batsmen use their feet versus spin because they have the time to do so. They use their feet to meet the ball outside the 4-5-meter danger area where the ball is at its most dangerous. Batsmen can not use their feet versus pace because the distance to cover is too great in little time, and the ideal length varies. But the yorker does have an ideal length, and it's infinitesimally smaller than a spinner's; hence, the slightest movement from a batsman can turn the yorker into a slot ball or full toss.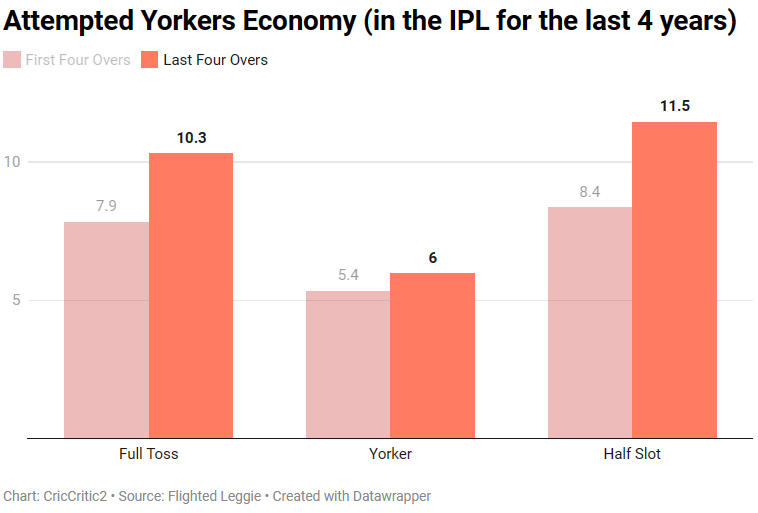 Why do bowlers not bowl yorkers?
They do try, you know – probably more than they should. They know it's a double-edged sword – miss it by a meter either way, and it will travel. Higher pace gives you a slightly larger margin of error, but you are not getting out of jail with it.
So, do they not have the skill to nail their yorkers, like the bowlers of old like Wasim, Waqar, Malinga, and Gul?
It is not a skill thing; it's a being human thing. To nail 6 out of 6 yorkers is painfully rare – the ones you remember are those that nailed 4 and then got lucky with the other 2. A singular strategy for the death overs will come back to bite you sooner rather than later because once your opponent knows what is coming, they will start lining you up.
But why did Wasim and Waqar nail their yorkers?
They had a higher margin of error for yorkers. You get that by:
Having a unique action where the batsman spots the ball late, hence has lesser time to react
Having high pace so that the batsman has lesser time to react
Getting the ball to move in the air so the batsman has lesser time to adjust to the new path
So basically, anything that reduces reaction time makes you more likely to not travel when you do not nail the yorker. Modern bowlers can (legally) manage at most two of those things, the first is ingrained from childhood, and you do not have many ten-year-olds choosing their actions because it will give them a higher margin of error in bowling yorkers. The second point is even harder to manage if you do not have it. The third point has been mostly killed from the game. With balls in limited-overs cricket not getting any older than 25 overs, how are you supposed to move a 16-25-over old ball?
Wasim and Waqar had reverse swing, taught to them by their seniors, passed down through generations of Pakistan cricket, discovered by their proverbial forefathers, and perfected by them. Now reverse is that fancy thing teams try to get in Tests when they have run out of ideas and have been run ragged by a settled pair.
Shaheen loves to bowl the yorker, and no one knows its double-edged nature better than him. Those full tosses and slot balls to Matthew Wade were not meant to be those. They were the panicked actions of a 21-year-old who went back to the delivery he trusted, the one that he believed would not let him down. The ball did not move, so Wade lined him up.
The Wasim comparisons were always going to be made – left armer from Pakistan, the next Wasim Akram, obviously. But his dependence on the full lengths is so Waqar-coded. Not surprising when you look up who was the bowling coach during his formative years in the national team. When Shaheen burst onto the scene in 2019, his yorker percentage in the first four overs was 12%. From 2020 onwards, it has been 26 to 28% – no prizes for guessing who may have advised him to go fuller more often. The game changes, but Pakistan cricket finds a way.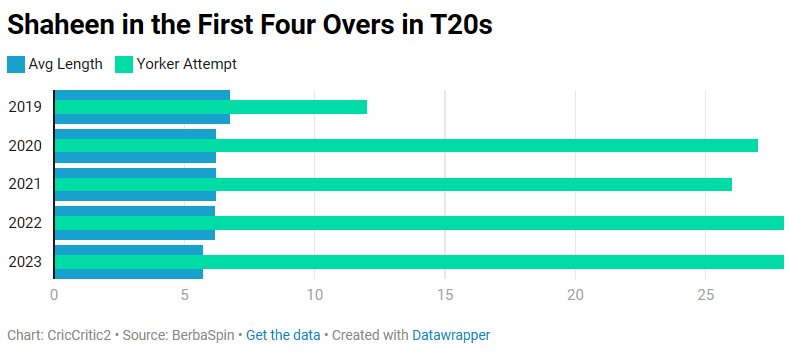 Reverse swing might essentially be dead, but new-ball swing survives (for now). With the new ball, Shaheen bowling yorkers ticks all the boxes. Receiving a ball delivered from nine feet at 90 miles an hour while curving through the air – yeah, that will make your yorker effective all right. Reaction time is minimized, with the added bonus of the batsman expecting you to start by pitching it on a length and getting it to move off the pitch.
But batsmen have caught on now – they know what is coming, but they still can not line him up because a Shaheen new-ball yorker is not a horse to be tamed but a wild bear. All you can do is lie over and play dead – literally dead bat it and try to run away when he's not looking. For two overs, the script is flipped, the roles are reversed, and all the rule tinkering to make it not so has been unsuccessful. It used to be ten overs of this in the olden days. Now it's two overs, but it survives all the same in its new avatar. For two overs, the glitch in the matrix is back – for two overs, batsmen are the hunted.
A Shaheen new-ball yorker is many things. It's fear, it's bliss, and it has the dreams of 200 million people riding on it. It is the legacy of his proverbial forefathers, a shred of knowledge that has made its way down to him, an inkling of the magic that was snuffed out. It is Pakistan Cricket Heritage.